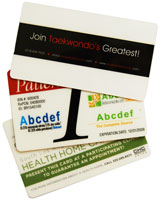 Plastic cards give your brand staying power and have a wide range of uses including business cards, ID cards, membership cards, loyalty cards, access cards, gift cards and other pre-paid cards.
While PFL's plastic cards offer many traditional uses, you can be creative with your ideas! For example, if you're a restaurant owner looking to boost business, try sending out a mailer containing your new seasonal menu with a plastic gift card inside. The weight of the mailing will further capture their attention, and the card itself will emanate value and be hard to ignore or toss aside. Plus, you can track results by adding unique identifier codes.
Place your order for plastic cards online or call us now at 800-­930-2423 for a custom quote or free samples.
PFL is a marketing technology company that provides printing, mailing, fulfillment, and marketing automation services to over 200,000 businesses from startups to the Fortune 500. Our 100,000 sq. ft. state-of-the-art facility provides a one-stop shop for all your company's needs, from marketing advice, design services, sustainable print and mailing solutions since 1996. Our highly qualified team of 300+ employees deliver exceptional print quality with award-winning customer service backed by our A+ BBB rating and 100% satisfaction guarantee.