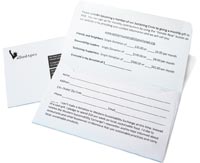 Church donation, remittance and offering envelopes do not have to look the same year after year. With PFL's custom offering envelopes, you can change up the colors, imagery and text to add a new, contemporary feel to a traditional product.
Offering envelopes are the perfect tool for fundraising, donations or tuition, whether you are a nonprofit organization, church or school. Visualize your cause on your envelope by using custom imagery and strong language in a graceful or bold font.
Whether you're lining up these offering envelopes in a pew, including them in a weekly newsletter or bulletin or handing them out for a school fundraiser, you now have the option of designing them so that they will not be forgotten or neglected!
Place an order online today or call our customer service line at 800-­930-2423 for project advice, custom quotes or to request free samples. We guarantee you'll be impressed by our affordable prices and fast turnaround!
PFL is a marketing technology company that provides printing, mailing, fulfillment, and marketing automation services to over 200,000 businesses from startups to the Fortune 500. Our 100,000 sq. ft. state-of-the-art facility provides a one-stop shop for all your company's needs, from marketing advice, design services, sustainable print and mailing solutions since 1996. Our highly qualified team of 300+ employees deliver exceptional print quality with award-winning customer service backed by our A+ BBB rating and 100% satisfaction guarantee.