Even in this digital age of podcasts and e-readers, sometimes there's nothing better than a good old fashioned hardcover. And with it comes the bookmark.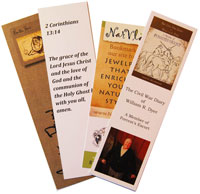 At PFL, we find that bookmarks still remain one of our most popular promotional items. Why? Because they're practical, inexpensive and a constant reminder of your brand and message! Not just for booksellers anymore, bookmarks are an ideal tool to reach a youth market.
From vertical 2x6, 2x7 or 2x8 bookmarks to 2-sided markers and horizontally printed bookmarks, you can be creative in your visual presentation. The more creative you are, the more likely your promotional piece will become a conversation starter and a permanent ornament on your customers' and prospects' bookshelf. Complimentary aqueous coating is sure to be a quality-reinforcing eye-catcher.
So why choose PFL for your bookmark? Our quality is unrivaled. Our prices are surprisingly affordable. And our turnaround time will amaze you. Plus our team is on call for you! Call us now at 800-930-2423 for live project assessment, a custom quote or free samples. Or place an order online now.