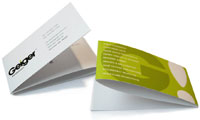 With PFL's folded business cards you can forget about boring your prospective clients with clichéd, over-done, double-sided business cards and elicit thrill with a new, unconventional approach instead!
Our folded business cards are sleek, sophisticated, edgy, and double the amount of space you have to promote yourself, your product, or your service. Print on all four panels or just two; choose from a horizontal fold or a vertical fold - the options are limitless with our savvy folded business cards.
Just like our regular business cards, our standard stock is thicker and higher quality than our competitors.
Folded business cards will take your company and its marketability to the next level. To learn more about folded business cards, give our Marketing Advisors a call at 800-930-2423 for a custom quote and/or free samples.
Marketing with Folded Business Cards
Double Your Marketing Effort with Folded Business Cards
We all know that business cards are an essential marketing tool for your business and the perfect vehicle for exchanging contact information with prospects and customers. But what if you need more space to really sell your company's value proposition? Consider folded business cards when you want to take your
business card marketing
to the next level.
To Fold or Not to Fold
Folded business cards are twice the size of
standard business cards
and usually come scored down the middle for easy folding. Also known as double business cards, fold-over or folding business cards, these cards once folded are the same size as a standard business card, so they can easily fit into business card holders or your prospects' wallets. Folded business cards double the amount of space you have to sell your product or service, because you have four panels to work with instead of just two. They are also a perfect way to save money by combining two marketing purposes into one printed piece. They give you all of the components of business card and work as a mini-brochure. Folded business cards can help you stand out from the sea of boring and bland business cards by providing an eye-catching and unique look.
Business Card Fold Styles
There are numerous folding styles available for double business cards. Below are the most commonly used ones. Download the free folded business card templates with directions on how to use them.
The Many Sides of Folded Business Card Printing
The uses of folding business cards are endless. You can hand them out flat, but scored to mimic a postcard, and the back can be used to display your contact information when folded. Or hand them out already folded and the customer or prospect can open the card for more information. They are also perfect as a mini-brochure or tradeshow handout. Plus, the additional panels give you room to add something unique and memorable to your business cards. Try including the following: By adding value to your card, your customers are more likely to keep it around longer and consider you the next time they need your product or service.
Formats, Styles and Options
PFL offers full color double business cards in a variety of different formats and sizes. Choose from a horizontal or vertical fold, with or without a reveal panel. Make them even more distinctive and useful by incorporating
special printing effects
, rounded corners or a perforation panel to allow prospects to easily tear off one of the panels. To get a fast start on your business card design take a look at our
business card design templates
and view our
design do's and don'ts
.
Folded Business Card Samples