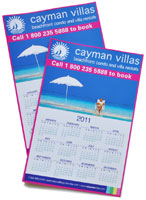 Imagine if your brand was an integral part of your customer's daily routine. With company calendars, that's exactly what you get. While marketing materials like business cards or brochures are must haves, calendars take the cake when it comes to staying power.
Keep in mind, the less "salesy" it appears, the more likely it will actually be used throughout the year.
Our PFL Marketing Advisors are on standby to assist you in making your calendars remarkable. Call or email today to get your calendar started, and get your brand in the hands of customers all year long.
Get more ideas for marketing your business with calendars. 5 Steps to Designing a Unique Promotional Calendar
PFL is a marketing technology company that provides printing, mailing, fulfillment, and marketing automation services to over 200,000 businesses from startups to the Fortune 500. Our 100,000 sq. ft. state-of-the-art facility provides a one-stop shop for all your company's needs, from marketing advice, design services, sustainable print and mailing solutions since 1996. Our highly qualified team of 300+ employees deliver exceptional print quality with award-winning customer service backed by our A+ BBB rating and 100% satisfaction guarantee.