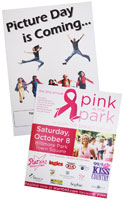 Go big and bold with your message on our high-quality custom banners and posters in almost any size you need. These banners are great for trade shows, sporting events, store fronts, grand openings, point-of-purchase displays, school events and more. For outdoor or long term use, choose our durable, weatherproof vinyl which stands up to rain and sun. For indoor use we offer high gloss, photo-quality paper posters and banners which capture your images at high resolution in brilliant color.
Print up signage for your next company picnic or trade show. Announce your new opening or upcoming event to the world with a weather-resistant poster. You could even use these mega posters to sell premium advertising space at your next event.
To find out how PFL can create large posters that really standout and make an impact, give us a call 800-­930-2423 and speak with our Marketing Advisors for a custom quote and/or free sample. Or place an order online!
PFL is a marketing technology company that provides printing, mailing, fulfillment, and marketing automation services to over 200,000 businesses from startups to the Fortune 500. Our 100,000 sq. ft. state-of-the-art facility provides a one-stop shop for all your company's needs, from marketing advice, design services, sustainable print and mailing solutions since 1996. Our highly qualified team of 300+ employees deliver exceptional print quality with award-winning customer service backed by our A+ BBB rating and 100% satisfaction guarantee.