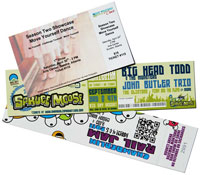 Raffle tickets can be more than just a numbered slip of paper. Consult with PFL and allow us to help you get customized tickets printed that double as effective advertising and marketing tools that sell your product or service.
The prize isn't just won by the winning ticket. You can also win by collecting data on your tickets. You can easily ask for a name, email and phone number and use that information to bolster your future marketing efforts. That's the type of creative advice you get from your dedicated PFL team.
In addition to sequential numbering, maybe you want to include your logo on the ticket, a perforated tear-off section, a picture of the grand prize or your website and social media handles. PFL lets you be inventive with tickets, while offering the same standard information at a higher quality than you can get elsewhere. We can even print on 100% recycled paper so your giveaway stays green.
Who would have thought such a small slip of paper could be such a huge marketing weapon? PFL did, and they can help you wield it like a champ. Call us today at 800-­930-2423 for samples or a quote.
PFL is a marketing technology company that provides printing, mailing, fulfillment, and marketing automation services to over 200,000 businesses from startups to the Fortune 500. Our 100,000 sq. ft. state-of-the-art facility provides a one-stop shop for all your company's needs, from marketing advice, design services, sustainable print and mailing solutions since 1996. Our highly qualified team of 300+ employees deliver exceptional print quality with award-winning customer service backed by our A+ BBB rating and 100% satisfaction guarantee.