Wedding Invitations and Wedding Shower Invitations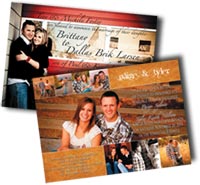 Congratulations! We are ready to celebrate with you! Selecting a printer for your wedding is an important decision. Consider how much of your wedding image is created on paper; wedding invitations, wedding shower invitations, wedding thank you cards and stationary, save the date cards, maps, place cards, R.S.V.P. cards, wedding table tents, rehearsal dinner invitations, wedding programs, and wedding signage....Whew!, That's a lot! These elements are key to communicating your personality as a couple and in setting the mood for your entire wedding event. There are hundreds of places you can get your wedding invitations printed; this is a once in a lifetime trust buy! When you want more than a click and print, cookie-cutter wedding invitation, we are here to help! You can count on PFL to engage with you and help you build the wedding day image you want to portray.
Why Choose PFL to Print Your Wedding Invitations?
Exclusive, individualized service with a dedicated small-team who will get to know you personally.
Scrupulous attention to detail, it's our thing. We understand that this is YOUR DAY and will work with you to get the end result you desire.
We have over 150 American print experts on staff; with over 900 years collective print experience at your disposal.
Our customer satisfaction rate remains at an industry high. (But don't take our word for it!)
We lead the industry in custom printing excellence and have been highlighted in The Wall Street Journal, Inc., Forbes, The New York Times, and CNBC.
Experience counts; PFL was the very first e-commerce printer in the commercial print space.
Our state-of-the-art Heidelberg presses are meticulously maintained every day, and calibrated for your personal job to achieve perfect color matching.
We offer the industry's only 100% money-back quality guarantee.
We will hold your hand throughout the design, printing, and delivery processes to ensure your dream wedding also has a dream invitation.
We offer every feature you can imagine for your ideal wedding invitation. We specialize in saying yes when other printers will tell you no. If you can dream it, we will do everything within our power to create it. From the time you pick up the phone, you will work with a small team that will own your account and get to know you on a personal level. Your wedding invitation should be the tangible entryway to your wedding day. We offer a variety of papers and finishes to match any theme. We can accommodate any design and feel you want to create. Elegant sophistication, flashy fun, country simple, rustic chic, you name it, we have done it. Our professional designers are here to help your wedding invitation be everything you expect. We will ensure that both the wedding invitation and any enclosed R.S.V.P. cards are the highest quality print available on the market. As you begin this process, why don't you go ahead and order a
complimentary sample pack
so you will have samples of our papers and finishes. This way as you work with your dedicated team, you will know what papers, textures, and finishes you are interested in. Our professional mailing services are also available if you would like us to handle getting those invites delivered for you. Consider some of these product features for your invitation: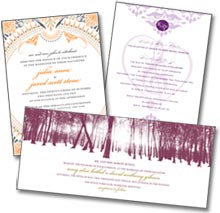 Remember to order matching wedding
Thank You Notecards
to send to all your guests after the event. This is a classy way to let your friends and family know you appreciate both their attendance and their gifts. Coordinate every part of your wedding with an ensemble of print materials that reflect your personality. The ensemble can include
labels
,
stationery
,
table tents
,
place cards
,
large format printing
,
save the date cards or magnets
, and
door hangers
. We can help you achieve a cohesive look for your wedding that compliments your theme. For outdoor weddings, we also print
hand fans
to keep your guests cool. How about a map for your guests? We are happy to print a custom insert to ensure no-one get lost coming to your special day. Be creative and consider how printed products can help make your wedding have a polished, put-together feel. For example, one of our customers wrote a Mad-Libs™ style, fill in the blank place card for each plate at the reception, making a fun game to keep guests busy while waiting on the wedding party. We appreciate the opportunity to win your business for custom printed wedding invitations and will do our best to establish a strong long-term relationship with you. That way, we will both be ready when it's time to send out those baby announcements.
Contact a friendly print expert today for help with your custom wedding invitations; 800-930-2423.