Promotional Fans
Hand Fans and Rally Fans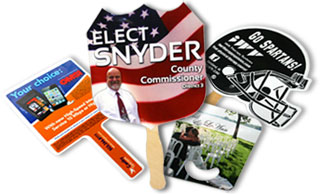 Custom hand fans are a well-established way to promote your business or brand. Hand fans, or rally fans, combine practicality, functionality, and advertising to create a perfect promotional item. Our sturdy hand fans are supplied on tag stock with over-lamination on both sides and a wooden handle, or as a self-handled corrugated fan. We will custom print your design on any of our stock fans. Our die cut processing allows you to have whatever custom shape you might want. We are happy to provide you with options. If you want to print 1,000 fans for an event, yet want 500 of one style-shape and 500 of another, we can accommodate you. Hand fans are used in a myriad of ways:
Church hand fans, or religious hand fans, have been used for years and are perfect for those hot summer months or any outdoor event. Many non-profit organizations use hand fans to print their mission or vision statement. Contact, or specific event, information is also commonly found on custom printed hand fans. Wedding hand fans and special event hand fans are an ideal way to share memories and personal information. The happy couple can custom print our fans with any image or message that they want everyone at their wedding to see. Hand fans can serve as creative event programs. Simply print the agenda information on the fan itself. Marketing hand fans are an ideal way to get your product or service information out to a large group of people. For example, if you are sponsoring an outdoor event or showing at a trade show, distributing hand fans to all the attendees can be more effective than even a brochure, because the fan itself proves useful. Sporting event hand fans are employed to promote individual players, teams, and products at large crowd gatherings, providing mass advertising. We have custom shapes like football helmets and sports balls that can be customized for your particular needs. Promotional logo hand fans can be custom designed to your logo specifications. Logo hand fans that include web site information and QR codes tend to get more lift. We can help you with the design of your logo hand fan.
All of our promotional fans are printed in full 4 color process and built with sturdy materials to provide top quality.
Need an even sturdier hand fan for inclement weather? Ask about our extra strength, water proof plastic stock fans!
Get creative with your hand fan and make a real impact on your target audience. One fun way to make hand fans more engaging at your event is to print a series of riddles on half of them, with a series of answers on the other half. As a fun mix and mingle, have your attendees find the match to their riddle.
Give one of our print experts a call at 800-930-6040 to get started on your promotional hand fan printing order today!