It's Right. It's On Time. Or It's FREE!
Expert Help on all Your Projects
High Quality and Fast Turnaround
100% Satisfaction Guarantee!
Secrets to Successful Flyer Printing
Do soaring sales seem to be sorely lacking? Are you getting the results you expect with your business flyer printing? Read on for tips on how to design, mail and print flyers that sell.
Looks Matter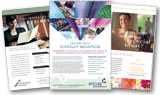 A key mistake small businesses make is thinking that a well-crafted message is more important than its packaging. Think again - they're both critical! Visually appealing, easy to read flyers are more likely to capture your potential customers' attention than a page full of text.
Include photos or illustrations - Larger or group images make a stronger impact then smaller ones scattered around your flyer design.
Use color- Color gets noticed and is more professional. Highlight important info with colored text.
Use quality paper - A thicker, glossy text holds up better through the mail and sends the message that your business is more substantial
Keep it simple - Too much information clutter or a jumble of font styles can turn people off quickly. Leave "white space," and room for your key messages to breathe.
Use professionally-created flyer templates that you can customize to your business.
No Pain or Gain, No Champagne
If your flyers could always reach the right people at exactly the right time and you had no competition, you'd be celebrating your stellar success. Most of the time, you strive to target the right people with your flyer printing and hope they need your service or find your offer more enticing than the next guy's. So how do you boost your flyer response rate regardless of the timing and without special gimmicks?
Grab 'em where it hurts, figuratively speaking. Let your flyers explain how you can help relieve their pain or fear of it. What are their actual or potential problems or hassles you can solve? What might happen if they don't use your product or service? Maybe I think I don't need tooth whitening right now, thank you. But could I use more money or better relationships? Yep, now I'm listening.
Offer something free or information related to your business that gives them a reason to visit your store or site. I'm not planning on buying or selling my house soon, but I am interested to know the easiest and most important thing I can do my NOW to increase its value in case I have to sell in an emergency.
Confidently command and make it urgent and easy to take action. Say "Call us today " instead of just listing your phone number. "Act before..." vs "Offer good..." Just don't go overboard on your flyer with the sense of urgency. I'm not going to jump through hoops to make it to your "one-day only" sale when I have to work that day 20 miles away.
Touch them more than once. Advertising is like courting - the more you ask, the more likely I am to give in to my curiosity and say yes the next time. When having your flyer mailed, run successive mailings to the same list at set intervals.
Take more swings at the bat. The more flyers you get out to your target market, the higher your number of responses will be. Plus, the more flyers you print at one time, the cheaper your unit cost is, which can translate into lower customer acquisition costs.
Hook, Line and Sinker
While it's important to focus on your reader's needs, you also need to get them hooked on you as well as your message.
The first step to landing a good customer is building the relationship. Start the conversation with your flyer by showing who you are and that you're trustworthy. Are you experienced? Licensed and certified? Better Business Bureau accredited? Include brief testimonials on your business flyers from real customers and helpful tips or facts about your value.
Include benefits about your product or service. Few businesses can compete on price alone. Have your flyer explain what makes yours more than a commodity.
Get Testy
Don't forget to measure your flyer printing results and systematically test various approaches in different distribution or direct mail campaigns. Response tracking takes a little extra effort, but can quickly pay off. Maximize your printing dollars by learning what works for you.