Whether you tackle design yourself or hire someone, you should have a clear understanding of what you want and what works, so you can clearly lead creative direction. Design encompasses format, paper type, printing technique, color, photography, images, special printing effects and folds. If you are working with a tight budget, you can have a highly effective piece using simple design elements like folds, strategically placed color and bold images.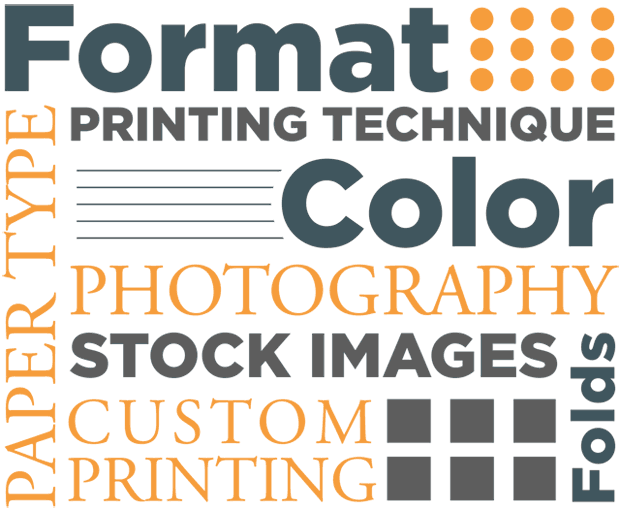 Format
There are five common types of direct mail. Always consider your audience to determine what format works best for your goals.
Paper
Standard types include:
70# Uncoated
80# Gloss or Dull/Matte Text
100# Gloss Cover
100# Uncoated Cover
120# Gloss Cover or Dull/Matte Cover
160# Gloss Cover 18pt
Premium and specialty papers are also available
Offset Printing
Offset printing technology uses plates, usually made from aluminum, which are used to transfer an image onto a rubber "blanket," which then rolls that image onto a sheet of paper. It's called offset because the ink is not transferred directly from plate to paper. Offset printing is the best choice when larger quantities are needed because it provides accurate color reproduction and crisp, clean, professional-looking printing.
Digital Printing
Digital printing does not use plates the way offset does. Instead, digital printers either use toner, similar to laser printers, or they use liquid ink, as is the case with larger printers. Digital printing shines when lower quantities (perhaps 20 greeting cards or 100 flyers) are needed. Another benefit of digital printing is its variable data capability. When each piece needs a unique code or name, digital is the way to go.

Color
A variety of color options exist. The most common option is full color. You can also have color on the front and black on the back, or make the entire piece grayscale. Prices increase with color, but the visual impact can be significantly greater than black and white alone.
Fonts
We talked about the best font styles to choose in the last module, but font also influences design. Try not to mix more than three fonts in a single piece. Create a hierarchy for headlines, subheaders, offer and body copy using different fonts and sizes.
Photography
Photography is a popular choice for direct mail. You can feature a picture of the product, company locations, or employees. If you use photography, make sure the photo is in focus and the composition is visually pleasing. Do not copy images directly from the web, because you run the risk of working with a low resolution image. Low resolution means the image can look grainy, pixelated or blurry. An original image is always the best option.
Stock Images
If you do not plan on using product or company photos, stock art is an excellent choice to liven the piece and support the copy. Just be sure to pick images that are relevant to the text. I recommend staying away from cheesy "business shots" like handshake close ups, thumbs up or the ever popular meeting around a conference table. Look for images that fit the shape of the piece. If the piece is 4 x 6, you have a landscape format, and a horizontal image will fit best. Searches can be time-consuming since the selection of stock art is extensive. I suggest outlining images that come to mind and narrowing your focus before you begin searching. There are great illustrations, symbols and other vector based graphics that add impact without the cheese.

Custom Printing and Special Effects
Adding one or more custom finishes is one of the most impactful ways to stand out.
Additional Resources