PRESS RELEASE
February 26, 2013
PrintingForLess.com Wins Silver Award for Innovation in Customer Service and Takes Bronze Award for Best Use of Technology in Customer Service at the 2013 STEVIE® Awards For Sales and Customer ServiceSM
LAS VEGAS, NEVADA - February 26, 2013 - PrintingForLess.com was named a Finalist today in the Best MIS & IT Team category in The 2007 American Business Winning for both Innovation and Best Use of Technology in Customer Service, PrintingForLess.com (PFL) also participated in the 2013 Stevie Awards
®
by being a corporate sponsor of the event. PFL thanks their customers for helping them be an industry leader in remarkable customer experiences. They attribute building relationships, along with listening and responding to customer feedback, as their key to success. "It's about creating remarkable customer interactions every day, without compromise. With tough competition like Go Daddy and Marriot, I can't get too ruffled over being edged out of the Gold," states PFL founder and CEO Andrew S. Field.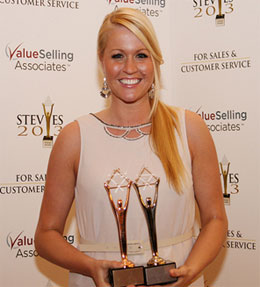 PFL Customer Advocate Miriam McAlister accepting at the Stevie® Awards in Las Vegas.
The awards were presented to honorees during a gala banquet on Monday, February 25 at the Paris Hotel in Las Vegas. More than 300 nominated customer service and sales executives from the U.S.A. and several other countries attended. Over 1,100 entries from organizations of all sizes and in virtually every industry were submitted to this year's competition. "From our perspective this was the most successful Stevie Awards for Sales & Customer Service yet," said Michael Gallagher, president and founder of the Stevie Awards. "Not just because of the increase in the number and variety of entries, but in the extraordinary quality of the entries. Judges have told me how impressed they were with the success stories they reviewed this year. All of this year's Stevie Award winners are truly deserving." Details about the Stevie Awards for Sales & Customer Service and the list of Stevie winners in all categories are available at
www.stevieawards.com/sales/
.
About PrintingForLess.com
PrintingForLess America's Print Shop
®
is the nation's first e-commerce commercial printer with over 100,000 customers nationwide and steadily growing. An industry leader in high quality commercial printing, they focus on delivering remarkable customer experiences. As the Wall Street Journal has noted, PFL succeeds in striking the best balance between human and online interaction with customers. At PFL, it's right, it's on time, or it's free. Sponsors and supporters of the 7th annual Stevie Awards for Sales & Customer Service include the Business TalkRadio Network, PrintingForLess.com, and ValueSelling Associates.