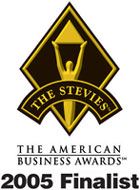 Printingforless.com Named as Finalist in 2005 American Business Awards
The SteviesTM will be presented on June 6th in New York City
Livingston, MT, May 4, 2005
- PrintingForLess.com was named a Finalist today in the Best Customer Service Organization category in the second annual American Business Awards. Hailed as "the business world's version of the Oscars" by the New York Post (April 27, 2005), The American Business Awards are the first national, all-encompassing business awards program honoring great performances in the workplace. Nicknamed the Stevies
TM
for the Greek word "crowned," winners will be announced during presentations on June 6 at New York's Marriott Marquis Hotel. The ceremonies will be videocast live on the Internet and will be broadcast nationwide on radio by the Business TalkRadio Network. More than 1200 nominations from companies of all sizes and in virtually every industry were submitted for consideration in more than 40 categories, including Best Overall Company, Best Executive, Best New Product or Service and Most Innovative Company. PrintingForLess.com will be competing in the Best Customer Service Organization category. "We're committed to helping our customers be successful," said Andrew Field, founder and CEO of PrintingForLess.com. "This nomination as finalist for a Stevie
TM
recognizes the efforts of our talented and knowledgeable customer service staff who make that commitment possible." Members of the Awards' Board of Distinguished Judges & Advisors and their staffs will select Stevie winners from among the Finalists. The Board includes business luminaries such as Rich Karlgaard, publisher of Forbes, Bruce Nelson, chairman & CEO of Office Depot, marketing gurus Don Peppers and Martha Rogers, Drew Schutte, publisher of Wired Magazine, Jeffrey Tarr, chairman & CEO of Hoover's Inc., and Donald Trump, chairman, president and CEO of The Trump Organization. "The Stevie Award has quickly become the most coveted business honor in America," said Michael Gallagher, founder and president of The Stevie Awards. "We began the Stevies in 2002 with the mission to generate recognition of deserving companies and individuals among the business community, the press, and the general public. Being selected as a Finalist is an important achievement, because it means that independent judges have agreed that the Finalist is worthy of national recognition. We congratulate all of the Finalists on their achievement and wish them well in the competition." Details about The American Business Awards and the list of Finalists are available at
www.stevieawards.com/aba
.
About PrintingForLess.com
PrintingForLess.com is the leading online commercial printing company that serves small and medium sized businesses with high-quality, four-color printing for their marketing needs. PrintingForLess.com revolutionized the industry by providing instant online pricing and ordering, unmatched technical and customer support and low prices.
PFL is a marketing technology company that provides printing, mailing, fulfillment, and marketing automation services to over 200,000 businesses from startups to the Fortune 500. Our 100,000 sq. ft. state-of-the-art facility provides a one-stop shop for all your company's needs, from marketing advice, design services, sustainable print and mailing solutions since 1996. Our highly qualified team of 300+ employees deliver exceptional print quality with award-winning customer service backed by our A+ BBB rating and 100% satisfaction guarantee.