It's Right. It's On Time. Or It's FREE!
Expert Help on all Your Projects
High Quality and Fast Turnaround
100% Satisfaction Guarantee!
PRESS RELEASE
June 22, 2006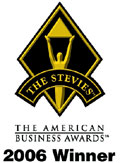 PrintingForLess.com Wins National Customer Service Award
Livingston, Montana - June 22, 2006 - PrintingForLess.com was named "Best Customer Service Organization in the Business Services category for the 4th Annual American Business Awards
SM
. Nicknamed the "Stevies" for the Greek word for "crowned," the American Business Awards are the only national, all-encompassing business awards program honoring outstanding performances in the workplace. The awards were presented on June 12 in New York City. More than 1500 entries from companies of all sizes and in virtually every industry were submitted for consideration in more than 40 categories. PrintingForLess.com's nomination for Best Customer Service Organization details its efforts to improve its "extreme" customer service in 2005. Last year, the company shortened its standard turnaround times, announced its industry-leading 100% satisfaction guarantee on both its products and service, and implemented an innovative new phone system that intelligently routes customer phone calls to better provide personalized service. "One of the best compliments we receive from customers is when they tell us that we've spoiled them," said Kerie Hager, PrintingForLess.com's Director of Training, who accepted the award during the ceremonies. "This Stevie honors everyone in our organization for continually setting the bar with our service and quality, while showing how committed we are to our customers' success." Members of the Awards' Board of Distinguished Judges & Advisors and their staffs selected Stevie winners from among the finalists. Finalists were chosen by business professionals nationwide during preliminary judging in earlier this year. The elegant Stevie trophy was designed by R. S. Owens, the same company that makes the Oscar® and the Emmy. Details about The American Business Awards and the list of Finalists and Stevie Award winners are available at
www.stevieawards.com/aba
.
About PrintingForLess.com
PrintingForLess.com is the first and leading online commercial printing company with more than 50,000 small-to-mid sized business customers throughout the United States. Located in Southwest Montana, PrintingForLess.com provides unmatched technical and customer support with instant online pricing and ordering for its full-color marketing materials.