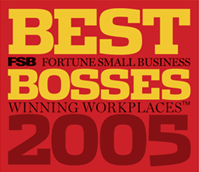 PRESS RELEASE
August 1, 2005
Winning Workplaces nnd FSB: Fortune Small Business
Name 2005 "Best Bosses" Finalists
Winners to be announced at September 20th Conference
Evanston, IL, August 1, 2005 - Winning Workplaces and FSB: FORTUNE Small Business magazine have selected Andrew Field of PrintingForLess.com, based in Livingston, Montana, as one of 26 finalists in their third annual "Best Bosses" competition - business leaders who have demonstrated resiliency and innovation in generating high-performance workplaces. The winners will be announced at a conference and celebration in Chicago on Sept. 20 and will be profiled in the October 2005 issue of FSB: FORTUNE Small Business. For more information on the event, which will feature small business leaders speaking on how they have achieved competitive advantage through workplace practices, please go to www.winningworkplaces.org/bestbossesevent Tickets are available to the public. The finalists represent a cross section of industries and company size, selected from a list of nominees and screened by a panel of Winning Workplaces' board members, FSB editors, academic and advisory leaders in entrepreneurship and previous Best Bosses winners. Winning Workplaces and FSB were looking for leaders who've created dynamic, flexible and highly productive workplaces using interesting, even controversial, approaches. Andrew Field is the founder and CEO of PrintingForLess.com, the leading online commercial printing company with more than 40,000 customers throughout the United States. With Andrew at the helm, PrintingForLess.com revolutionized the industry by providing instant online pricing and ordering, unmatched technical and customer support, and consistently high quality four-color marketing materials such as brochures, post cards, stationery and catalogs. "The dedication and hard work of our company's 125 employees made this Best Boss Award finalist designation possible," said Andrew. "We've all contributed to our dynamic environment, where great ideas and disciplined execution have made PrintingForLess.com a leader in satisfying our customer's needs." Presented by Winning Workplaces and FSB, the event is sponsored in part by Charles Schwab and U.S. Trust, the presenting sponsor; CareerBuilder.com, the career search partner; CDW, the technology partner; and Clough Capital Partners, L.P., Strategic Talent Solutions, Madison Dearborn Partners, East Side Capital Corp, International Profit Associates and the University of Chicago Hospitals.
About Winning Workplaces
Winning Workplaces is a national nonprofit that helps small and midsize enterprises - the cornerstone of the American economy - create great workplaces. Research and practice show that people-friendly workplaces are better for employees, profitability, and society at large. Based in Evanston, Illinois, Winning Workplaces offers expert and affordable consulting, training, and toolkits; the "Best Bosses" recognition program; and a free online newsletter and clearinghouse on best practices for workplaces:
www.winningworkplaces.org
.
About Fortune Small Business
FORTUNE Small Business is edited and published by Time Inc., and is circulated in partnership with American Express. One million small business owners receive the magazine through a special offer, as a benefit of their membership in the American Express OPEN small business network. FSB publishes 10 issues a year, and is available at selected newsstands and bookstores. Each issue provides hard-hitting, informative, inspiring coverage of the fastest-growing segment of the U.S. economy - small business.