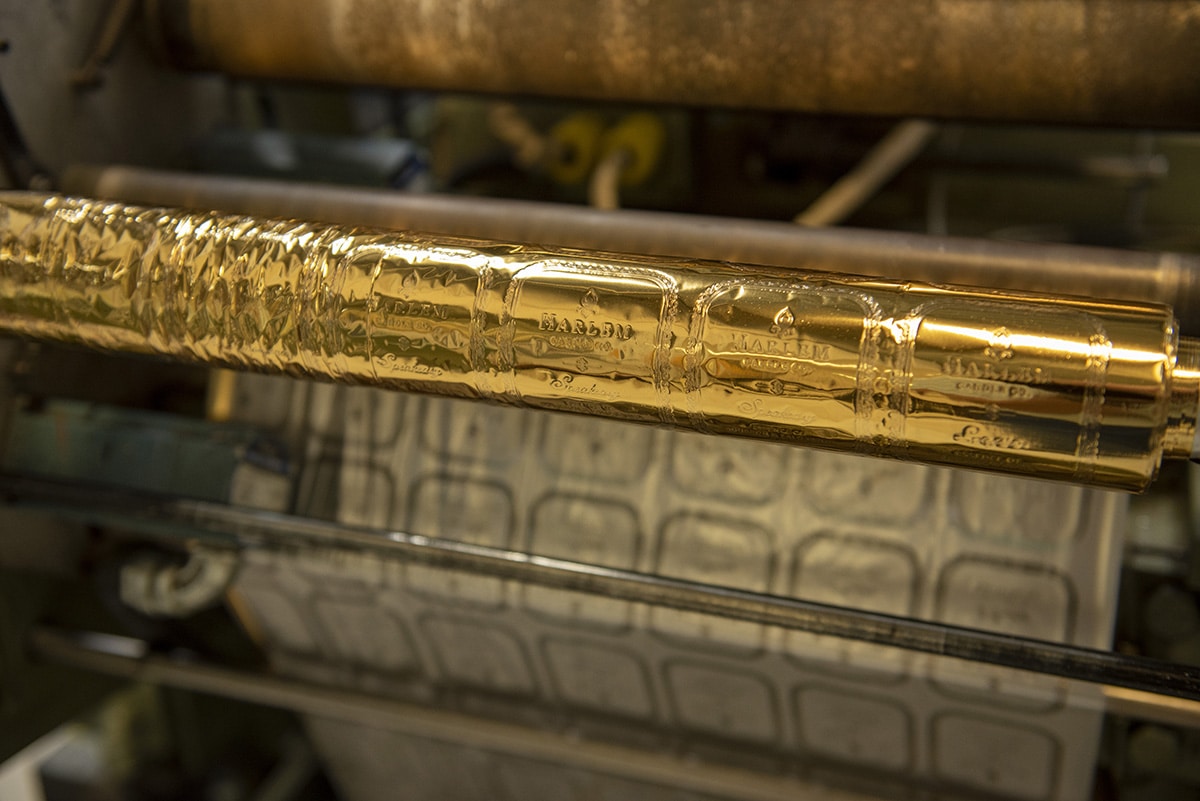 When it comes to print marketing, it's all about grabbing people's attention and standing out. You don't want your brochure to be forgotten among the masses and you certainly don't want your business card to end up at the bottom of the stack. That's why it's important to get creative with your print marketing—with design, and with print finishes. Extra touches that can grab someone's attention for even a second longer will make a difference and make your brand unforgettable. Here are our favorite print finishes and some tips on how to make the most of them.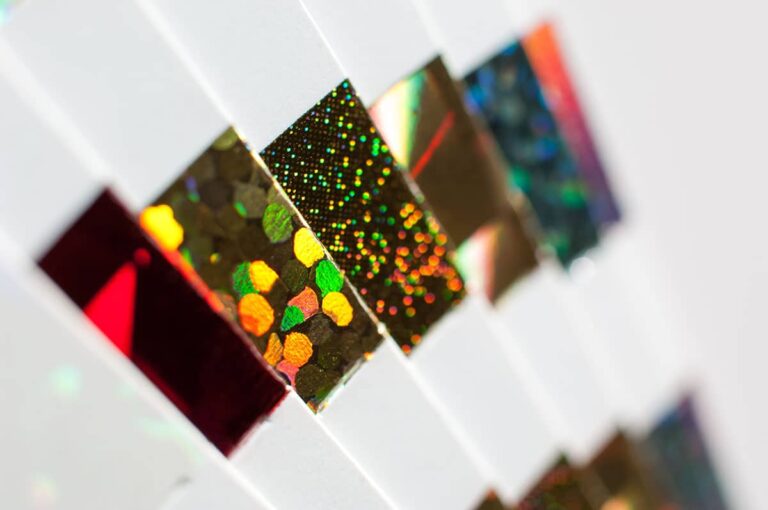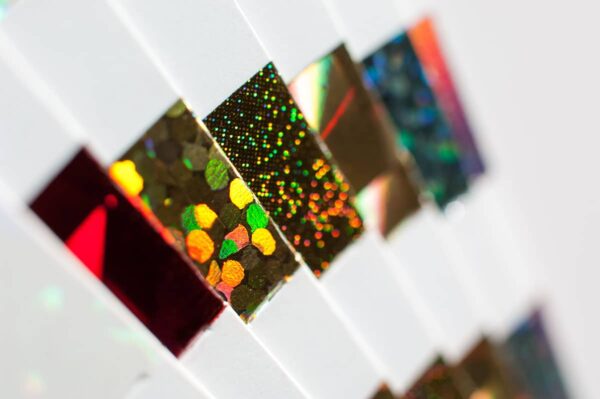 Foil Stamping
Foil stamping is a great way to make your print marketing materials stand out. The process uses a heated metal die and a foil stamping machine to add a metallic finish to your print. Gold and silver lettering or line art provide a hint of glamor, while holographic foil has a fun and futuristic appeal. We recommend using foil stamping for crisp lines—like lettering—and for larger design elements rather than small details. Printing for Less's eCommerce Marketing Specialist Ambre Zachmann recommends, "using a red foil around the QR code or a metallic arrow pointing to the QR code" to make it pop. Check out some more design tips for foil stamping here.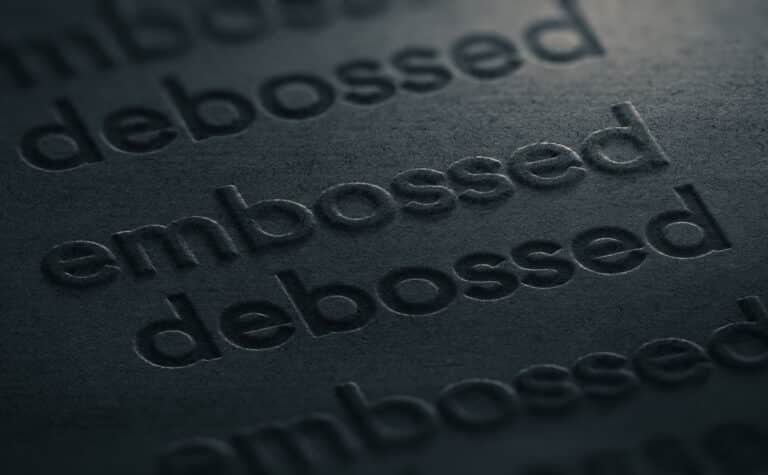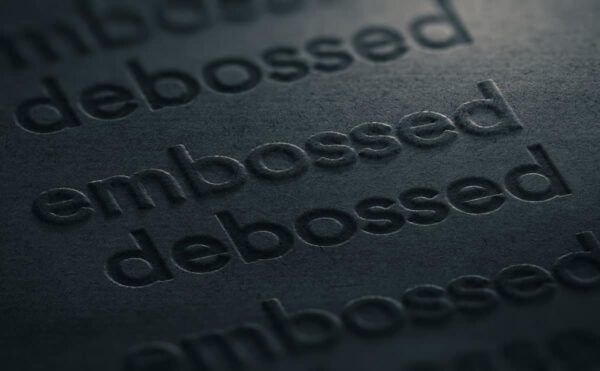 Embossing
Many people think of print marketing as a two-dimensional medium, but it doesn't have to be. Embossing is a century-old technique that uses a pair of dies to create raised design elements, or reliefs on a sheet of paper. The three-dimensional effect is most often used for professional print media, including business cards, stationery, and certificates. However, it can also add texture—not to mention a hint of class—to postcards, invitations, brochures, and more. Our embossing services are versatile: you can choose from several different edge effects, including straight, curved, or sloped edges, and can even integrate multiple embossed layers in a single design. Moreover, you can combine embossing with foil stamping for added visual and tactile intrigue.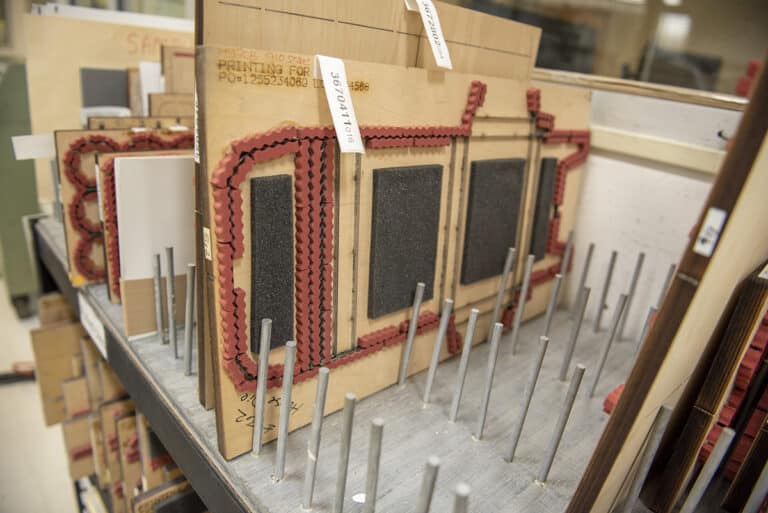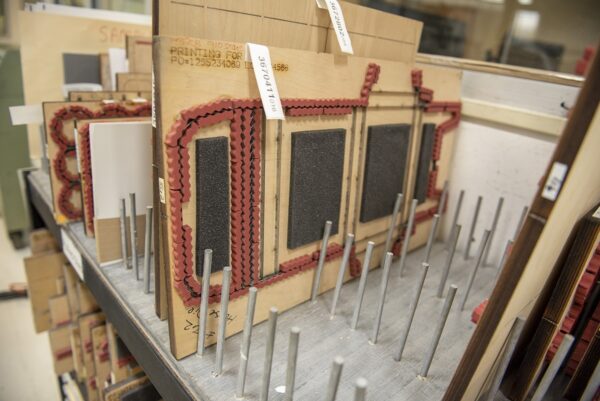 Die Cuts
While it may sound rather technical, die cutting is really just like using a cookie cutter for paper. Using custom-shaped blades, we can cut virtually any shape into your print materials for some added dimension and, in some cases, function. You can die cut the outline of your logo on a brochure and overlay it on a contrasting page to make it distinctive; you can cut out a shape on your business card to make it more tactile; you can create an interactive slide and reveal card; or you can make functional cuts for door hangers. There are countless options at your disposal. Ultimately, integrating a custom die cut will help set your print media apart from the competition and help make your brand more memorable to those who encounter it.
Custom Folds
When we talk about folding in print marketing, there are the obvious go-tos, like tri-fold brochures and folded cards. Don't get us wrong, these are great, but there are also countless other ways to fold paper to enhance your marketing materials. Custom folds are a low-cost way to add dimension and even interactivity to your prints. For example, you can strategically integrate folds to create a reveal effect for the reader, you can also create expandable or 3D shapes. As Ambre says, "I think the best print finishes are actually foldout interactive pages. Invite your reader to unlock a secret by unfolding your piece. Or I've also seen a custom mailer that could be unfolded into a huge poster for kids to color in."
Lamination
If you're looking for a consistent, professional print finish that adds durability to your print materials look no further than lamination. Specifically, liquid laminate. Also known as UV coating, liquid laminate consists of a transparent liquid coating that is applied to paper and cured, forming a thin durable coating. Not only does lamination protect your print materials from fingerprints, scratches, and scuffing, it also makes them moisture and sun resistant. In terms of a visual effect, you can choose either a high gloss or matte finish, both of which enhance the color and quality of your design and add a soft feel. Lamination is great for high-touch prints, like business cards, brochures, and menus, as well as posters and signs that require durability.
Soft Touch
Take your print marketing to the next level with a Soft Touch® coating. Like liquid lamination, this print finish increases the durability of your prints, making them resistant to fingerprints and scuffing. But the real value of Soft Touch® is its tactile appeal. Best paired with high gloss paper, Soft Touch® adds a rich, velvety texture to your prints that will make customers' fingers linger for a moment longer. It can also enhance visual aspects, particularly dark colors, which become more luxurious with the velvet-like coating. Soft Touch® can be applied to your entire print—whether it's a business card, postcard, brochure, or catalog—or selectively to create dynamic visual and tactile contrasts on the page.
Spot UV
There's a reason Spot UV is one of the most popular print finishes available today. The quick-drying (and eco-friendly!) coating imparts glossy details onto your print, resulting in a stunning contrast as well as unique light-catching effects. "If you have a really bright image on the front of your print, you could add Spot UV to it so it stands out even more and catches people's eye," explains Printing for Less Account Executive Kristi Eby. There are many ways to use Spot UV to your advantage. We recommend using the glossy print finish with matte paper for the greatest contrast, or combining it with Soft Touch for higher impact.
Finding the Right Print Finish
If you're still unsure which of these print finishes is the best for your marketing campaign or brand materials, the Printing for Less team is more than happy to help. Give us a call to chat about your needs and we'll explain which of our print finish options can best benefit you.