It's Right. It's On Time. Or It's FREE!
Expert Help on all Your Projects
High Quality and Fast Turnaround
100% Satisfaction Guarantee!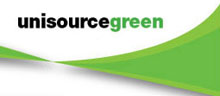 Unisource Customer Printingforless.com
Practices Sustainability In Daily Operations
Unisource is an industry leader in providing environmentally-friendly "green" papers and products to the marketplace. Some Unisource customers have also stepped up to the plate to deliver this value proposition to their own customers. The result is a trickle down effect of environmental responsibility, benefitting the entire printing, paper and graphic design community.
PrintingForLess.com (PFL) is a valued Unisource customer, and also a member of
Unisource's respect™ Printers' Program
. Through their environmentally-friendly efforts and sustainable business practices, PFL has also become an industry leader in the green movement. The following excerpts originally appeared in their own in-house publication, highlighting some of the current actions underway at PFL:
"There are many reasons why PrintingForLess.com is located in Montana amid some of the most pristine wilderness in the country, but the most obvious is simply that we love it here. We're passionate about building "America's Print Shop®" while preserving the clean environment and natural beauty in which we work and play every day. We have built our business on sensible alternatives that both help sustain our local and global environment, and enable us to keep our prices low on high-quality products our customers can take pride in.

Our paper vendor, Unisource Worldwide, Inc., is the first distributor to attain chain-of-custody certification by three national programs that recognize responsible forestry. These certifications are a guarantee to our customers that products printed on nearly all of our house stocks come from well-managed forests adhering to strict environmental and socio-economic standards."
PFL is also supporting the following sustainable initiatives:
Milled elemental chlorine-free paper
Vegetable-based inks (primarily soy)
Biodegradable packaging materials
Water-based aqueous coating
100 percent wind powered manufacturing facility
Carpet-free facility; reduces the effects of formaldehyde outgassing
25-acre wetland preservation on property
The entire Unisource team is proud to support PFL in their efforts to provide environmentally-friendly products and promote sustainable practices in their own operating facilities.