It's Right. It's On Time. Or It's FREE!
Expert Help on all Your Projects
High Quality and Fast Turnaround
100% Satisfaction Guarantee!
Printing for Wine Marketing
As a wine industry expert, you know that building awareness and interest is one of the most important marketing tasks of any winery. The design and quality of your printed materials, from the bottle label to the winery brochures will be the immediate criteria for judging your wines before the bottle is ever uncorked. Choose from a wide variety of printed products to assist you in promoting your wines and educating your consumers. Consider combining any of the following products to help build a recognizable brand that provides real value to the wine connoisseur. This suite of printed products for wineries can help you get started.
Other items you may be interested in printing for your winery: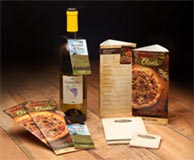 Appealing printed materials set the stage for your offerings and should reflect the personality and mood of your winery. Achieving a balance between consumer education and promotion of your specific product is key in getting the customer to commit to a first purchase and in retaining that customer for future orders. Your printed materials should complement the value and quality of your wines while providing interesting facts, tips, and insider news about your wines and the winery.
Call 800-930-2423 now to speak with a knowledgeable print expert.