It's Right. It's On Time. Or It's FREE!
Expert Help on all Your Projects
High Quality and Fast Turnaround
100% Satisfaction Guarantee!
Window Decals
Your window space is a great advertising opportunity. Custom window decals, window stickers, and window clings are each an attractive and practical method for capitalizing on your window space. Share your message with the world. Window decals come in a variety of standard formats and we are able to produce custom decals fit your requirements. Available in both small and larger formats, our window decals are perfect for storefront windows, point of purchase displays, mirrors, vehicle windows, glass displays, and glass tables. All of our window decals can be modified with low-tac adhesive for easy repositioning, or we can apply a more permanent glue option. Easy to install and remove, your PFL window decals are a perfect addition to your advertising efforts.
Custom Window Decal Options: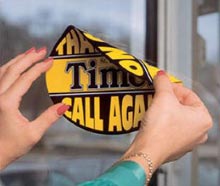 Opaque backing that prevent see through
White Inks Available
Solvent Inks for UV protection and durability
Vibrant colors
Window Perforated Film
Custom shapes and sizes
Spot Color or Full Color
Die Cut for custom shapes
Perforations
Positive and reverse formats for indoor or outdoor positioning
Window Clings
Clingy can be a good thing, at least when it comes to window signage. Custom window clings, often referred to as static clings, are printed on a plastic that will adhere to a window or any glass surface without the glue that decals use. The static electricity is strong enough to hold both small and large format clings to the surface. Custom window clings reposition easily and leave no residue. Call Us for a quote, 800-930-2423.
Custom Window Cling Options:
No Residue Repositioning
Clear or white base
Positive and reverse tac options
Indoor Use only
Transparent Base (less density ink coverage)
Solvent Inks for UV protection and durability
Eco-Solvent and Water-based inks for indoor clings
Parking permit clings
Auto service clings
PFL is your expert source for window clings, window films, window decals, and window stickers. Call one of our knowledgeable, friendly, customer advocates to get started on your order, or
Request a Price Quote
.
Have questions about Custom Decals or Static Clings?
Give our helpful experts a call at 800-930-2423.