It's Right. It's On Time. Or It's FREE!
Expert Help on all Your Projects
High Quality and Fast Turnaround
100% Satisfaction Guarantee!
Mobile Marketing and SMS with Print and Direct Mail
Print Combines With Mobile Marketing To Ring Up Response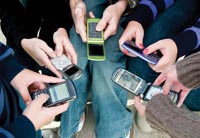 Short Message Service (SMS) is long on advantages to marketers who combine text messaging with a variety of print media. SMS makes print interactive by melding the immediacy of texting with the tactile permanency of printed material. Most significantly, the audience for that synergistic sandwich is huge. According to a recent study by Opus Research, Inc., almost 90% of Americans own a mobile phone and roughly 154,000,000 of them are regular SMS users. Texting is a particularly effective response device to any print campaign. Short text code can be printed anywhere as a call to action device: on direct mail packages, on postcards, on posters, on newspaper and magazine advertising—virtually on any printed matter. In fact, SMS can serve as the point of integration, tying together a variety of media when used in a multichannel campaign. SMS elevates print's status as a crucial element in the marketing mix by adding interactivity and immediacy to print's already strong virtues as the leading commercial communications channel.
Pizza Chain Tops Direct Mail Campaign with SMS Sweepstakes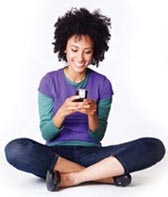 A midsize California-based pizza chain created a marketing campaign combining direct mail, e-mail and mobile to entice consumers to join its loyalty club. According to a report from Deliver Magazine, published by the USPS, a double hit direct-mail campaign was developed to reach prospects in the neighborhoods in which the chain's 86 stores are located. "The mailers contained a pizza-shaped scratch-off area that revealed a code recipients could then text in to the company, along with their e-mail address, to claim a prize," the report said. Rewards ranged from discount coupons to a $5000 grand prize. The results were impressive: "Not only did the mailers reach new guests as well as those who'd eaten at [the pizza chain's outlets] before, they stirred the recipients to action. The August mailer garnered more than 500 text-in entries and a redemption rate of 1.5 percent. In October, the company received more than 1,400 text entries and a similar redemption rate. In addition, registration increased by nearly 20 percent compared to the regular sign-up rate."
Reprinted from
Source: Opus Research, SMS Marketing: Direct Route to Consumer Engagement.
Need help with your printing or mailing project?
Give our experts a call at 800-930-6040.