Mini-Resume or Portable Pocket Resume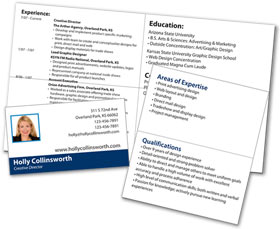 Take your job-search to the next level with a custom portable mini-resume or pocket resume. Now you can have both a standard size business card and a full-blown resume - all in one! Your personalized pocket resume will make a big impression with important job contacts you meet throughout your day. Plus, the handy format means you will always be ready to take advantage of every opportunity that comes your way! The front panel of the mini-resume features your picture and contact information, while the inside and back of the card leave ample room for an overview of your experience and qualifications to engage possible employers.
Key Mini-Resume Benefits:
Convenient business card size for easy storage and distribution
Your photo to help potential employers put a face to a name
A brief summary of your career highlights and qualifications to impress potential employers
Customizable, pre-designed product template
Key Mini-Resume Resume Features:
4 x 7 folded to a 3.5 x 2 finished size
70# uncoated text paper stock
Full-color printing on both sides
Minimum order of 250 pieces, so get out there and network!
Preparing Your Resume
Get Your Information Ready!
To help you create a mini-resume that will be sure to get noticed, it might be helpful to have some your information ready to go before you start the design process. Click on the tabs above to find out what information you'll need for each section.
Contact Info
The image to the right is an example of what your mini resume will look like once it has been folded into its final size (business card size). This section will showcase all of your important contact details like name, address and email address. You can even include a photo of yourself if you'd like, allowing potential employers to easily recognize and get in touch with you.
Expertise and Qualifications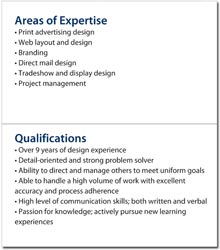 Once the mini resume is unfolded, the next panel will showcase a summary of your qualifications and expertise. This section is perfect for providing a quick list of what skills and credentials you have to offer.
Experience, Education, Skills
The inside section of the mini resume allows you to go into more detail on past experience, education and any other information you would like to highlight. Plus, the skills section header is easily editable so you can feature anything from awards to community involvement to special training and certifications.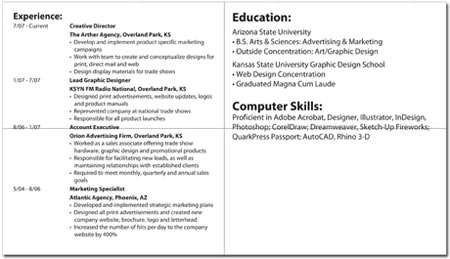 Looking for special paper stocks, designs, or something a little more custom? Simply
call 800.930.2423
for a quote today. The mini-resume product format is also perfect for product sheets, maps, takeout menus and mini-brochures. Call today for more information, or
Request a Quote
.