It's Right. It's On Time. Or It's FREE!
Expert Help on all Your Projects
High Quality and Fast Turnaround
100% Satisfaction Guarantee!
Buck Slip and Statement Stuffer Printing Ideas
Make a Statement!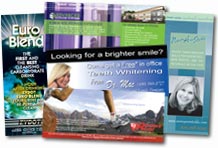 Add Marketing Messages to Mailings with Statement Stuffers
Do your clients know all of the products and services your business has to offer? Probably not. And as all good marketers know, the best way to grow your business is to focus on getting more from your existing clients. One cost-effective way to make sure your clients are up to speed on all of your product offerings and services is to incorporate statements stuffers into your marketing plan. Statement stuffers, also known as buck slips, statement inserts or package inserts, are an inexpensive way to add some marketing pizzazz to transactional mailings like bills, invoices, statements or checks. Just think - you are already mailing the statement to your customers, so why not include some additional information about new products or promotions to drum up business?
Stuff it! Enjoy High Open Rates and Multiple Uses with Buck Slips
Printing statement stuffers for your business can help make meaningful connections with your loyal customers by educating them on what you have to offer. Plus, they are less intrusive than other direct mail vehicles, because they can easily be incorporated into your existing marketing materials. You can also enjoy the benefit of high open rates when you utilizing statement stuffers, because your recipient will most likely be viewing their statement anyway, putting your insert front and center. Full color buck slips can be used in a variety of ways and for a variety of reasons:
Educate customers about any changes to their plans or policies
Survey your customers on a variety of topics
Introduce a new product or service
Highlight a promotion or deal
Include a coupon in your transactional mailings
Up-sell or cross-sell with featured product offerings
Amp up Your Transactional Mailings with Full Color Statement Stuffers
Statement stuffers are perfect for companies who routinely mail invoices or statements to clients. If you are in one of the following industries, you may want to consider adding statement inserts to your marketing arsenal: Not in one of the above industries? Despite the name, statement stuffers can be used for far more than just an additional to monthly statements. Many companies use them as hand outs at trade shows or at their front desk. You can even include them in promotional packages or add one to each order that goes out.
Get Noticed with Eye-Catching Package Insert Design
Statement stuffers come printed in a variety of sizes and can be folded in several different combinations to get the right message across. Try a 3 ½ x 8 ½ or 3 ½ x 7 statement stuffer with full color printing on both sides. Or consider a larger 10 ½ x 7 and incorporate a tri-fold or z-fold to add a little flair to your piece. Then add eye-catching, full color graphics to really grab your recipient's attention. The result with be an inexpensive marketing piece that will get noticed and gain you business.
Need help with your buck slip project?
Give our helpful experts a call at 800-930-2423.