Appointment Cards
Everyone needs an occasional nudge to help them remember important appointments or events. Create colorful, engaging, appointment cards that fit perfectly into your customer's wallet. These practical tools double as a marketing piece when you use both sides to share more about your product or services. Standard card sizing is 3.5" x 2". Choose from a number of appointment card options including folded appointment cards, rounded corner appointment cards, perforated appointment cards, and removable label appointment cards. We can also print appointment cards the size of postcards, or die cut for a special shape. Call 800-930-2423 to speak with a pre-press expert.
Appointment Card Options:
A smooth matte finish allows for easy write-ability and provides a professional look and feel. Consider using the back of the card as a traditional business card, a coupon, or a tips and advice area. Appointment cards are also an ideal location to advertise other services and products you may offer. Spa and Salon Services, Musical Instructors, Dental and Medical Offices, Veterinarian Offices, Groomers, Attorney Offices, and Professional Services Providers all utilize appointment cards to assist them in staying on schedule.
Basic Appointment Card Pricing:
Quantity: 500
Single Sided, Four Color
100# Uncoated Cover 14pt
$48.75, Shipping Included
If you have specialty custom needs for your appointment card printing, we are happy to work with you. Our friendly customer advocates are ready to help you get started; call 800-930-2423.
Sticker Appointment Cards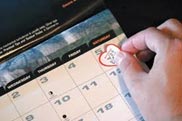 Sticker appointment cards are a perfect way to help your customers remember appointments. The removable sticker is placed on their calendars or in their personal planners to mark the appointment. Download your appointment card template to design your card with the appropriate layout. We offer the following sticker or "kiss cut" shapes: square, circle, footprint, heart, car, bone, teddy bear, tooth, and glasses.