Brochure Features
Full color on front or both sides, or black or blank on the back
Folding options only 1 cent each for any size!
FREE gloss aqueous coating
Optional UV coating for extra shine and durability
4-day production (rush available)
Full service direct mailing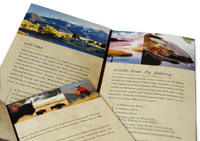 Standard Brochure Sizes
3.5" x 8.5"
5.5" x 8.5"
8.5" x 11"
8.5" x 14"
11" x 17"
11" x 25.5"
Custom Sizes
Paper Options
Choose text or cover stocks:
80# Gloss or Dull/Matte text
100# Gloss or Dull/Matte text
80# Gloss or Dull/Matte cover
Many custom papers
Customer Brochure Reviews
"It's been awhile since I received my order from you and it's been so busy I didn't have a chance to thank you for the fine job your company did. My background includes working at a high quality commercial printer, an advertising agency, and owning my own typography company in Los Angeles. I know a good print job when I see it, and the brochures you did for my family business were so good they exactly matched the color of the original work on my computer monitor. Not only that, the color was consistent throughout the job, from copy number one to copy number 1,500. Needless to say, I'll be back!"
Tom Hurley, Muir Trail Ranch
Ahwahnee, CA
"I've worked with printers for over 28 years and I have to compliment you on the wonderful job you did on my brochure, cards & stationary. The process was user friendly and very smooth. Not a glitch. People always ask where I had the printing done, and I am passing on your name."
Sherry Nelson, Delbert Nelson Design
Beaverton, OR
"Guys, wanted to thank you again for your help with the recent trifold brochure order. Your help with the order process, direct mailing, and working with me on rebuilding the file to get the perfect blue....was all very appreciated. You guys set the bar. Thanks again."
Jacob Lamprecht, Gulf Coast 4 Star Trailer Sales
Willis, TX
"Fabulous job on my brochure, guys & gals. You are really tremendous! With PrintingForLess.com, I was able to print a large four color glossy brochure for what the locals charge me a smaller two color brochure!! And you did a beautiful job. Wow, what a difference. Keep up this level of service and pricing, and I will be using you for ALL my printing needs."
Larry Wurn, Clear Passage Therapies, Inc.
Melrose, FL
Full Color Brochure Printing
A glossy full-color brochure, sell sheet or flyer is a sure-fire way to showcase your business or product. Brochures can be used to build an image for your company, promote an event, update product spec's, or for a hundred other purposes. In the Internet Age, professional printing of a 4-color glossy brochure helps distinguish "real" companies from "wannabe's." See
"How to Write a Super Brochure"
for some tips.
Standard Brochure Formats
Brochures come in four standard sizes,
8-1/2 x 11, 8-1/2 x 14, 11 x 17 and 11 x 25-1/2
. An unfolded 8-1/2 x 11 is often used as a flyer, product or sell sheet, or tri-folded for a company brochure. Many companies use an 11x17 brochure, folded in half, as an economical product catalog. While our four standard sizes are very popular and cover almost any brochure printing project, you are really only limited by your imagination. We can assist you in creating almost any custom brochure no matter the size, folds, and finishes. If you are looking for a custom printed brochure, we can provide a variety of finishing options including die cutting, foil stamping, embossing and custom folds - just give us a call and we will let you know how to proceed for the best finished product.
Ink Options
All brochure and flyer printing comes with 4-color printing on the front. The second side can be ordered also with CMYK 4-color process, or with black ink or blank. Pantone or metallic inks can also be used on request. Plus, we provide free aqueous coating and offer UV coating on our gloss papers. Aqueous coating adds scuff-resistance, extra sheen and helps protect the piece in the mail. Gloss UV coating adds an ultra-shiny and protective finish for a "rich," high-end look and feel.
Paper Options
The paper stock you choose is an important element of your brochure design. We have 5 standard brochure papers:
80# gloss text weight - the standard weight paper
80# dull/matte text weight - a non-gloss coated stock
100# gloss text (about 25% thicker for a "high-end" feel)
80# gloss cover (twice the thickness of 80# gloss text).
80# dull/matte cover (twice the thickness of 80# dull/matte text).
We can also print your brochures on a variety of custom papers including recycled paper to help you obtain the look and feel you desire.
Brochure Mailing Services
Don't go through the hassle and expense of printing thousands of labels, applying them to your brochure, and hauling them all to the post office. Leave it to us. We can mail your brochures directly to your customers and prospects. Plus, we will take care of all the details, saving you time, money and frustration. We offer bulk or first class mail choices, as well as customized mailing lists, targeted to who you need to reach. See our
Mailing Services Guide
for details, or give us a call!
Brochure Holders
Need a custom printed holder or display for your brochures? Try our
brochure holders
that can be custom printed to compliment your brochure and enhance your branding.
Multi-Page and Custom Brochure Printing
Do you need some help turning your ideas into a reality? We can help answer any question you may have about unique sizes, custom inks, and papers for your full-color brochure project? Just give us a call at
800-930-6040
. Need pricing for custom options? Feel free to
Request a Quote
. Your brochure is a key tool in your marketing toolbox. Don't leave it to chance, or cut corners just to "get one out there" and hope it connects to your customers. Give us a call, and speak to one of our experienced and dedicated pre-press teams about creating a high-quality, full color company brochure. Paper choices, sizes, folds, files, images, mailing and design—we do it all! Let us help you create a professional full color brochure to reach your customers so that you can focus on running your business.

Brochure Templates
Check out our
brochure fold and layout templates
if you need help creating your brochure in the graphic design program of your choice. Templates are available for all the standard brochure sizes and folds. We also have a selection of free pre-designed
brochure templates for Microsoft Word
. It's easy to just replace the text, logos and images with your own for a professional looking brochure design.
You can do almost anything with a brochure - the only limit is your imagination.
Take a look at these samples from our customers: