What is Embossing or Debossing?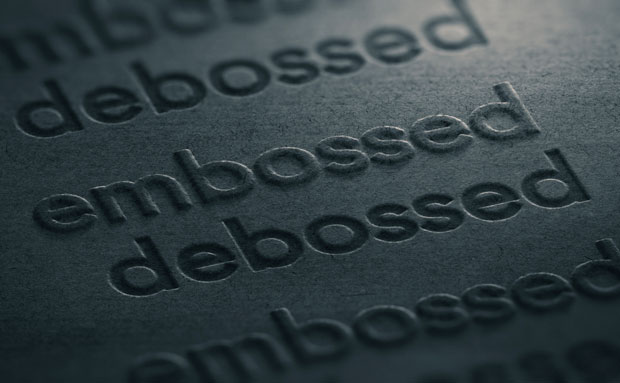 Have you ever run your hand over a topographical globe, the kind that has bumps and recesses to depict the world's peaks and valleys? You almost can't help but touch them; the raised relief is as appealing to your eye as it is to your fingertips.
---
Embossing has a similar effect. Embossing (and its opposite, debossing) are two techniques used to either impress or depress an image into paper. These popular print effects are ideal for giving your print piece a fresh, contemporary look — and when combined with other effects, like foil stamping, embossed designs can transform a great piece to a luxury one.
Which should you choose for your project? It all comes down to your preference. Let's look closer at both the embossing and debossing process.
What is Embossing?
To emboss, a commercial printing company uses two main things: a die, which is a personalized metal plate that's cut into the image you want to emboss, and stock (paper). The die presses into the stock like a stamp and slightly raise images off the paper of your print piece. The die can be single-level or multi-level, where a single-level raises your image to one consistent height or depth, and a multi-level creates a more complex emboss or deboss.
The result is a three-dimensional effect that emphasizes a particular area of your design. People often emboss a company logo, a custom illustration, initials, or a pattern for a luxurious effect.
When most people think of embossing, they think of raised effects on paper like business cards, greeting cards, and invitations. But embossing can be done on other materials like metal, acrylic, leather, wood, and cloth. In this piece, however, we'll focus on embossing paper, combining embossing with other effects, and prepping your design for the best outcome.
The Embossing Process
The first part of the commercial embossing process is the creation of the die, which is made up of two metal plates (front and back, also called the counterdie) that will sandwich the paper. The printer creates the die by either hand-tooling, routering, or photo-etching the image that will be embossed onto the two metal plates.
Next, the printer places the stock between the front and back of the die. If you're having an image embossed, the female die will go on top of the stock and male die will go on the bottom as the counterdie. When debossing, the male die goes on top and the female die will serve as the counter.
Then, using both heat and pressure, the die presses into the paper and create a relief of the image. This process is called a blind emboss because the embossed image isn't colored with any kind of ink or foil — it's simply raised or depressed off the paper.
However, if you want to combine special print effects or add color to your die, you can! A registered emboss or a combination emboss combines an emboss with ink or foil to alter the appearance of your embossed image. Adding shimmery foil to an embossed logo or name is a common practice to create a striking or luxurious custom effect.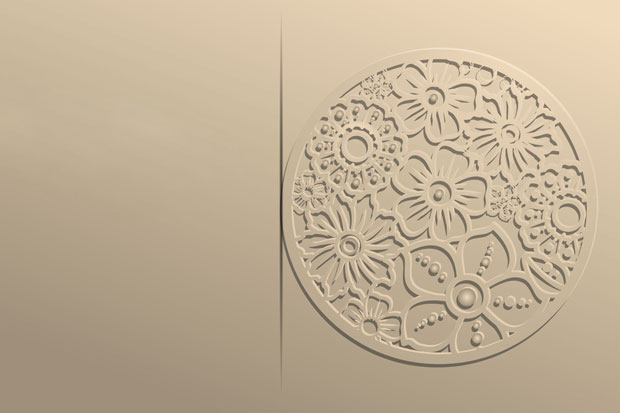 What is Debossing?
Think of debossing as the opposite of embossing. Debossing is when an image (logo, text, etc.) is imprinted into your print piece, creating a depressed effect. Just like embossing, you can choose to leave the debossed area untouched or fill it in with ink or foil stamping.
Unlike embossing, debossing doesn't interfere with the back of your print piece, giving you both sides to work with. It can be used on its own, or in conjunction with embossing.
Considerations for Embossing and Debossing
Not all images emboss well — and you'll save money and time in the long run by spending a little more of both upfront to get your project right. Here are the top things to consider before you emboss an element of your printed design.
Start with vector art. Ask your designer to submit the final design as a vector art file, rather than a raster file. Vector art is made up of mathematical rules that enable it to be resized up or down without compromising quality, and so these files will translate the smoothest into an embossing die.
Choose the ideal section of your design to emboss. Text, logos, a single image, initials, and a small pattern or embellishment work best with embossing. Although there are no hard-and-fast rules, an emboss or deboss looks best when it's used as an accent rather than as a whole piece. An exception might be a recurring pattern on the cover of a small printed piece like an invitation or a business card, where embossing a repetitive element on the entire side of a piece adds a touch of class.
Use simple artwork. Because embossing and debossing adds literal dimensionality to a 2D image, embossing actually looks best when it's done on simple artwork. Artwork that's shaded, colored, or otherwise designed to look 3D might appear distorted when embossed — so keep it simple.
If you're doing a multi-level emboss, your deepest areas should be the largest parts of the design. If you go too deep with your emboss on a very small section of your design, the paper is more likely to tear. Save your deep embossing for larger sections of your artwork.
Use a heavier paper stock, if possible. The most effective embossed pieces use a detailed die and heavier paper stock to highlight the depth and detail of the embossed graphics or images.
Consider the back of your print piece, as embossing will affect the design of this area. This doesn't make embossing a limitation, but an opportunity to add some really cool visuals to your piece.
Embossing or debossing create the kind of printed pieces that stand out where others fall flat. They're the business cards a person can't quit running a finger over, or the wedding invitations that embody a day of elegance. While the cost runs a bit different than your standard print job, it's worth it when your print pieces do what they were meant to—make memorable impressions that get you noticed.
Talk to a printing professional today about using embossing or debossing for your next project, call us at 800-930-2423!