Plastic Cards Printing and Marketing
---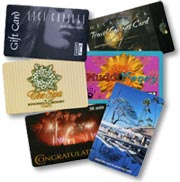 It's time to start thinking outside the box when it comes to your marketing business. Incorporating full color plastic cards into your overall marketing plan is a perfect way to distinguish your business from the slew of paper marketing materials that flood the market. Plastic cards can be used to fulfill a multitude of different marketing and business objectives, and are perfect for promoting a professional company image. The durability of plastic cards, which is tied to the thickness of the stock, is one of the main reasons that they are so effective. Plastic cards usually range from 12 mil business cards to a heavyweight 30 mil premium plastic card.
The Many Faces of Plastic Card Printing
There are numerous different uses of plastic cards, each offering a variety of useful features. Plastic cards come in several different sizes and shapes, and can be customized to fit your needs. Here are a few ideas for how you can use plastic cards to promote your business:
Business Cards
Hotel Key Cards
Badges
Luggage Tags
Loyalty Cards
Calendar Cards
Calling Cards
Security Cards
Season Passes
Contact Cards
Fundraiser Cards
Ministry & Prayer Cards
Mailers
Membership Cards
VIP Cards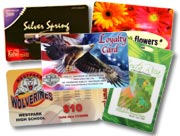 Add Some Personality to Your Plastic Cards
Another benefit of utilizing plastic cards is that you can easily add some unique and useful effects to your card to ensure they stand out and are effective at their intended use. Take your plastic cards to the next level with these features:
Personalization – refers to either placing individual's name or photograph on the card. This feature is most commonly used on ID badges or membership cards.
Numbering – perfect for membership cards, gift cards, or ID badges, numbering is when each plastic card that is printed has a different number displayed on it. Companies use numbering to track information, or the plastic cards themselves.
Signature Panels – most commonly used on the back of credit cards, signature panels often serve as a method of security. The purpose of a signature panel is to provide an area on the plastic that can be written on with a regular pen.
Magnetic Strips and Barcodes – often used on credit cards, value cards, key access cards or gift cards. They allow businesses to track, store and change consumer information.
Plastic has its Place: Key Markets for Using Plastic Cards
Plastic cards are becoming increasingly more popular throughout many industries and markets. Although almost every industry can benefit from the use of plastic cards, the following are some key markets where plastic cards are most prevalent:
Associations
Insurance Companies
Clubs/Organizations
Libraries
Hotels/Resorts
Banks
Medical Facilities
Government Offices
Advertising/Marketing
Retail
Grocery Stores
Rental Companies
Schools
Gyms and Health Clubs
Escape the Trash with Plastic Card Mailers

A plastic card mailer is a unique and innovative way to promote a company, product or service. Add high quality, full color printing to the durability of a plastic card and your mailer is sure to stand out among all the other direct mail. Consider including a detachable card to help track your campaign and ensure your marketing message sticks around. The unique design will be sure to grab your prospect's attention and increase your response rate.
Need some ideas for mailers? Plastic is perfect for: membership card mailers, product promotions, calendar mailers, service contact mailers, school fundraiser mailers, emergency notification cards, insurance cards, warranty cards, store moving notifications or referral card mailers.
Get Started with Plastic Card Marketing
You can order plastic cards in two standard sizes – 3 3/8 x 2 1/8 (credit card sized) or 3 ½ x 2 (business card size), or larger 3 x 5 and 4 x 6 sizes. Our cards feature high quality 4 color printing on durable premium heavy weight plastic stock. We can also add any finishing option to meet your needs, including signature panels, magnetic striping, bar coding, lanyard slots and more! Need some design help? Check out our Plastic Card Design and Layout Templates and Instructions for assistance on preparing your file.
Need help with your next plastic card project?
Give our helpful experts a call at 800-930-2423
, or
Request a Quote
.