Offset Printing FAQs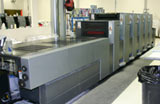 Commercial Offset Printing is the standard commercial printing method used around the world since the 20th century. Also called offset lithography, this form of printing produces the bulk of mass printing production used by businesses and organizations of all types.
---
PrintingForLess.com uses traditional offset commercial printing on genuine Heidelberg printing presses for most of the products we offer. While the concept isn't new, the state-of-the-art technologies on our 21st century equipment enable fast, reliable and affordable printing.

What is Offset Printing?
Offset lithography operates on a simple principle: ink and water don't mix. Image information (art and text) is put on thin metal plates which are dampened by water and ink by rollers on the press. The oil-based ink adheres to the image area, the water to the non-image area. The inked area is then transferred to a rubber cylinder or "blanket" and then onto the paper as it passes around the blanket. The process is called "offset" since the image doesn't go directly from the plates to the paper, but is offset or transferred to another surface as an intermediary.
Why is it called 4-Color Printing?
Offset commercial printing presses and inkjet desktop printers both use four basic ink colors: CMYK. Where inkjet printing puts all the different ink colors on the paper in one pass through the printer, in offset printing each color of ink is applied separately – one plate per color. Small dots of the four inks – cyan (blue), magenta, yellow, and black (K) – are deposited in specific patterns that make our eyes believe we are seeing a wide range of colors. That's why the standard offset printing process is often called 4-color process lithography or 4-color printing.
Offset printing can also use premixed inks in specific colors including metallic and fluorescent colors, called spot colors, to obtain hues outside the normal color range of process printing.
Why Use Offset Printing?
The advantages of traditional commercial offset printing are higher quality and the best cost-effectiveness for quantities over a few hundred, especially high volume quantities.
Low price per piece. The more you print, the less you pay per piece, since most of the cost is in the setup. With a commercial printer, any additional quantity costs only a few cents per sheet for the paper and ink.
Brilliant quality. Offset printing produces rich, accurate color and high-quality images and photographs, with sharp typefaces and fine details.
When you need 250 to 500 or more business cards, postcards, posters, glossy brochures, flyers or catalogs, offset printing is tough to beat for high-end quality at an affordable price. 4 color offset printing enables small businesses to compete with the "big guys" by providing professional-looking marketing materials.

What's involved in setting up an offset printing run?
To start a press run, the imaged plates are clamped onto the plate cylinders and the ink settings are adjusted for the density of ink needed for the particular run. The press operator then runs a batch of initial sheets through the press at low speed and carefully checks registration (alignment) of the colors and the ink/water balance to ensure full and steady ink flow for accurate color reproduction. The operator can adjust the plate positions and ink density while the press is running at low speed. This set up process is called a "make ready," where highly-skilled operators prepare the press for perfect offset printing.
Are there different types of offset printing presses?
Yes. "Sheet-fed" offset printing presses run individual sheets, ranging from "full size" sheet-fed presses running sheets that are about 28 x 40 inches, to "half size" and "quarter size" which use proportionately smaller sheets. "Web-offset" presses are fed from a large roll of paper, which goes through the press in a continuous length of paper, called a "web." Sheet-fed presses are generally used for business marketing printing, while web presses are more cost-effective for high volume printing of catalogs, newspaper inserts and magazines (around 50,000 quantity or more depending on the size and type of piece).