Fair and Square Binding
Why Square Back Binding?
If your business has stayed away from professional looking binding because of the cost, square back binding is your answer. Square back binding is an affordable solution in-between saddle stitching and perfect binding, offering the security of a saddle-stitched spine with the improved appearance of a perfect bound square spine. Add a level of sophistication and polish to your projects without the significant price tag of perfect binding. One of the biggest advantages to choosing square back binding is the ability to produce short run quantities.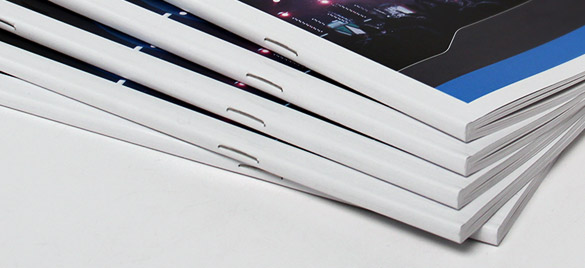 ---
What is Square Back Binding?
The only aesthetic difference between square back binding and perfect binding is the two small staples. The finished squared-look is created after applying pressure to the spine. Square bindings lay flat, making it easier to stack, handle, and pack than saddle stitching. The pages are always secure, and you can print directly on the squared surface spine.

Square Back Binding vs Saddle Stitching
Who Can Use Square Back Binding?
Square back binding is the perfect solution for authors who specialize in children's books, coloring books, or coffee table books. It also gives short run magazines, annual reports and any catalog or booklet a level of professionalism your customers and clients will notice and appreciate.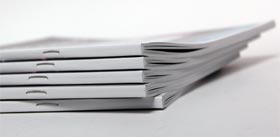 Square Back Binding Specifications
Ideal for quantities of 1-500
Can be printed on any paper weight
Minimum page count: 28
Maximum page count: 120 (70# & 80# text only)
This is a digital* only printing process
*Digital printing has a lower lead-time than offset printing.
If the files are ready, we can hit print and start right away.
Call us now at 800-930-6040 to learn more about how square back binding can give your next project a professional look, at a reasonable price.