It's Right. It's On Time. Or It's FREE!
Expert Help on all Your Projects
High Quality and Fast Turnaround
100% Satisfaction Guarantee!
Livingston Montana Featured Employer
By Skip Shiver
From humble beginnings. Express Color Printing is now the model of success for businesses in Livingston.
Located on the comer of B and Geyser Streets, this business is barely 3 years old and its growth curve is nothing less than impressive. Owner Andrew Field brings over 23 years of experience in the printing industry to Express Color and he attributes his company's success to solid business strategies.
Strategies such as:
picking a niche inside a niche
reaching out with the Internet and not being satisfied with your first try
coming up with fresh ideas and then other fresh ideas
doing more outreach beyond the Internet
offering good wages and keeping employees motivated
and not battening down the hatches too tightly by being flexible.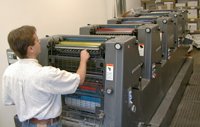 How successful are their strategies? In their first year alone, the company experienced a 40% increase in growth. The second year the company again experienced a 40% growth increase, and jumped a whopping 70% in the third year. To keep up with the load, the shop has employed some 17+ workers and is in production 20 hours a day. With better than average wages, profit sharing plans and other incentives in place. Field says that his company enjoys empowered workers who think like the owner. The workplace breathes, even giggles. Wisecracks and laughter frequently relieve the stress of this fast paced, high-energy production environment.
Field says, "the trick is to live here... and figure out how to get the outside money in here." As a result of the Internet as one example of outreach. Express Color brings in print jobs from customers coast to coast and internationally as well. The site at www.printingforless.com is extremely customer friendly and according to Field, provides services and features not found anywhere else in the printing industry such as real time computation of print job costs and the convenience for a customer to send their print job online in popular layman's file formats.
As a result of good business strategies, better compensation and accommodating atmosphere. Express Color attracts and keeps high-quality staffers and continues to grow in the Livingston community as a cutting-edge business. Field sums things up by saying, "You don't want to wake up in the morning and hate going to work. This is more than a drone job. Happy people who get to make their own decisions and work in a flexible environment are going to produce better work for the customers. It's better for everybody." With winning strategies and continued upward growth trends. Express Color may at some time in the not so distant future, come to place in the ranks as one of Park County's top employers.