Design Inspirations for the Perfect Business Holiday Card
The holiday season is on its way, and with it, new and inspiring opportunities for brands to connect with their current and prospective clients through holiday marketing.
Seasonal marketing is an important subset of a business's year-round strategy. Think of it as a chance to reach out to the people who matter not with an overt advertising message but with the intent to build rapport and goodwill. A holiday business card does serve a purpose, of course, but ultimately the goal is to check in and send best wishes for a happy and joyful season and the year ahead. So get creative with your holiday marketing and consider upping the whimsy in ways you might not do the rest of the year. Here's some design inspiration to get you started.
Go Geometric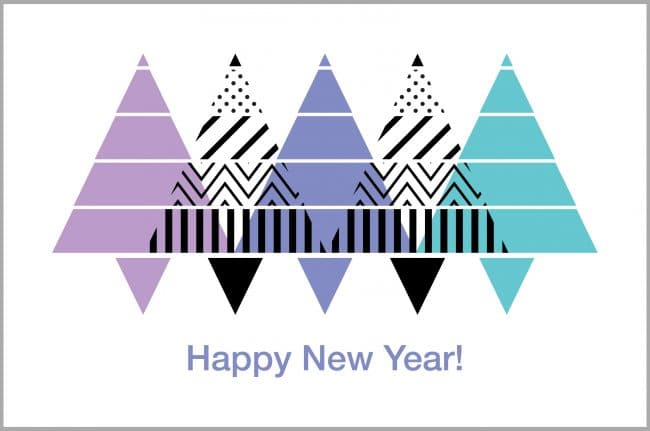 Add a contemporary touch to your corporate holiday cards with a modern, geometric design. The winter holidays are an ideal time to play around with different styles since the core elements of your message and imagery are so recognizable on their own. Use that to your advantage and embrace some less holiday-specific design elements. Geometric styles are particularly great to incorporate due to their inherent visual balance and versatility.
Incorporate Non-Traditional Colors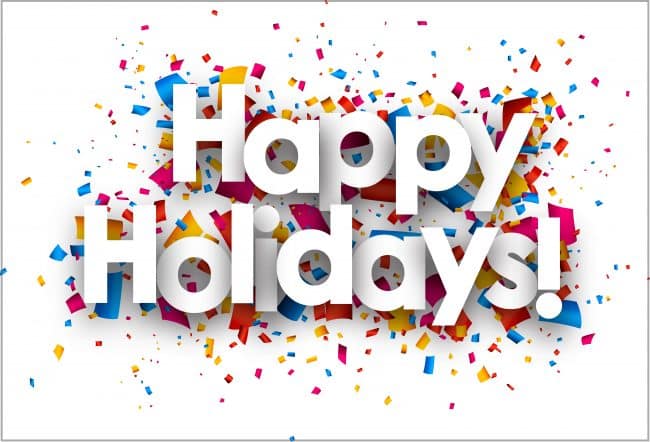 Stand out from a sea of red and green by incorporating colors that aren't often associated with the holidays into your seasonal cards. Play around with pops of neon or pastels, or go a more muted route with neutrals like beige and cream. The holidays shouldn't limit your creativity when it comes to design—keep your message seasonally focused and go as bold as you want with your color choices.
Cut It Out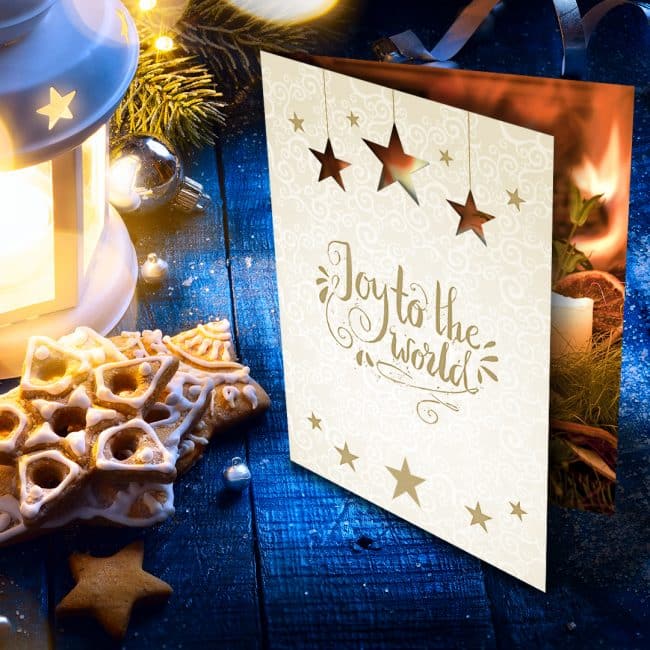 Incorporate cutouts onto your custom holiday business cards for a simple tactile element that packs a big punch. If you want to be more elaborate, you can tie in the background imagery to create a cohesive design between the cutouts and what's behind them.
For example: have a tree on the front page of your holiday card with small cutouts where lights would go and have a white, gold, or glitter background behind them. Not only will cutouts inspire recipients to open your card up, they'll also probably also draw them back for a second and third look.
Seal Your Card with a Personalized Touch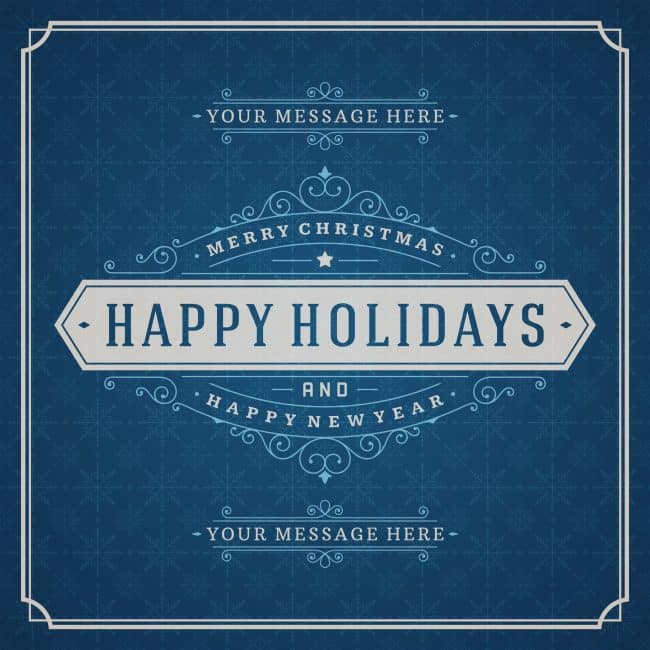 A custom envelope sticker, sealing wax stamp, or a simple personalized message are all simple ways to go the extra mile and add a touch of luxury to your holiday marketing cards. Think seasonal colors when you're designing your seal and go with a metallic such as gold or silver or a standard holiday hue like red or green.
Include a Special Gift
While it's probably not in your budget to send a gift to everyone on your contact list, there is certainly value in sending a gift alongside your seasonal business card to your most important and appreciated clients. Gifts are a welcome surprise to receive, and the bulk packaging they come in will inherently stand out from the other mail that a recipient receives.
It's also an effective way for you to say "thank you" to those clients who matter most to you. A box of chocolates, artisanal snacks or ingredients, or a customized holiday mug with your brand's logo on it will all go a long way toward continuing a good relationship when combined with a handwritten holiday card.
Festive Foil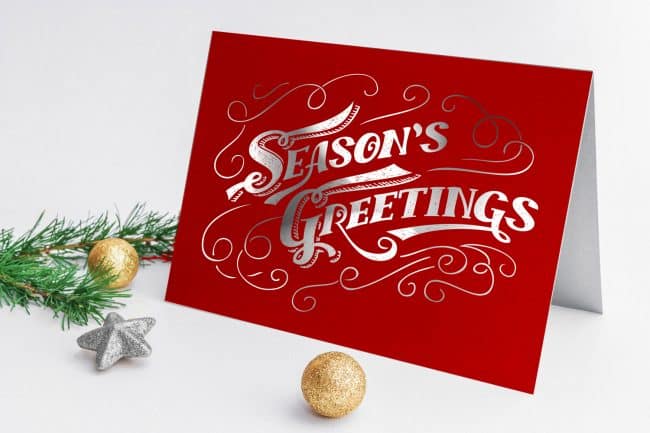 Foil designs are particularly well suited to seasonal cards since the holidays are already heavy on shiny metallics. There are several ways to incorporate foil printing into your corporate holiday cards, some more subtle than others. You can use foil for your wording, around the edge of your card, or as your entire background. No matter how little or how much you use, your card is sure to make a major impact.
Add a Touch of Vintage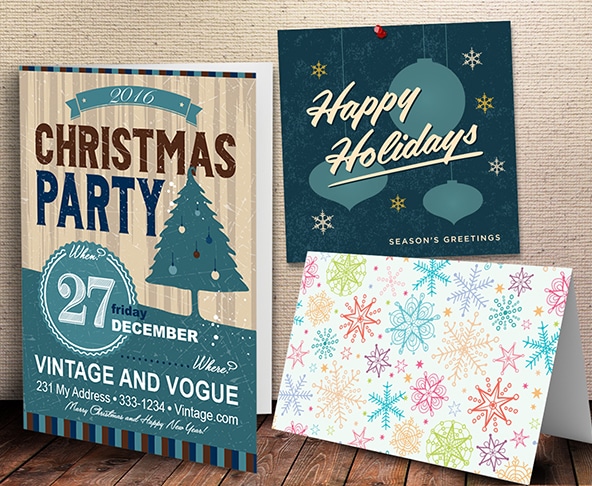 Go old school with your seasonal marketing with vintage-inspired fonts, imagery, and color schemes. The holidays are all about invoking nostalgia, and there's a strong appeal to designs that bring people back to simpler times. Think muted colors, whimsical fonts, and images long-associated with the season, such as ornaments, snowflakes, or fir trees.
All That Glitters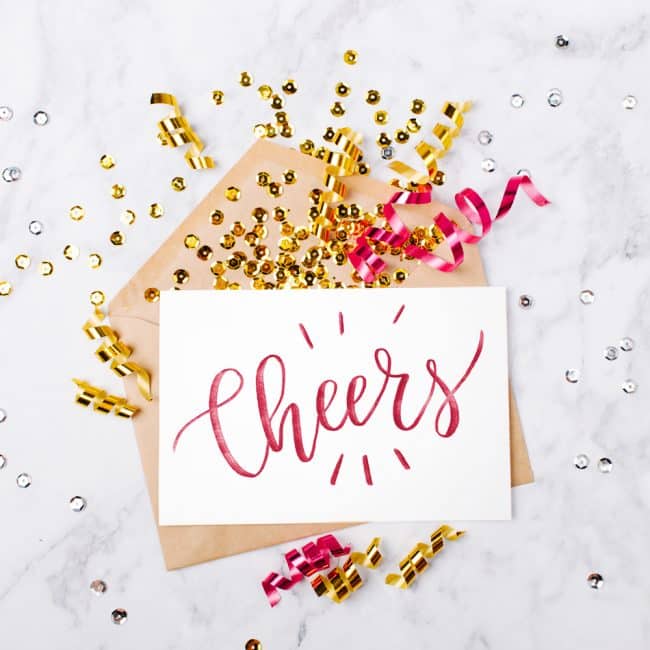 A sparkling confetti bomb is a unique way to brighten someone's day, and will definitely make a lasting impression. To make it easy, you can order whatever cards you like and then add in a touch of confetti (sequins or glitter are good choices) on your own.
Do know your clientele, though – this element might not be a great fit for everyone. If your recipients are corporate, they probably won't appreciate the mess that confetti makes. But if they're millennials or you're a kid-focused brand, a rainstorm of sparkles may be a fun and festive addition.
Go Bold with Your Envelope

Send your card in a custom holiday envelope worthy of being shipped off to the North Pole. A festive envelope suggests that something equally great is inside, but it also stands on its own, so if you want to keep your card itself simple you'd be fine to do so.
Size It Right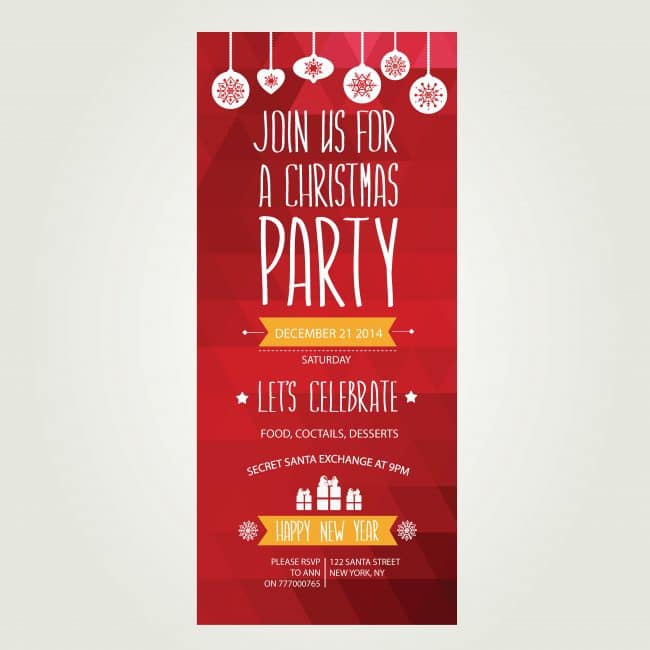 Seasonal cards tend to be pretty similar in terms of size and shape. Make yours distinct by choosing a long, vertically-focused card that will naturally stick out from everyone else's. The objective with your holiday card, aside from sending season's greetings, is to look for ways to do something different than everyone else.
Take it a step further and ditch the rectangle entirely by making your card a circle, a star, or even a Christmas tree shape.
The Perfect Holiday Business Cards: Additional Tips
Stay true to your brand's voice. While you can certainly get creative with your design, make sure you're carrying through your brand's voice and values with your holiday card, just as you would for any other piece of marketing material.
Consider your audience. Depending on who you're sending your card to and/or your own company policies, you may want to go the broader "Happy Holidays" or "Happy New Year" route instead of focusing your marketing on a specific holiday like Christmas or Hanukkah. If you don't, you run the risk of alienating recipients who don't celebrate the holidays in the same way.
Include a holiday promotion. Give your seasonal card an additional purpose by including a timely promotion with it, such as 10% off a purchase made before January 1. Since the holidays are already a time when people are doing a lot of shopping, it makes sense to let your holiday card do double duty as a promotional tool.
Design your holiday business card today! Speak to a print consultant and get a custom holiday business card that perfectly combines your own style with festive seasonal inspiration.
Learn more and place your order with Printing for Less here.
Need help with your print? Talk to a live print expert today: 800-930-7978.