It's Right. It's On Time. Or It's FREE!
Expert Help on all Your Projects
High Quality and Fast Turnaround
100% Satisfaction Guarantee!
Wall Calendars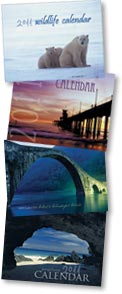 Let's talk straight. We have all received promotional wall calendars that are just plain ugly, or worse, boring. For example, consider an insurance agent who faithfully sends an unattractive, boring promotional calendar to all his clients every December. While thoughtful, it fails to gain the intended traction. Often these marketing relics end up hanging in low-traffic areas, like the garage, and that's only if they survived the file 13 test. That's where we come in. Your success is our goal. When you print a wall calendar as a promotional piece for your organization or business, we can help you make it pop. Custom calendars that people will actually display within view are great marketing tools. What a perfect way to connect with your customer base and keep top of mind all year long! As the premiere online commercial printer, we offer a large number of features that go way beyond "cookie cutter" options. We start with the best in paper choices, the highest quality printing, and world-class customer support through every step of the process. Building on this strong foundation, the creative options below are just some of the things we can do for you to make the most of your wall calendar investment. Get your creative juices flowing and think of the best way to engage your target audience with a great wall calendar. A good place to start is to consider what you would personally find attractive; what type of calendar would you hang-up? Vivid imagery is a good way to make a "keeper". Another option is to provide useful info-graphics that will appeal to your clientele. If you have access to an illustrator or comedian, consider incorporating humor. Our designers can help you with your custom needs. If you don't have a concept in mind, but still want to produce a dynamic calendar, we have a selection of pre-designed theme wall calendars that will stand out from the crowd. We can add any of your text, logo, and contact information free of charge. Attractive wall calendars are a fantastic way to reach out to your customer base. When you are ready to invest, we are here to help your custom calendar be a great success.
Call 800-930-6040 to talk with one of our wall calendar printing experts.