It's Right. It's On Time. Or It's FREE!
Expert Help on all Your Projects
High Quality and Fast Turnaround
100% Satisfaction Guarantee!
Executing on Your Next Integrated Campaign
Educational Series Part 3

Email marketing is the perfect compliment to direct mail because it allows you to hit your customers and prospects with multiple touch points, helping to reinforce your message and strengthen your customer relationships. Using email and direct mail together can improve efficiency of all your other marketing programs, enabling you to build even stronger ties to existing customers, and ultimately drive repeat as well as referral business.
Making Email & Direct Mail Work for You
Direct mail and email can be used together in a variety of ways to help build your brand and increase sales. Here are just a few ideas for how you could use integrated marketing in your business:
Nurture existing leads. On average, it takes 7 touches for a sale to occur. By using email and direct mail together, you increase the number of times you hit your prospect with your marketing messages, leading to enhanced brand recognition. When your prospect is ready to buy, they'll think of you.
Announce a new product, service or event. Email and direct mail are the perfect vehicles for introducing a new offering. Use them together to reinforce the features and benefits by hitting your audience several times, in several different ways. If you are promoting an event, try sending a printed invitation, along with a follow up email where prospects can RSVP online to attend.
Increase purchase frequency. Use an integrated campaign to reach for a larger slice of your customers' purchasing pie. Just because a customer buys some things from you doesn't mean they purchase everything from you. Use email and direct mail to build trust, loyalty and awareness so your customers turn to you more often.
Up sell existing customers. Look for opportunities where it might be appropriate to hit your customers with product-specific up sell offers. Use email and direct mail to highlight other products or services your customers may be interested in ("if you like this, you might like..."). You'll increase your average order size and add value for customers.
Reengage old customers or prospects. A percentage of your customers just aren't engaged with your brand anymore. Track what subscribers haven't clicked or opened any of your emails in the last six months and send them a reengagement email reminding them of what you have to offer. Or try sending a catalog to customers who haven't ordered in the past year with a special offer to gain back their business.
Increase referrals. Word of mouth is one of the cheapest and most authentic forms of marketing. Use email and direct mail to make it easy for your best customers to tell an acquaintance about your product or service. Include a 'forward-to-a-friend' link in all your emails and a tear-off coupon with your next postcard, door hanger, or brochure that the recipient can give to a friend.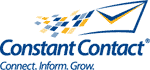 With Constant Contact, you can quickly and easily create professional-looking emails, manage lists, promote events, gather feedback through online surveys, and track results. Sign up for
Constant Contact's 60-day FREE trial here!
PrintingForless.com makes it easy to get high quality, full color marketing materials like postcards, brochures, catalogs, and stationery. PFL is also your one-stop-shop for your next direct mail campaign. Printing, addressing, and mailing lists - we do it all!