It's Right. It's On Time. Or It's FREE!
Expert Help on all Your Projects
High Quality and Fast Turnaround
100% Satisfaction Guarantee!
Foil Business Cards
Make Your Printing Shine
Foil stamping is a versatile way to give your
business card
a high-end and customized look. Add a touch of class or sass on a foil stamped business card featuring effects such as elegant metallics, ultra-glossy colors, shimmery pearl or distinctive textured and high-tech effects.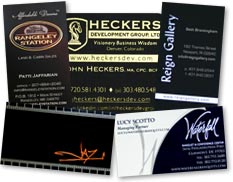 Foil can help boost your business. Research has shown that people perceive your product as having a higher value and quality with the addition of effects like foil to your business card and other printed marketing materials. Cards with foil printing, called hot foil stamping or hot stamping, use the impressing of pigment or metallic foil to paper using heated dies. The stamping machine applies the foil onto the surface under high pressure, leaving the die design on the paper. Business cards with foil often feature foil text or graphics, such as logos. Your foil business card will stand out from the crowd with its distinctive and eye-catching impressiveness, giving you the advantage in the highly competitive marketplace. A three dimensional foil image can be created by combinging foil with embossing. Check out our foil stamping video below to see a stamping press in operation, and see some additional visual samples on our
custom printing effects
page.
Foil Options
Foil stamped business cards can pop with a variety of foil types:
Metallic Foil has a metal-like shine and shimmer, and is available in a variety of colors, including gold, silver, red, green, blue and copper.
Gloss Pigment Foil has a high gloss, but non-metallic finish, with numerous colors available.
Matte Pigment Foil has a dull, non-shiny finish in deep solid colors.
Special Effect Foils such as leathers, marbles, pearls or woodgrains add interesting textures and apearances.
Holographic Foil uses a hologram on the surface. It creates a dramatic "high tech" effect.
What Materials can be Foil Stamped?
Foil can be used on almost any paper, including magnet paper. Our smooth-surfaced gloss, dull/matte and lustre uncoated cover stocks are ideal for metallic foil or other foil stamped business card looks. Linen and other textured papers are not recommended for foil, since it will not look as smooth and crisp due to the paper's uneven surface.
Need advice on adding foil on your business cards?
Give our helpful experts a call at 800-­930-6040, or Request a Quote.

See Hot Foil Stamping in Action