SmartFlex® Synthetic Paper
What in the world is Synthetic Paper?
---
| | |
| --- | --- |
| | The quick answer is plastic. But there's much more to that story because SmartFlex® Synthetic Paper changes the game of printing. Traditional paper from wood pulp can be manufactured to have a lot of great qualities. The look and feel of premium paper can really improve the image of your company. Any business that wants to present a quality product needs quality marketing and sales materials to convey that message. SmartFlex® Synthetic paper has that premium look and feel along with rugged durability, while being tear resistant and waterproof. With standard paper, the pages of the menu pictured to the right, would tear off easily and stain with the first splash. |
SmartFlex® is a durable paper alternative extending the life of your investment. Printed synthetic pages clean with soap and water and won't tear apart from the stand.
What about the environment, you ask? We take great pride in sourcing printing materials that are friendly to the environment. From our wind powered facility to the use of sustainably sourced paper and soy inks, our commitment to preserving our amazing landscape is clear. Printing on plastic gives you the best of both worlds:
Reduce – Using SmartFlex® in your print allows you to reduce your consumption because it will last longer and still look great.
Reuse – Images won't fade over time like standard paper and even tough, sticky stains clean off with soap and water.
Recycle – Synthetic paper is made from 100% recyclable materials.
Just watch us try to make a mess of these SmartFlex® synthetic menus!
Printing menus on SmartFlex® synthetic paper makes perfect sense, but what else is it good for?
6 pt, 8 pt, & 12 pt: Thin and flexible, these thicknesses are great for – Brochures, Map Printing, Travel Guides, Manuals, Bellybands, Product Labels and Packaging, Posters, Hang Tags, Door Hangers
15 pt: More rigid like a card stock, this size is great for – Menus, Packaging that needs structural stability, Placemats, Business Cards, Identification Cards, Door Hangers, Parking, Vehicle and other Permits and Passes. Because it holds its shape so well, this size can have half folds only.
20 pt: Technically, this isn't SmartFlex® but a Styrene board. It is incredibly thick and strong, so it can't be folded at all. Otherwise, it has all the great properties of SmartFlex®. Great For – Window Signs, Storefront Lightbox and Advertising Signs, Bus/Transit Shelter Signs, Trade Show/Event Graphics, Coasters.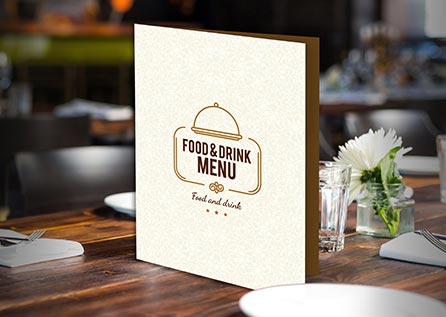 SmartFlex® synthetic paper menus last much longer than laminated paper and look great for longer.
Anything that needs to stand up against heavy use can be printed on synthetic printing paper.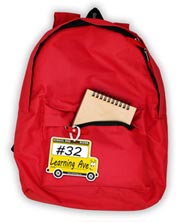 Gone are the days of putting your paper through a laminator to squeeze a few more uses before the edges peel apart. Lamination was the best we could do to waterproof your print before. You no longer need to accept low quality, cheap feeling solutions to this problem. Synthetic paper has made it possible for durable printed material to also look and feel like a premium, high quality product. Make print that lasts.
Have questions about using SmartFlex synthetic paper on your project?
Give our Print Consultants a call at 800-930-6040.