Personalized Coasters
Custom coasters are a practical way to share your branding or event. Whether you need coasters for a special occasion, like a wedding, or for a business, like a restaurant, our professional printing services will ensure your coasters look fantastic.
---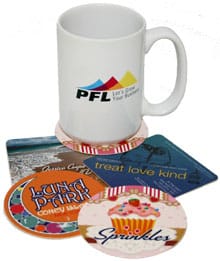 We offer an array of printed coasters and materials that will fit your needs.
Pulpboard Coasters:
These beverage coasters are absorbent, durable, and come in an assortment of thicknesses to suit your specific requirements. One of the most common requests is for .055″ coaster board, which is about the thickness of four standard business cards stacked on top of one another. Pulpboard coasters are printed with a four-color press and can be processed with full bleed. You can customize with a special shape and a photo image. These are disposable, but can be used more than once.
Paper Coasters:
These are a perfect for weddings, fundraisers, school events, and parties. Basic paper coasters are thin, single use coasters that are 100% recyclable. These are designed for single use only, yet they will be absorbent enough to be useful. Single color print and basic lines will yield the best results.
Cork Beverage Coasters:
These are durable and absorbent. These coasters will be around for the long haul. Usually 1/8″ thick and crafted from sturdy cork material, these are perfect for restaurants, bars, lounges, and coffee houses. Print in full four-color, or choose a single color. Custom cork coasters can be die cut in a specialty shape, but are also available in the following standard formats:
4″ and 3.75″ diameter circle
4″ and 3.75″ Square
Oval
2.5″ diameter Automobile Cup-Holder Coaster (These are a perfect way for businesses to keep their brand in front of customers.)
Leather Coasters:
Imprint these custom coasters with a more permanent image, like a logo because they will be around for a long time. Leather coasters are a permanent solution for your custom coaster needs.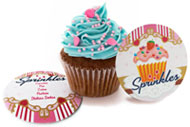 Custom Coasters Pricing Sample:
Standard Pulpboard Coaster
Size: 4″ round: .035 thick
Quantity: 125
Single Sided, Four-Color Printing
$180 (Shipping Included)

All of our personalized coasters can be die cut to a custom shape that meets your specific requirements. Call 800-930-6040 to talk to one of our friendly printing experts. We will make it easy and your results will be top notch.
Need help with your coaster printing project?
Talk to one of our experts at 800-930-6040.