How Custom Printing can Turbo-charge your Business
How do you use custom printing in your business?
How can it set you apart from your competitors?
What are some ways you can use custom printing for your own marketing pieces?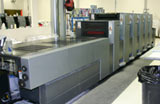 Heidelberg Offset Printing Press
Custom printing is anything that is out of the ordinary, unique or distinctive, and when used to market your business, it can be the one thing that stops a customer for that crucial moment, and gets them to look at YOU.
Some of the ways you can use custom printing to make your collateral stand out are very straightforward. Many times, a change in paper stock, adding foil to your logo or using a Pantone ink adds a level of distinction that your marketing collateral needs.
---
Some other great examples of printing customization are:
Die Cutting
Embossing
Foil Stamping
Perforating
Custom Papers
100% Recycled Paper
Round Corners
Custom Folds
Pantone Inks
Metallic Inks
Spot Varnish
Spiral binding

Additionally, creative use of finishing techniques can make a ho-hum presentation folder have depth and an almost three-dimensional appearance with a striking emboss of your company's logo, or an interesting die cut can transform your postcard into the shape of a computer, a dollar sign or even a palm tree. You are only limited by your imagination and budget.
Remember, you are looking to gain attention and create interest through custom print, but still maintain your design intent. Out of the ordinary paper or shiny metallic inks may make your brochures or rack cards look appealing, but if they are counter to your message and campaign, don't feel compelled to use them. Try this–the next time you are out at a tradeshow or come across a service and product rack, examine the business cards, the flyers and brochures. What are you drawn to? What "jumps out" at you? Make mental notes, and see if you can incorporate anything into your own design or plan.
One of the biggest benefits of custom printing, in addition to the aesthetic side, is it is a surefire way to differentiate you from your competitors. Everyone is drawn to the unique, the eye-catching, and the different. And when you get that future prospect to stop, look and read what you have to offer, you are half way to getting that sale.
To get started ramping up your business marketing, click to Custom Printing Products and Options. One of our highly trained print consultants will answer all your questions.