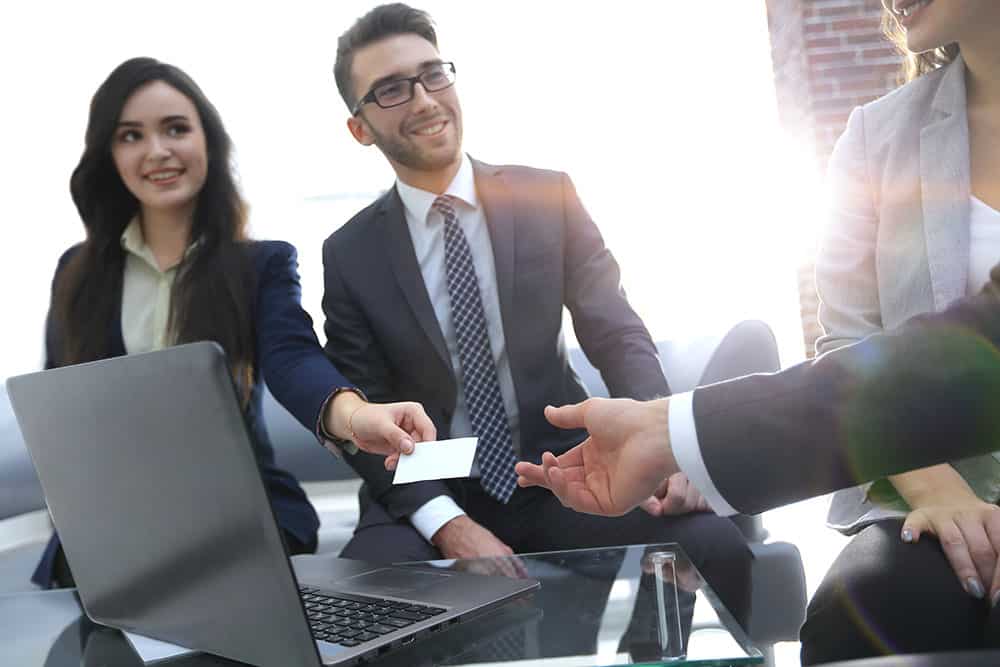 After lockdowns and social distancing, the past years have reminded us of the importance of in-person interactions. Typing messages and chatting on conference calls is a great way to stay in touch, but it can't replace the emotion and impact of being face-to-face, and it certainly doesn't leave an impression in the same way.
Take the humble business card. Did you know that 27 million are printed every single day? Despite being in the digital age, the business card remains a time-trusted tool for people to introduce themselves and their work—and most importantly, to be remembered.
Business cards are so effective because they serve as a way for recipients to take a bit of a conversation away with them. It's like a memento that encompasses not only the content but the context—the setting, the body language, and of course, an idea of what the business is.
Below, our experts explain why business cards are still important, and why they're set to keep their significance even as technology takes over.
The Value of Traditional Business Cards
In an online world, offline marketing adds a level of validation. It acts as proof that companies really are what they claim to be—and for that reason, offline marketing will always play a role in business. It's why the business card has been around since the 15th century.
In fact, 72% of people judge a company or person based on their business card, partly because people expect that plenty of time and effort goes into a business card. But there's also a sense of safety that business cards offer—they hold people's direct contact information, which makes recipients feel like they're getting an exclusive, personable service.
Sure, a "Contact Us" page on a website can show the same information, but it typically has a more sterile format and doesn't have the same intimacy. It doesn't make the person feel special or attended to. Not to mention, we may be in the digital age but that doesn't mean that the internet is always accessible. There are inevitable moments when we can't get online, and when the chance to connect with someone can be lost. Handing over a business card, however, requires no device or signal.
The Impact of Digital Services on Business Cards
The remote revolution has certainly forced brands to step up their creative game. With so many businesses competing for audiences' attention, it's getting harder to cut through the noise. But as some companies opt for expensive solutions to help them stand out, the mighty business card can be far more successful.
Ambre Zachmann, our Ecommerce Marketing Specialist, says "the push to online has made print material more enticing and valuable since it's less common." She goes on to note that curating an experience around a business card will get people's attention much quicker than the usual digital ploys. "You could place your card in a larger mailer with instant coffee attached and a message saying 'let's catch up over coffee.'" Cool, right?
The crucial element of business cards in the digital age is that they have to be well designed and bring your brand to life. If you're introducing yourself to someone face-to-face, seize that moment and use your business card to animate your company's story and DNA. According to Melanie Handl, our Custom Solutions Team Lead, "if you have a dog-walking business, try a fire hydrant die-cut or a foil-stamped leash. If you're an artist or photographer, a spot UV or embossed paintbrush is powerful." The possibilities to communicate your personality and brand are endless.
How Has Hybrid Work Further Impacted Business Cards?
The business world has gone through a lot of big shifts lately. With hybrid work now the norm, in-person meetings and sales pitches aren't taking place in the same way. But that doesn't mean that more traditional tactics like business cards have lost their shine. The opposite in fact. Business cards are evolving with the times.
Hybrid work demands hybrid branding. Ambre explains that "we have to tie our digital efforts with physical experiences to help prospects and leads trust your brand and repeat your messaging." For example, if you've just held a webinar, send leads your business card in the mail afterward to create a fun, unprompted moment of unboxing.
Business cards can also be included in a "thank you" package for people who have had initial touchpoints with your brand. Additionally, a great idea is to add QR codes to your business cards that link to interactive content, suggests National Account Executive Nathan Gardner. "Doing so will link your card to your digital strategy and show recipients that you're modern with a classic twist."
What Business Cards Do That Digital Intros Don't?
With businesses increasingly operating 100% online, there's been a lot of focus on digital introductions—sending emails, referring people, and selling yourself using a range of tools. But the reality is, we're getting saturated with all these inputs and that means we're becoming desensitized to introductions that could really benefit us. It's a case of "oh, another cold message from someone I don't know. Move to trash."
The physicality of business cards gives people a visceral takeaway that is harder to ignore and forget. As Melanie says, "have you ever run your hand across some rough wood? What about a nicely polished piece of marble or granite? Maybe you have a favorite set of sheets or a favorite t-shirt that just feels good when you put it on." These experiences sit with us because they generate a feeling. A business card is no different, "it's a virtual handshake" Melanie adds.
Business cards are also a way to distinguish yourself from the digital space. Ecommerce Sales Manager Katie Younge believes that business cards are a more unique form of identity. "Everyone's LinkedIn has the same layout but business cards can be customized, and are more cost-effective than creating a website and buying digital marketing tools."
Think of how many people you look up online. How many of those names and positions do you remember? The likelihood is not many. Not only are business cards cheaper and more personalized, but they also spark a deeper connection between parties, and that value is worth far more than any volume of digital introductions.
Big things come in small packages. And even bigger opportunities come from business cards. Tap into your paper potential today and check out our impressive selection of business card printing features.