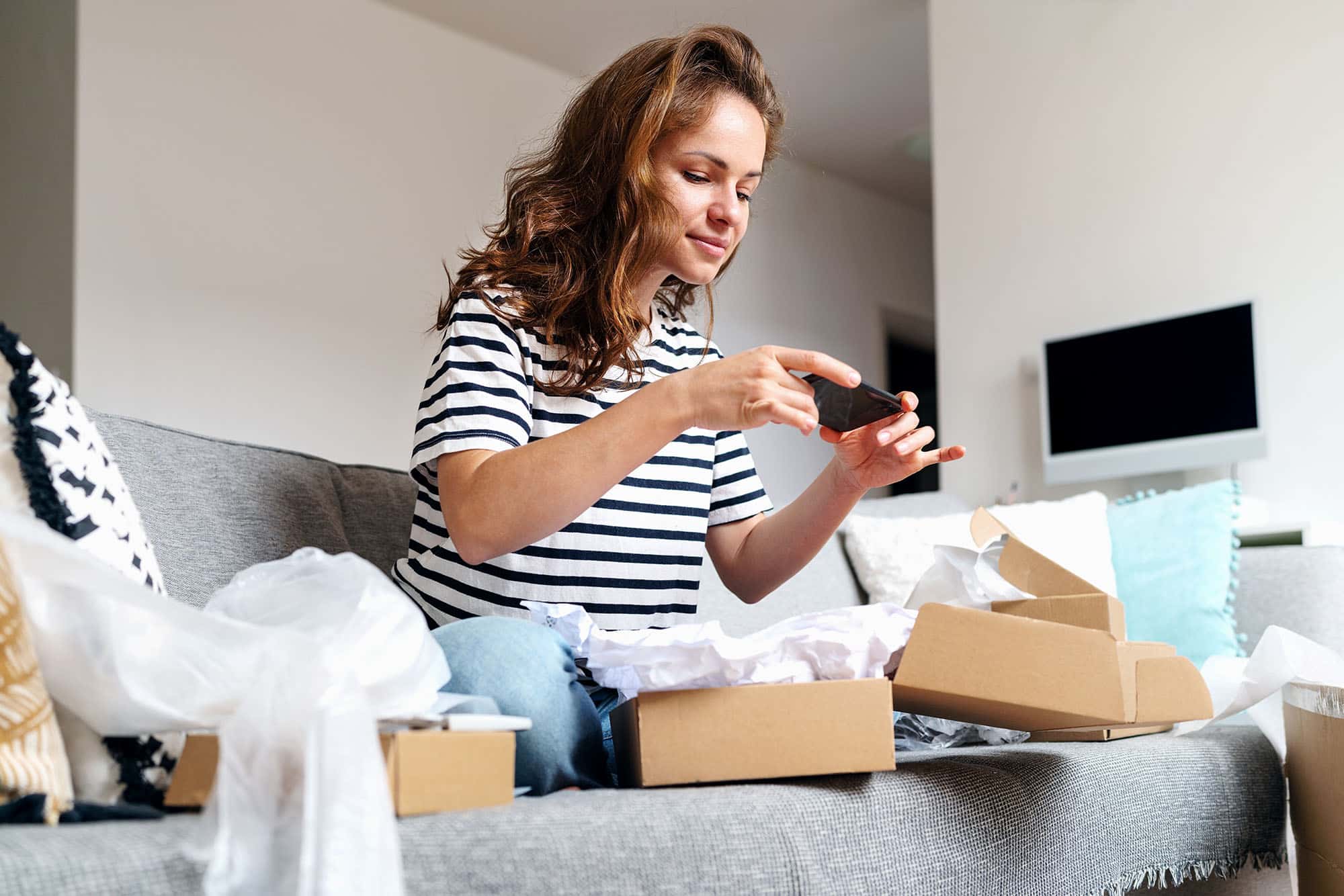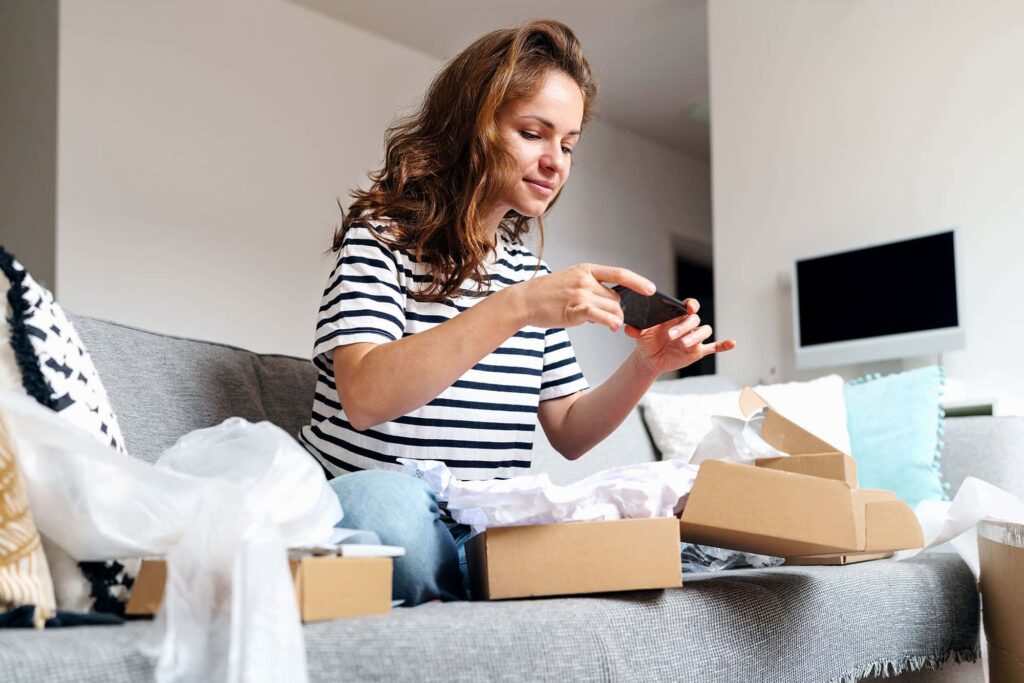 Making a sale is cause for celebration. But marketers should be aiming to convert one-time customers into brand disciples that will come back for more.
One of the best ways to carry out retention marketing is with print. This can include targeted direct mail campaigns, thank you gifts, and leave-behinds at retail locations. Here we look at seven proven retention marketing strategies that leverage print to keep customers returning time and time again.
What is Retention Marketing?
There are all sorts of potential customers and customer demographics out there. Customers are kinda like a Dr. Seuss book, there are tall ones, short ones, rich ones, poor ones. However, when it comes to marketing, one category needs to be considered above all others: has this person bought something from us before, or not?
Attracting new customers who haven't made a purchase before is called acquisition; re-attracting customers who have previously bought something is known as retention. Strategies for targeting these two groups can be drastically different. Although a business needs fresh customers to survive, it's generally easier and more cost-effective to advertise to previous buyers. Research has shown that existing customers are 50% more likely to buy new products than first-time customers.
How Print Keeps Customers Coming Back
When it comes to retention marketing, print can play a vital role. For example, online sales result in the acquisition of customer details, which opens a range of direct mail marketing strategies such as event invitations, catalogs, and promos. But printed media can also be distributed at events or directly to customers at retail locations.
There are several reasons why paper-based marketing helps to transform one-time customers into repeat customers. For one, print engagement is higher than it is for online marketing, with customers more likely to read through a printed brochure than a digital one. What's more, marketers can get creative with physical media: stickers, foldouts, and printed merchandise are just some of the options for grabbing the customer's attention.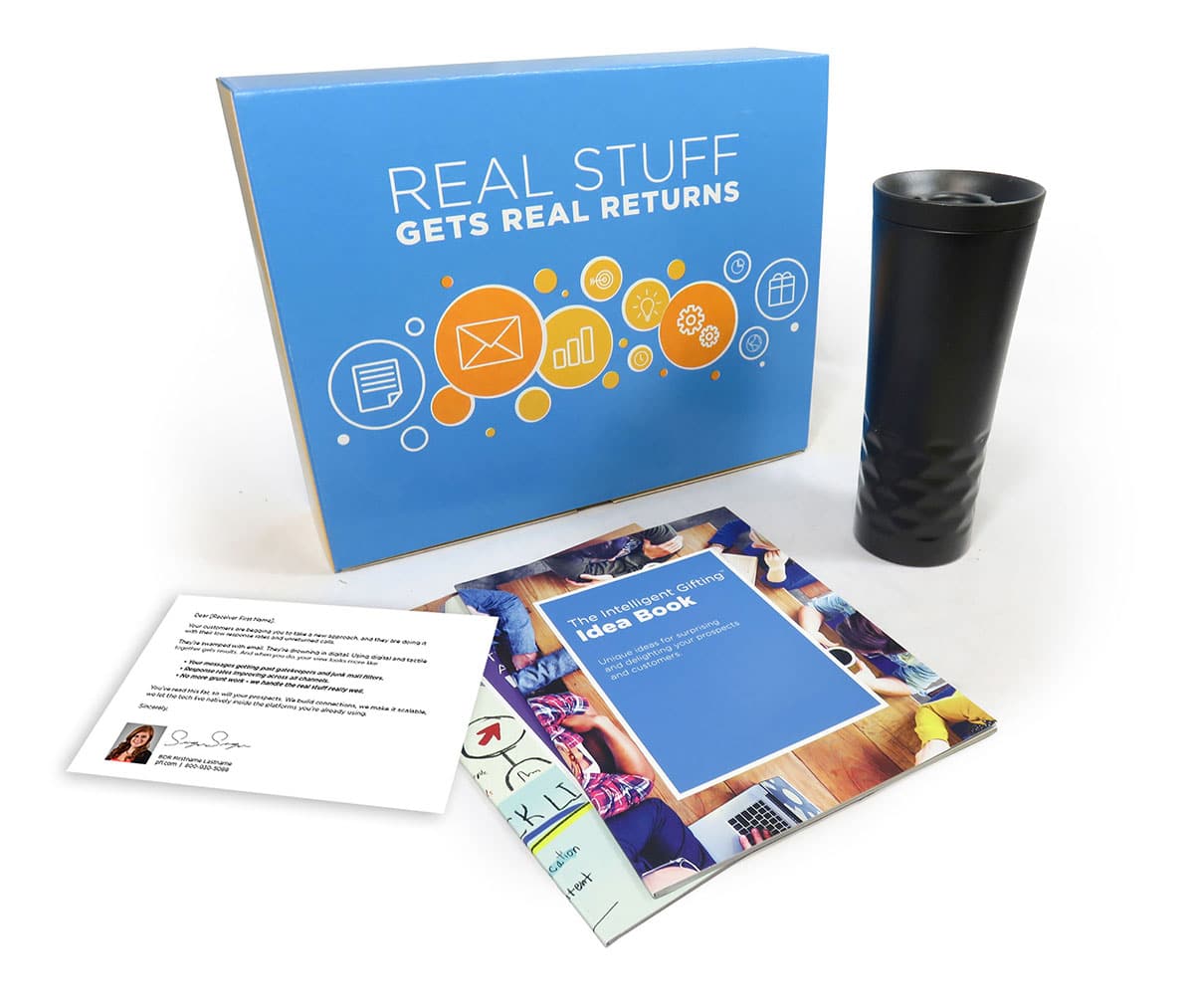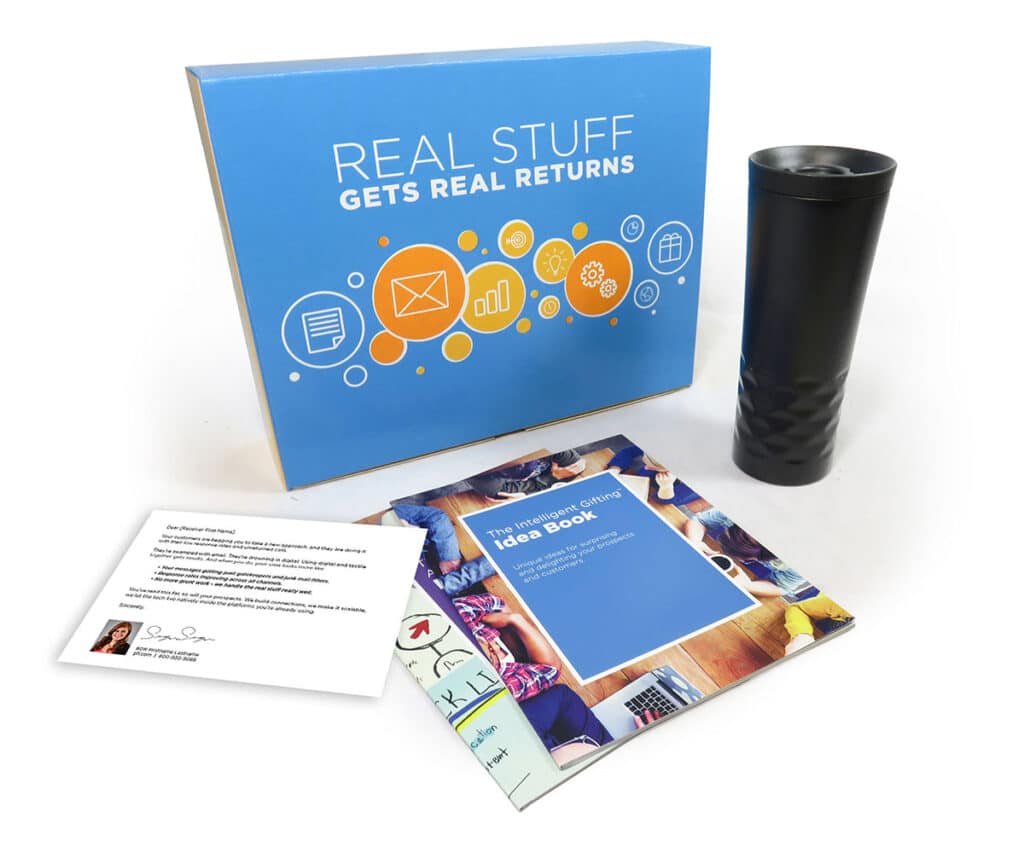 Retention Marketing Print Strategies
Send Personalized Thank You Notes
Making a sale isn't easy, so why not tell customers you appreciate their business? Sending a thank you note or card after a customer makes a purchase is a great way to maximize retention.
Notes of appreciation are especially important in the nonprofit world, where organizations rely on the goodwill of donors. In 2021, disaster relief organization Convoy of Hope ran a campaign that involved emailing lapsed donors with the promise of a free t-shirt if they made a fresh donation.
Along with their t-shirts, donors received a personalized thank you note (printed and mailed by Printing for Less), creating a meaningful bond between the org and its backers. The campaign was a huge success, achieving a 10x ROI.
Creatively Distribute Leave-Behinds
Direct mail campaigns make up a big part of print-based retention marketing, but customers can also be targeted in person — at events or stores, for example.
Leave-behinds like business cards, leaflets, and coupons can be distributed in infinite ways. At a retail location, these items can be placed at the ends of aisles near the relevant products, by the register, or even within shopping bags for customers to discover when they get home.
Mail Out Branded Gift Kits
Marketers looking to make an impression on existing customers have a huge range of options with direct mail kits. Branded packaging, printed inserts, and gifts are just some of the ways to remind customers that your company is ready and waiting for a continued purchasing relationship.
HR and payroll software company Paycor, a user of Printing for Less's Marketo platform, recently used direct mail to send 15,000 prospects a package containing personalized messaging, a customized postcard, and a branded gift. A big part of this strategy was the Address Validation and Append Service, which ensured the high-value packages weren't being sent to the wrong addresses.
At the end of the campaign, Paycor had reached 209% of its goal for sales opportunities generated.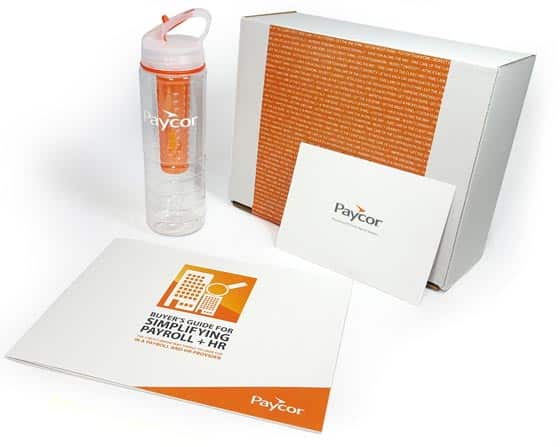 Follow Up Events with Mailers
Events like trade shows can yield immediate sales, but creating a lasting relationship with customers is more important than any individual transaction. Sending communications right after an event can help secure long-term customer interest.
Proofpoint is a cybersecurity company that hosts regular "Power Series" conferences in which expert speakers deliver presentations about cybersecurity. The company wanted to improve the post-event experience for attendees and did so by devising a smart print marketing strategy.
The campaign involved sending out packages to attendees thanking them for their attendance, giving them more information about the company, and including a gift. The thoughtful follow-up has seen attendances rise at recent events.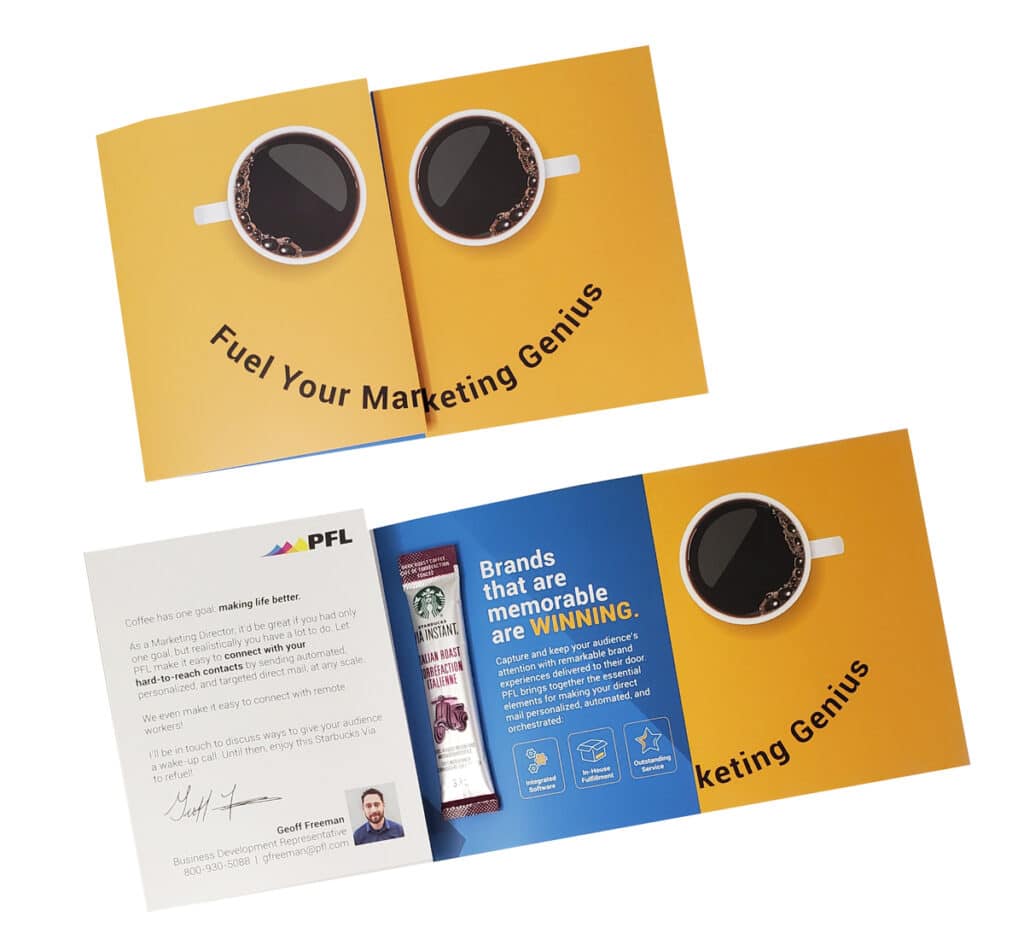 Mail Discount Coupons (with Expiry Dates)
A tried-and-tested strategy for customer retention is discounts and rewards. Printed coupons have the appeal of exclusivity — recipients know they're part of a select group — and they don't get stuck in email spam folders.
To create a sense of urgency, encourage a quick purchase by putting a clear time limit on the offer.
Target Offline Customers
Because they're scared of getting spammed or feel digital fatigue, some customers may be reluctant to give out their email address to a company.
During a recent campaign, Printing for Less customer Vivint, a smart home specialist, found that some customers on its database had provided a mailing address but no email. Wanting to reduce its direct mail expenditure, the company decided to mail out marketing materials exclusively to customers with no email address on file. This cut costs and ensured that digital customers weren't receiving the same content twice over.
In some situations, customers may have an active email address but simply do not respond to digital marketing. Targeting these digital non-responders with printed materials like pamphlets can be the best route to a repeat sale.
Establish Loyalty with Birthday Mailers
In adult life, most snail mail is a cause for indifference or dread. Bills? Great. Bank statements? Fascinating. But birthday cards rank highly on the mail enjoyment scale.
If your database includes the customer's date of birth, sending them a birthday gift such as a discount coupon helps to establish a friendly relationship. The loyalty shown to them will likely be returned.
Using Print to Retain Customers
Print marketing demonstrates genuine commitment to the customer, which often leads to repeat purchases. Request a Printing for Less sample pack to see the wide range of options available to your business.