Die Cut Business Cards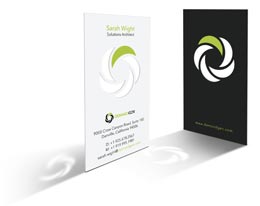 Skip the boring and make it extraordinary! Die cut business cards are an effective way to break out of the
standard business card
box to create a unique impression. From simple geometric shapes to catchy designs that fit your brand, die cuts showcase your business in the most convenient marketing tool at your disposal, your business card.
Standard Dies
Get a creative look for less by selecting a standard die cut business card shape on your choice of high-quality gloss, matte, uncoated or recycled card stocks. Standard die cut business cards cost substantially less and have a faster turnaround than ordering a new die, which involves custom fabrication.
Standard Die Cut Business Card Styles
Custom Dies
A custom die created just for your unique business card gives you complete freedom to create a distinctive look or visual effect. A custom die can be created to your exact specifications for a one time fee starting around $200. Call for more details. See some examples below to spark your imagination.
Custom Die Examples
How Does Die Cutting Work?
Custom die cut business cards are produced using a sharp steel cutting blade called a "die" that's formed into a shape similar to a cookie cutter. Die cutting can be used either to punch out a decorative shape or pattern within a piece or to create an interesting outer shape for your business card design. Die cuts enable you to create fancy shapes from curvy edges to sharp points, as well as contours of recognizable items such as cars, animals, buildings or flowers - the ideas are endless!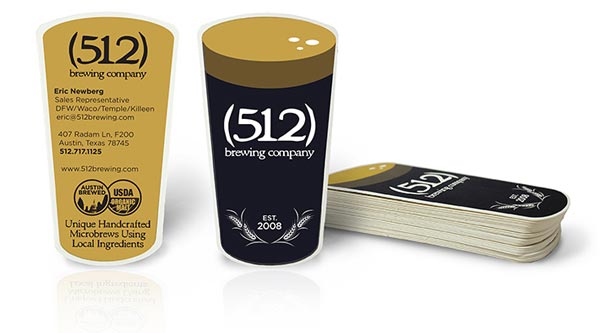 Designing Die Cut Business Cards
We have seven standard die cut shapes, but we can also create just about any custom business card shape you can imagine. Here are some design tips:
Don't get carried away. Die cut cards are unique and eye catching, but don't forget that your business card must convey your contact information. Make sure your die cut pattern leaves plenty of room for your message.
Die cuts are suitable for any paper stock, as well as plastic and magnet business cards.
Your business card should be easy to read. Avoid tiny type or hard to decipher fonts.
Using Die Cut Business Cards
Business cards aren't just for industry events and networking luncheons. They're versatile and affordable promotional pieces that can meet a variety of business needs.
Use business cards as hang tags on clothing. When the cards are die cut, they send a message that's uniquely you.
Use business cards as company rewards cards. Choose a die-cut that fits easily into a wallet and design it to accommodate hole punches or rubber stamps to reward customers for repeat visits.
Turn business cards into raffle tickets to win an in-store prize. Have customers fill out their names and email addresses, and let the cards do double duty by collecting responses to a survey question that will help you improve your business. An intriguing die cut style will encourage people to participate.
Die cuts help business cards stand out in the stack that comes home from the Chamber of Commerce happy hour. Rounded corners are a popular effect, but what about rounding just one or two corners? Think of the impact of a card shaped like a to-go cup for your café, or a plastic card with a punch-out guitar pick that people can really use. Innovative die cut business cards get displayed, used, and read again and again. Die cuts introduce almost unlimited fun and creativity to the concept of a business card. Pair them with specialty papers, plastics or magnets and your business card will be the talk of the town.
Call us at 800-930-2423
to learn how die cut business cards from PFL can boost your business, or to
request a printing quote
,
get some free samples
or get in touch with our fast and affordable design team.