Church Donation, Remittance and Offering Envelopes
We offer custom full flap remittance envelopes and church offering and donation envelopes to meet the need of churches, non-profits, or schools. Full flap remittance envelopes are the perfect tool for fundraising, donations or tuition, whether you are a nonprofit organization, church or school. Envelopes are designed for easy mailing while ensuring each person's confidentiality. You can print on the front and the back as well as under the flap. The full flap covers all contribution information – a feature many desire.
We also offer full color custom printed currency-sized offering, tithe or donation envelopes, perfect for raising awareness or funds for a special event such as a capital drive or a memorial. These special collection envelopes can be printed on one side or two and are the ideal size for inserting in church bulletins and newsletters or placing in pews.
---
Product Features:
2 popular styles and sizes
Printed in full color on 1 side or 2
White paper stock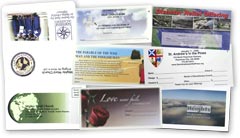 Full Flap Remittance Envelopes
(3 5/8 x 6 1/2)
Choose from 2 ink options
Full color 1 side, no bleed
Full color 2 sides, no bleed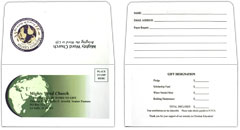 Church Offering Envelopes
(3 1/8 x 6 1/4)
Choose from 3 ink options
Full color 1 side, no bleed
Full color 2 sides, no bleed
Complete set of design and layout templates for 2 common envelope sizes with instructions on how to use them in Publisher, Quark XPress, Adobe PhotoShop, InDesign, Illustrator, CorelDraw and other programs.