The creaking of armor drowned out my heavy breathing. My arms were leaden stumps from wielding Slaughter, my sword. The gash and burns on my right side had gone numb although my lifeblood continued to seep from the wounds. With a determination born of torment, I set my eyes, ears and heart to complete my task. My life may be forfeit, but this Dragon, the red, would not survive the night……
Alright, admittedly, I am getting carried away. But you have to understand, when I saw this business card sitting on one our designer's workspaces, I was immediately drawn to the company name. What fantasy genre fan wouldn't? What a great company name. One thing is for certain, it sets expectations high from the word "go".
These particular Dragon Slayer's provide Health Care Project Management services. Of course, if you've ever dealt with a complicated project, whether in the healthcare or another industry, you can understand the need for a competent warrior to see you through the battle. Project management is the discipline of planning, organizing, securing, and managing resources to achieve specific goals. Not an easy task. In fact many of the skills and strategies that are geared toward long-term roll out will not get you far on a short-term project solution. This is where Mike Murphy's, Dragon Slayers and Project Managers, come in to save the day. The company's web-site lists several case-studies that highlight their impressive success with large scope projects.
Sloane, one of our in-house designers, worked with Mike to design this impressive business card. The memorable business name, coupled with a sleek design, really grabs attention. Mike chose to use gold foil finish on select parts of his card to enhance the aesthetic appeal.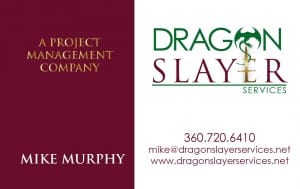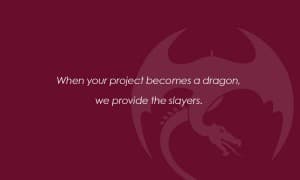 Remember, if you're in the market for a project manager, you can't beat a Dragon Slayer. The company's motto is: "When your project becomes a dragon, we provide the slayers." This project management company has the experience and the expertise to see you through to a successful conclusion!
Thank you for your business Mike Murphy, Dragon Slayer. We wish you best of luck in defending the next village! Need help with your print? Talk to a live print expert today: 800-930-7978.