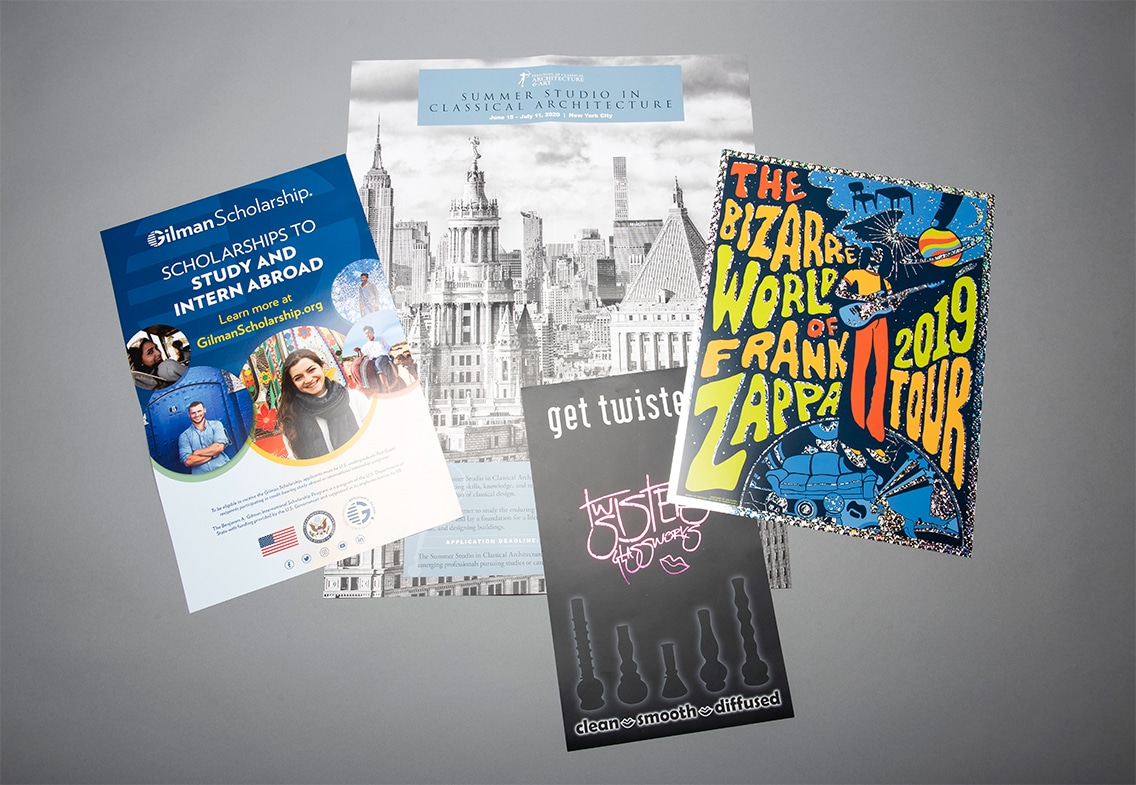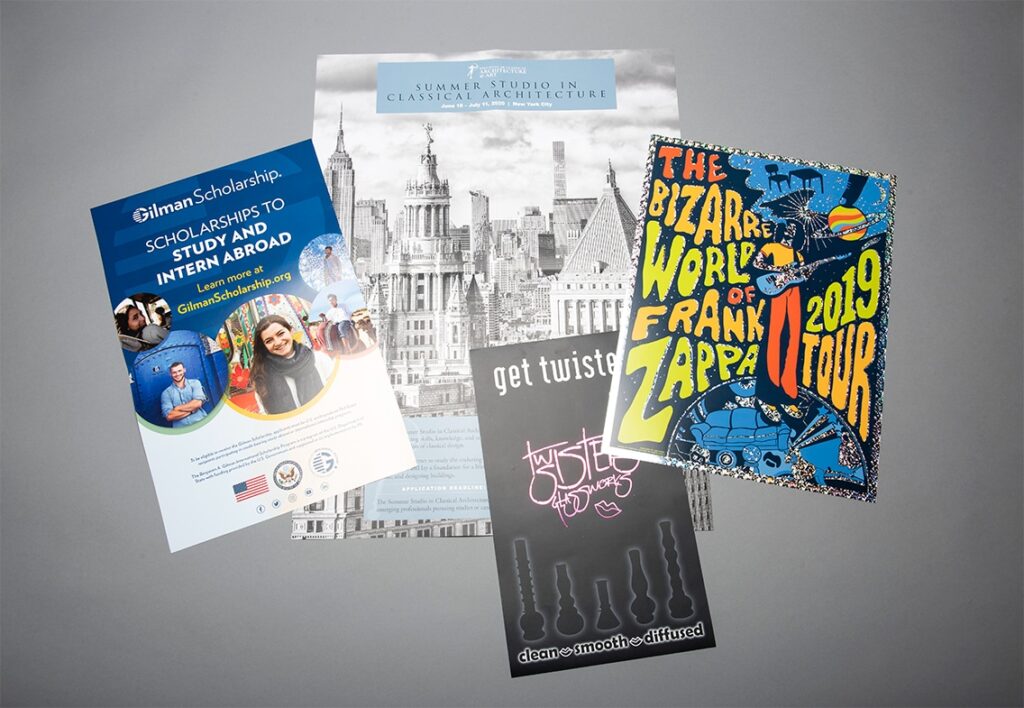 Does your company include poster marketing as part of its advertising strategy? If not, you're missing out on a huge opportunity to grab your audience's attention and turn prospects into buyers. 82% of consumers trust print ads like posters over other forms of advertising when making a purchasing decision. Let's explore how your company can start incorporating poster marketing as part of its print strategy.
Poster Marketing and Print Strategies
If you want to increase sales, potential customers need to interact with your brand multiple times. In fact, it typically takes seven interactions before a prospect makes a purchase. Utilizing poster marketing along with your other print strategies like newsletters and direct mail helps to increase the number of interactions customers have with your brand. This builds brand awareness and trust, and ultimately improves sales.
Melanie Handl, Printing for Less's Team Lead, notes that combining poster marketing with other print marketing materials increases the ROI for both strategies.
"If you want to make sure your poster message really hits the target group, you should send a postcard to the same demographic or area that your posters were displayed. Having your advertisement appear in front of your target audience in a couple of different ways can help solidify the message and increase the ROI on both pieces."
Since 77% of consumers make purchases based on the brand, developing brand awareness should be a top priority for companies. By combining poster marketing with your current print strategies, you can increase the number of interactions prospects have with your company, boosting that all important brand awareness.
How Poster Marketing Works in a Digital World
We live in a digital world, so it's no surprise that online advertising is essential if you want to attract customers. But that doesn't mean you should ignore print. In fact, poster marketing can help you drive traffic to your online platforms.
Including your company's handles on posters lets customers know how they can find you on social media. You can also use posters to promote a unique hashtag, encouraging viewers to interact with your brand online.
Interested in promoting a key landing page or sign-up form? Add a QR code to your poster that directs viewers to the target page. Using poster advertising alongside digital advertising adds memorable touchpoints to the customer journey, helping your brand stand out from the rest.
What Does Successful Poster Marketing Look Like?
So now you understand the importance of posters in advertising, awesome work! But how do you create one that will catch your customers' attention? Below we've outlined our top strategies for designing a poster that creates a buzz.
Keep It Simple
While you may be tempted to use intricate fonts and detailed designs, save the complicated illustrations for a different advertising medium. According to Printing for Less's National Account Executive, Nathan Garder, simple is best when it comes to poster marketing. "You want posters to look visually appealing without looking cluttered. Less is more. Customers may only give a quick glance, so you have a very brief moment in time to catch customer attention."
Stay Consistent
To make the most of your marketing campaign, it's important to use poster advertising alongside other marketing strategies like social media or direct mail. But you need to keep a consistent brand image across all channels. This means using similar visuals and messaging in all your ads. Doing so will make it easier to recognize your brand and you may see a spike in sales. Brands that maintain a consistent brand image increase revenue by 33%.
Choose The Right Location
A catchy slogan and bold design won't do you much good if your prospects can't see your poster. That's why it's important to display posters in highly trafficked areas amongst your target audience.
Before you pick your poster's location, think about where your customers spend most of their time. If you're targeting young adults, hanging posters on a college campus could be a great idea. If you're targeting families, consider placing posters in shopping centers or at businesses near schools.
Make It Readable
Chances are your target audience isn't going to closely examine your work like it's the concert poster of their favorite band. So it's important that your message is easy to read from a distance. Rather than trying to cram an entire paragraph onto your ad, focus on a strong statement or attention-grabbing headline. You'll also want to use a simple font that's easy to read. The two most common font styles used for posters are Serif and Sans Serif. They each offer a different look and feel, but either style can work for poster advertisements.
Don't Forget Your CTA
If you want to maximize your ROI, it's important to include a strong call to action (CTA) on your poster. A CTA will let viewers know what action they need to take to continue interacting with your brand. When crafting a CTA, choose action words that engage your audience. Examples of action words you could try include are:
discover
share
explore
learn
Use a Quality Commercial Printing Partner
At Printing for Less, we implement high-impact print marketing strategies to help get your brand noticed. We want to help you create posters that will grab your prospect's attention, that's why our products use premium paper and arrive at your doorstep in well-protected packaging. Whether you need a single large poster or several thousand, we're excited to work together to bring your idea to life.
If you're interested in learning more about how we can help your company create a captivating poster shoot us an email at info@printingforless.com. We'd love to connect.