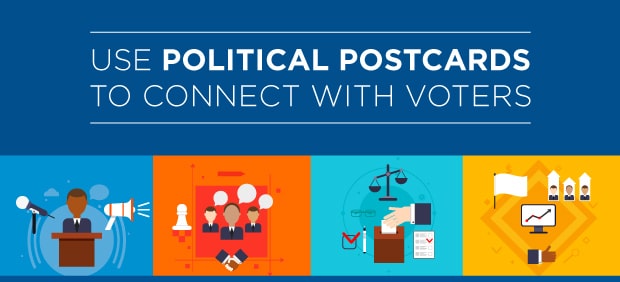 It's the homestretch to the voting booth and if you're on a political campaign or running for office, then you've got to start leveraging every channel to get your message out there. Obama won both elections in large part due to his online savvy, and you should certainly focus efforts on building a robust, smart, targeted digital campaign, but even today there's room for getting attention with a political flyer. People are already keyed into the election cycle, and you can't get away from talks about the presidential campaigns. Leverage that top of mind influence to get your own message out there.
Political postcards are a great addition to your campaign. They are affordable, can leverage the US Postal Office's special Every Door Direct Mail (EDDM) service to reach people in a local area and they can easily connect the dots between physical and digital marketing.
Tips for Making the Best Political Postcard Campaign
We've been printing political mailers for local and national politicians for over twenty years. We've seen some really great political postcards and we've seen some that should have never been inflicted on mankind. Here are some of our tips on how to make a great political mailer.
Use a Graphic that Stands Out
If you can afford a graphic designer with your campaign funds, don't hesitate to hire one. They are worth the money, helping you design a catchy image, logo, or general design that will get your message out there.
On a political mailer, use a striking, memorable image. That doesn't mean gaudy or cheap. Political designs are moving toward more modern looks – all the major candidates in the last decade have been using simple, flat designs. Your political mailer should heavily feature your branding and logo.
When to Use a Photograph of the Candidate
It isn't always a great idea to use the candidate's actual photograph. If you aren't getting on television, or already featuring your actual image in billboards and commercials then you don't gain a lot by putting your face on a political mailer – you aren't reinforcing any ideas. Spend that space on your message.
On the other hand, if you've a look that is unique and resonates with your voters – why not play it up? Managing your personal image is something best left to campaign managers but know that it's OK to not include your face – voters care about message more.
Make Your Message Stand Out
Reduce your message to the primary components that make you the best choice. Depending on your area, that may mean you launch an attack on your opponent or you stick to your own ideas. Whatever you choose to do, make sure your message is short, actionable, and easy to read on the postcard. Tell them why you want their vote. Make the messaging about them, not you.
Avoid putting text over complex images. Don't use colors that hide the copy – make it bold and easy to read. Make it short – postcards can almost guarantee they'll be read but the message has to be concise
Voting Information
Great political mailers always include info about when voting starts. This is valuable information for the voter, and if you can be useful in a postcard you're likely to keep their attention.
Plan for the Label and Stamp
Don't forget to plan for the label and stamp! Your message won't work if it's under an address label. Use a great blank postcard template for Word to design your card properly.
Give Them A Call to Action
Usually the call to action is to get out and vote – but that may be months away! Give your reader a chance to participate in your campaign today. Give them a call to action that drives them to your website, to your phone lines, or somewhere else where they can take real action to help you. Postcards are great because they can deliver a call to action boldly and without any interference. Use it! Why not drive them to your website to add them to your digital marketing and outreach efforts?
Don't Forget Your Disclaimer
Political postcards need disclaimers. Check with your local ordinances, campaign legal counsel or others to figure out exactly what you need to say, but don't forget to account for disclaimers in your design.
Use a Political Mailing Service
If you want to save the time, hassle and headache of sending these postcards out on your own, consider using a political mailing service to manage the mailing to hundreds or thousands of constituents.
Need help with your print? Talk to a live print expert today: 800-930-7978.