Print isn't going anywhere.
Think about it: at the end of an exceptionally long day of work, do you feel compelled to get on your computer and read articles online or cozy up on your couch with a book? Have you ever felt sick from staring down at your tablet too long, or squinting into your phone?
Screen time drains our mental resources faster than looking at printed content, and screen content can actually make it harder to consume information in an "intuitive and satisfying way", according to the Scientific American.
It doesn't matter if you're a marketer hoping to stand out from your competition or a business owner looking to reach new customers on a different channel: printed content will always appeal deeply to people from every walk of life.
Here's a primer on what to expect from (and how to get the most out of) the professional printing process.
The Wide World of Printers
There are a lot of printing options and they can seem overwhelming at first. Some printers, like the old dot matrix, had a short time in the spotlight before being replaced by more attractive options. Meanwhile newer inventions, like 3D printers, may be a bit too expensive for mass use just yet — cool as they are to read about.
We've boiled the list down to four main types of printing. Here's a bit on how each of these methods works, along with which projects they're best suited for.
Desktop Printing
What is it? Chances are you've used a desktop printer before. Desktop printers include simple consumer grade printers all the way up to larger, feature-loaded office printers that can crank out thousands of copies at breakneck speed. Desktop printers come in three variations: inkjet printers, laser printers, and photo printers.
How does it work? Desktop printers are usually small to medium-sized devices that connect to a wireless network or through a cable to receive print jobs from local computers. Most home printers are inkjet printers, which create images on paper by squirting tiny drops of ink onto paper.
What's it best for? Desktop printers are best for simple, one-off projects that can be completed quickly. However, if you need professional quality, a huge volume of content, or custom work, desktop printing isn't going to cut it. Also, desktop printing can get very expensive — especially if your printer uses one cartridge for all colors, meaning the whole cartridge has to be replaced when one of the colors runs out.
Commercial Digital Printing
What is it? Digital printing is like desktop printing on steroids. You can produce just about anything with a modern digital printer, from simple postcard-sized flyers to complex three-dimensional promotional pieces.
How does it work? Digital printers create printed images using a very similar process to that of a desktop printer. The printed image starts as a digital file, and then the printer deposits toner onto the surface of the paper.
What's it best for? If you need a large volume of materials or a rush job, digital is the way to go. It's both fast and cost-effective, since there isn't much equipment to set up to prepare for a print job. If you're printing luxury or high-quality materials, however, digital printing simply won't look as refined as traditional ink-based printers.
Offset Lithography
What is it? An offset lithography machine is what most people imagine when they think about an industrial printing press. It came about in the 1950s and endures today as the most widely-used industrial print process.
How does it work? In this process, printed images are transferred, or "offset," from a printing plate to a rubber blanket and then rolled onto the printing surface like a stamp. The printing surface is usually, but not always, paper.
What's it best for? Offset lithography can produce enormous volumes of materials that have exceptional quality. It takes longer to set up than digital printing, however, and the process can be very expensive if you're doing a short print run. This style is best suited for ongoing, large-scale projects that require the best quality.
Engraving
What is it? Engraving is one of the oldest printmaking processes still in use. You may have seen engraving used on wedding invitations or other formal print materials.
How does it work? Engraving uses finely-carved plates of steel or copper to print an image into paper or another substrate using extreme pressure. This creates a "bruise" on the back side of the printed sheet, serving as a symbol of how genuine the engraving was.
What's it best for? This type of printing is much slower than other processes and is relatively uncommon. It's best reserved for top-end quality artwork, or for fine typography.
Beyond these four examples, there are plenty of other types of printing processes, including gravure, flexography, thermography, and screen printing. Here's more information about engraving.
Professional Printing and Paper
If your print job was a rock concert, your paper would be the lead guitarist. Sure, you could put any old musician up there — but if you want to go down in history, you need your leading player to be a standout.
Don't skimp on the paper. Here are the main choices you'll have to make when working with a professional printer:
Paper Weight
The weight of the paper measures how thick it is. A high number for weight means you're looking at thicker paper, and thick paper reacts to ink differently than paper with a lower number for weight.
Thicker, higher weight paper is often called cover stock and can get be as thick as cardboard. Thinner paper, sometimes called text stock, is more like the paper you find in a novel — and can even run as thin as the paper in a phonebook.
Coated or Uncoated Paper
Paper can be coated or uncoated. Coated paper tends to make colors more vibrant and produces a sharper look. It's also glossy and spill-resistant, which makes it a great choice for printed materials that'll be exposed to the elements — self-mailers, door hangers, and postcards, for example.
Uncoated paper has a matte finish and can be written on. It's great for business cards, trade show handouts, or other materials that you may want to make notes on. During printing, the ink or toner seeps into uncoated paper, which gives its colors a warm and soft feel.
Color Options: CMYK, RGB, and Pantone
Though CMYK or RGB may sound like the latest acronyms in text-speak, they're actually two ways of describing color in professional printing.
CMYK stands for cyan, magenta, yellow, and key (or black). These four colors make up most print colors, and they're the main color cartridges you'd buy for a home desktop printer.
Sometimes called a four-color process, CMYK describes the range of colors you can get from combining just these four colors. Though the range you can get from CMYK is pretty impressive, you can mix in Pantone colors to get a five- or even six-color process. CMYK is the gold standard for printing colors and it by far the most common color process.
RGB color is what you see when you look at your computer screen. It's an additive color model that uses red, green, and blue light to make any combination of colors. While you may create a design in RGB, when it comes time to print that design, you'll need to convert it to CMYK.
Certain RGB colors cannot be replicated with CMYK inks, which is why people often use the four color printing process (CMYK) to avoid RGB conversion issues. If you have a special color in your logo, you may need to use the Pantone Matching System to meet your specific color requirements.
What's the Pantone Matching System?
Pantone is a patented, standardized color matching system. Instead of combining variations of CMYK to make a color, the Pantone system features unique colors on their own.
Because the colors are standardized, different manufacturers in different locations can make sure two colors match perfectly by referencing a Pantone number. The result for your brand is ultimate consistency no matter where you print.
What's the Difference Between CMYK and Pantone?
With offset printing, you usually need four color plates – one for each color in the CMYK model. With a Pantone system, you may only need one or two plates, which saves you some money.
On the other hand, there are some colors that don't have Pantone hues to match and may require a combination of CMYK. While the Pantone solid palette consists of an impressive 1,114 colors, CMYK can make almost any color you can imagine.
Because printing offers so many options, it's a good idea to connect with a company that understands the full suite of possibilities. When you discuss printing, be clear about three things:
Your business' core value

What you want to convey

How you want to reach people
If you discuss these concepts clearly with any printing company, they will be able to give you a detailed explanation of your options and potential costs.
Customizing and Personalizing Your Printed Materials
No matter what kind of company yours is, printing is one of the most effective methods to display your brand personality and creativity. One way to do that is by printing materials with personalized, variable data.
What's variable data? Imagine feeding a lead list with names, contact information, and job titles into a printing process so the materials you print have personal names and info on it. You've probably seen these pieces in your own mailbox. The personal touch catches your eye and sticks in your memory.
There are other options to make your printed pieces stand out, including:
Die-cutting, to get a unique shape

Large format text

Hot foil stamping

Embossing

Specialty inks (glow in the dark, anyone?)

Specialty papers

Custom folds

Custom binding

A combination of several custom print effects can have powerful results, such as a fold out map with personalized directions from your prospect's home to your store.
Mailing and Distributing Printed Materials
Your print design isn't worth much if you don't get it out to customers! The next step is understanding how a printing company can help you actually get the message out.
A commercial printer usually offers various distribution options, including:
Targeted direct mail

EDDM, or Every Door Direct Mail

List management
Think of content distribution like the old "tree falling in the forest" metaphor (if no one's around, does it make a sound?) In other words, you want to produce beautiful, attention-grabbing content that's printed cleanly and customized for your prospect — but if you do all of that work and the content never reaches your audience, does it make an impact?
Of course not. That's why it's essential that you partner with a printer who can help you deliver your materials to the right people at the right time.
Why Printing Is Important a Marketing Strategy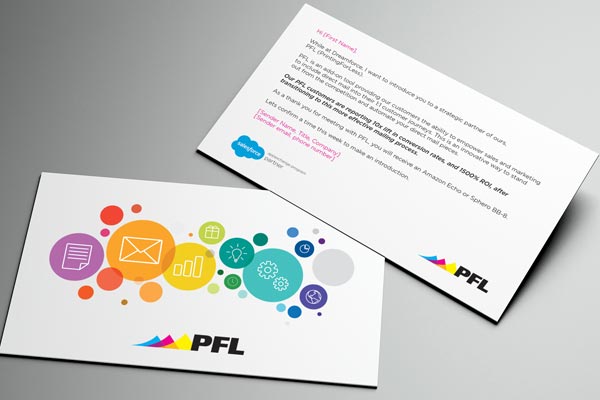 Consider some of the main approaches that marketing consultants are pitching to clients these days:
Social media

: The reach is potentially spectacular, but over-saturation is causing organic reach to decline, meaning you'll have to pay to get people to see your posts. Connection to a company is often weak, and while people may remember the idea of a campaign, they're not necessarily going to remember the company or what they sell.

Email marketing

: You might get a message directly into someone's inbox. Then again, your emails might get lost or sent to a spam folder. Even when email marketing is done right, average open rates are usually only 20% and average click-through rates are 2 – 3%.

Advertisements

: It can be expensive to buy digital ads, and traditional advertising like commercials and radio don't offer the same targeting capabilities of other channels.
Printing is a fantastic complement to these digital channels. It gives you flexibility, it's cost effective, and the end product is a real, tangible thing that people can hold in their hands and remember — even pass on to other potential customers.
Printing has staying power you just won't find in digital message. Fortunately, you don't have to choose between the two, and they're best used in tandem to create clever and effective marketing campaigns.
For more information on print effects, direct mail marketing, and graphic design, check out our Knowledge Center.
Printing for Less (Printing for Less) has been an industry leader and provider of high-quality, unique printing services since 1996. Though we are a large company with customers across the globe, we treat our customers with the attention and care you'd expect from a luxury printing boutique. From business cards and banners to letterhead, flyers, and beyond — Printing for Less knows printing like no other.
Let's talk about your project! Our print consultants are available 7am-7pm MT Monday through Friday at (800) 930-7978.