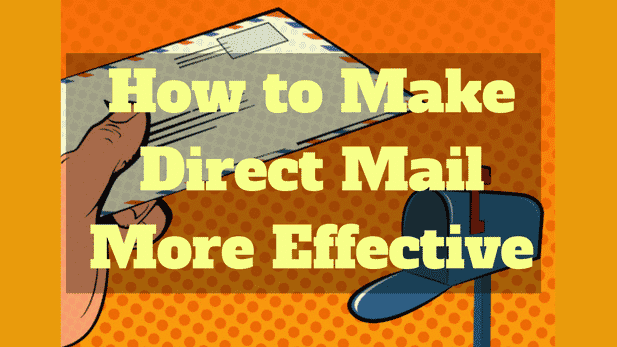 Direct mail is alive and well, in fact, effective direct mail stands out in a world oversaturated with digital marketing. A Facebook ad campaign, email marketing, and digital search are all still important but they are just table stakes now, real engagement is happening with direct mail.
People think direct mail is dying because it is not used very effectively. You're used to seeing direct mail for real estate, where may make sense, but what about direct mail for restaurants, retailers, consignment shops, cafes and other small business? The secret is combining your direct mail and digital marketing. But this sounds like something only big companies can do, right? No way! We'll show you how to use direct mail effectively.
What Makes Direct Mail Marketing Effective
Before we jump into the cool tricks and tips, let's talk about what makes direct mail marketing effective in the first place: it's really real.
When people touch an object, they can recall it 30% more effectively. The recall duration for direct mail triple that of any other channel. This means they will remember your direct mail marketing better, longer.
Believe it or not, direct mail is a powerful driver of digital action. It's perfect for getting people to check out your website, order online or share something.
Now, let's talk about what makes direct mail ineffective: it is expensive. Compared to Facebook Ads and MailChimp newsletters, direct mail is a pretty big investment for most small businesses, even if you are getting great rates from the best direct mail marketing companies.
Because of cost, direct mail is often not personalized (even though it can be, just like an email). Direct mail also requires a mailing address, which can be a challenge to get.
Let us see how to use direct mail as a surgical tool, not an out of control fire hose.
How to Combine Direct Mail and Digital Channels
Once you understand direct mistakes to avoid, you're ready to start combining direct mail and digital marketing.
This might seem like something only a larger company with expensive marketing technology can pull off, but you can do it too. Here are some ideas.
Use Direct Mail to Drive Digital Action
Make a list of digital actions you want your customers to take. Here are some good ideas:
Subscribe to your email newsletter. Newsletters aren't spam!

Share your site.

Cash in a coupon on your site.

Use a feature in your app.

Create an account on your site.
Here's how direct mail can help.
Create a direct mail coupon that's only good on your website.

Send a unique, creative direct mailer that advertises your newsletter.

Send a personalized report showing some key features of your app, or site, that your customer hasn't been using.

A postcard that is a personalized, VIP invitation to make an account.
You can use variable data printing to personalize your direct mail and personalized URLs (they're not that hard to make!) to make digital links and calls to action relevant.
Send Direct Mail Based on Digital Actions
Take the reverse tactic and only send direct mail when you need to, this frees up your pocketbook to make more effective direct mail.
Send a personalized birthday card when it is close to a customer's birthday.

Reward loyal customers with a discount coupon – systems like Square, Shopify, and WooCommerce can help you track customer loyalty.

Turn in-store conversation into a chance to get both email and mailing addresses, send potential customers reminders to both their inbox and mailbox.
Creating a blended offline & online campaign is a good idea too if you have the time. Here are some simple, fun ideas we've seen work for our customers.
Use direct mail to send something fun, like a punch-out figure, a silly picture or something else and have customer share it online with hashtags or links driving traffic back to your site.

Create a referral program and use both direct mail and email to send requests. As customers refer new customers to you, give them both a reward. Send the reward via direct mail if you can, it will be more meaningful.

Send personalized thank you notes, no offer included, just a thank you. It will get you noticed.
The key to a happy marriage of direct mail and digital marketing is data. You are capturing more data than you realize. Check software like Square or your e-commerce solution – there should be some data there to mine for marketing. Here's the most important data to building a clean, usable list:
Name, birthday and customer loyalty.

Mailing Address.

Email Address.

If possible, buying preferences.
Tips and Tricks for Effective Direct Mail
Here are some more tips and tricks for effective direct mail.
Every Door Direct Mail. Learn how to use Every Door Direct Mail to reach potential customers that aren't on your list. EDDM will make an effective direct mail campaign that converts strangers into customers.
Small List Means Bigger Spend. The smaller your list, the most you can spend per direct mail piece. When you use a service like Every Door Direct Mail, you are reaching hundreds or even thousands of customers so the cost per piece must be as low as possible, but when you have a curated list such as 'all customers having a birthday this month that have spent more than $1,000 with us' you can spend more money per piece to make a bigger impact.
Measure Results. Try to create unique links, phone numbers, landing pages and personalized URLS only for direct mail to track engagement from a specific campaign. This way you know that customer that accessed your company that way only did it because they saw your direct mail (and took action). Measure these results against email and other marketing channels.
Need some inspiration? Check out these direct mail campaigns that got our attention last year.
Need help with your print? Talk to a live print expert today: 800-930-7978.