It's not easy breaking into professional photography. In addition to having the skills, the equipment, and the freedom to explore a career outside the traditional 9-5 framework, you also need to have a keen sense of how to market yourself and stand out from the competition. On the bright side, your work speaks for you. If creating beautiful photography, your marketing materials will be inherently impressive. That's where postcards come in.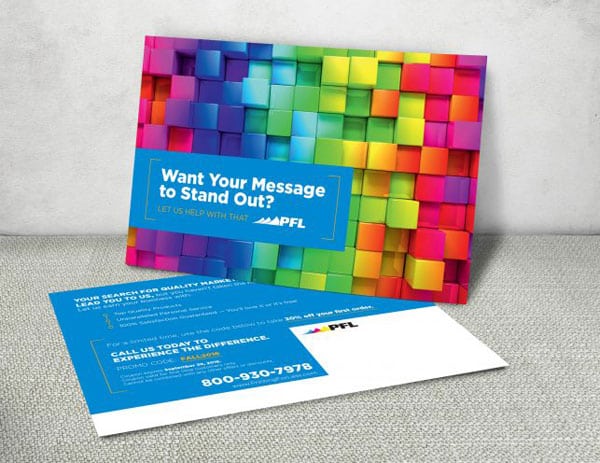 Photography postcards for marketing are one of the most effective ways of showing off what you can do in a concise, creative format. Because of their size, postcards give your prospects a (literal) big picture look at what you can do, with plenty of room left over for branding and contact information. Here are nine innovative ways you can take your marketing to the next level with postcards.
1. Mix black and white with color
Make your message jump off the page by overlaying a black and white image with colorful text and/or a colorful logo. Postcards, like photography, are visual mediums—use the eye that got you into the business in the first place to play around with color on your card, thinking specifically in terms of how you can highlight the most important information on it while also highlighting your image in a strong manner. The juxtaposition of grayscale with something bright will immediately catch the eye of the postcard recipient, and will also provide a necessary balance to space.
2. Embrace the season
Seasonally-focus your postcards to make the biggest impact during specific times of the year. Photography is inherently connected with the calendar—think graduation photos in the spring, wedding photos in the summer, holiday photos in late fall and early winter.
You can easily take advantage of these natural associations by incorporating seasonal aspects into your marketing postcards. Add a spattering of snowflakes and a touch of gold glitter to your postcards around the holidays, for example, or embrace blush pinks and white for wedding season. These seasonally-inspired details further your message in a subtle and effective way.
3. Make it pop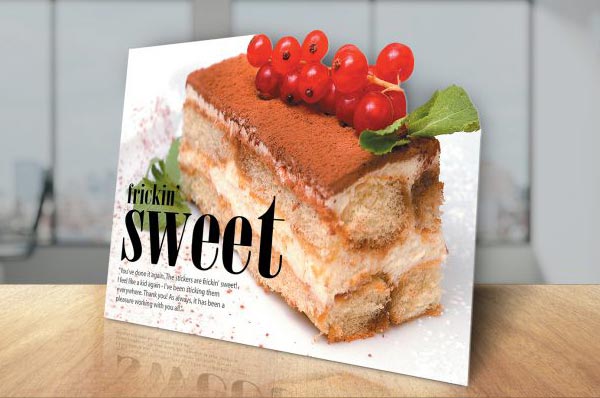 Postcards lend themselves very well to three-dimensional marketing. Turn your postcard into a pop-up, or use special folds to display more images and show off your range of work.
Dimensional mail gives you more bang for your buck, with the best direct mail response rates for prospect mailing lists. While your upfront cost is a little bit higher, so is your potential for a high ROI. Think of ways to give your postcard heft and separate it in appearance from the pieces of flat mail your prospects are picking up at their mailboxes (our print consultants can help you brainstorm dimensional mailer ideas).
4. Create a digital version of your postcard
Do double duty with your postcard by creating a digital mock-up of your print product and displaying it on your website and social media pages. This creates continuity between your print and digital marketing efforts and also gets you more use out of a creative design. You've already put in the work, so you may as well exhibit your postcard in as many places as possible.
5. Include a QR code to your online portfolio
A postcard shows a snippet of what you can do, while your portfolio tells the whole story. In inspiring prospects to learn more about your work, you want to make sure that they have a clear and well-defined path to more information.
A great way to do that: include a QR code on your postcard that leads directly to your portfolio. Your card recipients will be able to scan the code on their phone and be taken right where you want them to go. You can also direct a QR code somewhere else, such as to a page where someone might be able to sign up for a session, or a video of your skills in action.
6. Turn your postcard into a promo
Everyone loves a good deal. Include a promo on your postcard, such as "Present this card for 10% of your first shoot" or "Mention this card when you schedule your session and receive five free prints." Not only will you increase your chances of snagging business from a client who may otherwise have wavered, but offering a promotion also affords you a great way to track and measure how successful your postcard marketing efforts are.
7. Go big
Standard postcards range from 4.25" x 5.5" to 6" x 11". The bigger you go, the more likely you are to attract attention in a pile of mail. Larger postcards are ideal for highlighting impressive image details, such as the perfect way you've captured the light in someone's eyes. It's one of the most simple ways to separate yourself from the competition, giving you an immediate boost in both the scope and the appearance of your card.
8. Use templates to customize your cards for individual services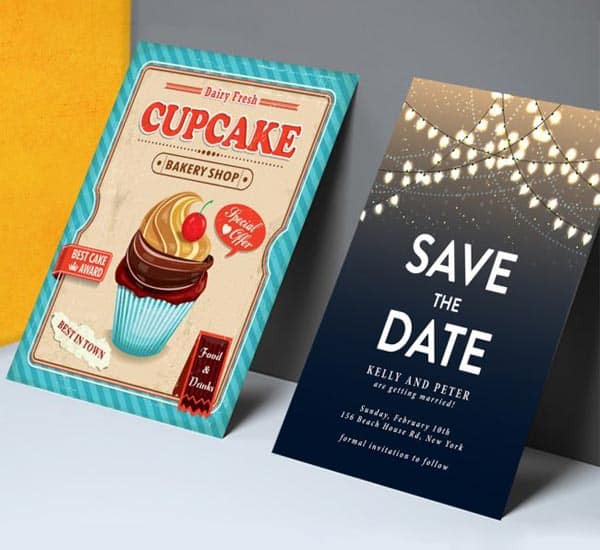 Using the exact same photography postcard template you can easily swap out key details to target your postcard for its ideal recipient. That way, you're not dropping off graduation-focused postcards at a bridal convention or newborn-focused postcards at corporate functions. You want your postcards to speak directly to their targeted prospects and their needs, so use templates for simple customization of both image and text.
9. Have a clear call to action
Create a sense of urgency with your call to action. Simple text like "Hurry—spots are booking up fast!" or "Book in the next few weeks to make sure you have your photos in time for the holidays" will incite action among your recipients, especially those who need a little more fire under them to take that next step. Whether you go general or specific with your call to action will depend on whether your postcards are intended to be used year-round or if you're using them for something more timely, like the holiday season.
Design your photography postcard today! Our experts are ready to help, so get in touch to speak to a print consultant and get a custom photography postcard.
Need help with your postcard printing? Talk to a live print expert today: 800-930-7978.