Proofing a Print Order
A "proof" is a preview of your press-ready file, allowing you to examine and confirm layout, text and content before your order goes to press. We rely on your thorough inspection of the proof to detect and correct errors. Orders will not go to press until we receive your proof approval. Online & hard proof options are available.
---
All of our pricing includes a free online "soft" proof. You should receive a link to your online proof within one business day after we receive your electronic files.
When your proof is ready, we will send you an email with a link to your PDF proof, as well as attempt to contact you by phone. If you don't have the necessary Acrobat Reader software, Adobe offers it as free download.
We can also provide a JPEG proof if you don't have Acrobat Reader and are not interested in using it. We will post a webpage containing a preview of your file that you can easily view with your favorite web browser. We will email you the address to this private website when the JPEG proof is ready, as well as attempt to contact you by phone.
We offer two "hard" proof options—hard copy mock-ups & hard copy proofs.
Be aware that hard proofs add time and cost.
While hard proofs provide a better sense of color than online proofs, they are not intended to be, and cannot be, a precise color match to your final printed piece.
When placing your order specify in "Special Instructions" which hard proof you prefer and that you agree to pay the additional charges. Once we receive your order, we will update your preferences and email you a revised receipt.
Hard Copy Mock-up:
The hard copy mock-up should be used to verify composition and content of your piece. It is NOT intended as a color guide.
The mock-up will be sent via Next Day Air and does not need to be returned. Prices are the same for one or two sides and include cutting, folding, stitching and any other work necessary to produce an accurate mock-up.
Hard Copy Mock-up Prices
1st Sheet
Each add'l sheet
8.5 x 11″
$20
$5
11 x 17″
$25
$10
Hard Copy Proof:
This proof has good color accuracy; however it is just a guide. The presses we use are high quality offset presses and have a slightly different color gamut. Also, paper can and will affect color. Our presses run to industry-wide trade standards and not to match this proof.
Hard Copy Proof Prices
1st Sheet
Each add'l sheet
5.5 x 8.5″
$40
$10
9.5 x 12″
$45
$15
12 x 18″
$55
$25
Viewing and Approving Proofs
Proof Approval – Yes, It's Required
We cannot send any order to press without your approval of the proof. This is for your protection as well as ours. As electronic files are transferred over the internet, they can become corrupted, fonts substituted, images swapped, etc. We don't want you to receive any surprises when you receive your final printed product, so please take the time to thoroughly inspect the proof before you give your approval. Please, don't hesitate to contact us with any questions!
You should receive your online proof within one business day after we receive your electronic files.
Hard copy mock-ups and hard copy proofs will be overnighted via Next Day Air generally the same day we post your online proof.
When your online proof is ready, we will email you a link to the proofing page. We will also try to reach you by phone. In addition to the email link, proofs can be accessed through the myPrinting for Less.
There are two versions of your proof on the proofing page:
Proof PDF: A low-resolution version of your file at final trim size, down-sampled for shorter download times. Includes fold line indicators when appropriate. Recommended for slower connections.
Press-Ready PDF: This is the full-resolution file which will be used to create your plates. Includes .125″ bleed margins, order number and printer's marks which will not appear in the finished trimmed piece.

– Your text may falsely appear jagged in the full-size (zoomed out) PDF. The inability to accurately preview
vector text is a known weakness of Adobe Acrobat.
– Select the magnification tool and zoom in to the text. It should now preview clear and crisp; this is
how it will print. If it still appears jagged when zoomed in, contact us.
1. If you find something that needs a correction:
Submit up to two rounds of minor corrections for us to make at no charge by using the button, or
Send us a corrected file by using the button.
Extensive corrections and/or design work may be subject to additional fees. Of course, there is never a charge for any corrections needed as a result of any errors we introduced in preparing your proof.
2. If you are ready to send your order to press for printing, click the

button to approve your proof.
3. Complete the approval process by confirming or adjusting your production speed, shipping method and delivery addresses on the interactive delivery date calendar.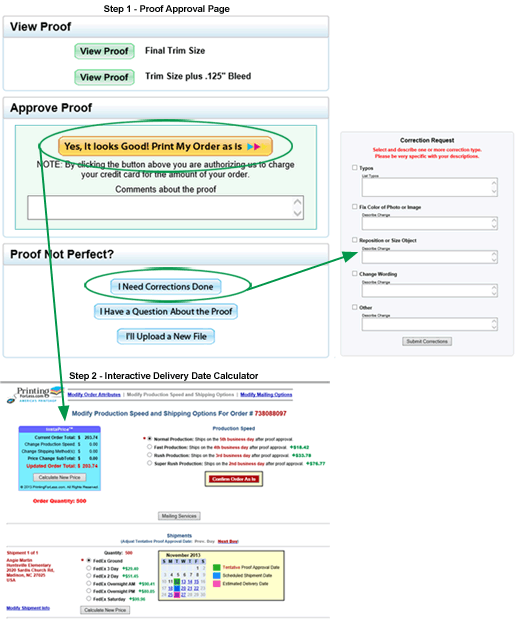 The InstaPrice® calculator will display the adjusted order total for any changes selected. Some tips:
Experiment with various combinations of production speeds and shipping methods.
Split your shipment if you need only a portion of your order faster.
It is often more cost-effective to upgrade shipping rather than production.
Follow the steps to add additional addresses or modify existing addresses, and be sure to click

.
Proofing Checklist
Here are some tips and guidelines to help you in finding potential errors in your file, BEFORE it goes to press:
Print out a "hard copy" of the online proof and compare it to a printout of the original file you sent to us. We have found that it is much easier to proofread and catch minor changes on paper than on a computer monitor.

Keep in mind that most desktop printers will cause significant inaccuracies in panel sizes and margins. This resizing is NOT part of your file—be assured that we have checked and adjusted your project so that it has proper bleed and panel dimensions.

Have a friend or co-worker give the proof a quick review; a second set of eyes will often notice things that you overlook.
Look at these common problem areas particularly carefully:
Bleed
Are photos, text & graphical elements extending off the page as intended?
Check the Proof PDF for appearance at final trim size. The Press-Ready PDF includes .125″ bleed margins which will be trimmed off.
Color
Color accuracy in your online proof will be affected by the RGB-CMYK conversion, what type of monitor you have, as well as monitor calibration.
If you have critical color concerns, consider consulting a CMYK swatch book or a hard copy proof.
Content Accuracy
Verify the spelling of people and place names.
Double-check that dates match up with the appropriate day of the week.
Pay special attention to addresses, phone numbers, email and web addresses.
Folds
Fold lines are indicated only on the Proof PDF; they do not appear on the Press Ready PDF.
Pink lines are placed on the outside of the piece; blue lines on the inside. Make sure the fold line indicators are positioned accurately on screen, as most desktop printers will cause significant inaccuracies in panel sizes and margins.
Fonts
Is text displaying in the correct font? Double-check for any special symbols, characters or clip art.
Imposition/Backup
Are the front & back sides correctly backed up?
Missing Elements / Elements in Wrong Position
Do all photos, graphics, clip art, and text blocks display intact and in the correct position?
Resolution
Recommended resolution for printing is 300 dpi; computer monitors generally have a display setting of 72 or 96 dpi.
If we indicate that some of your images have low resolution, they may not look bad on your monitor but will likely print blurry or jagged. If higher resolution images are available, please upload them to us.
Text Flow
Are sentences & paragraphs lining up the way you intend? Check for unintended hyphenation and spacing.
Typos
Don't tarnish your professional image – proofread thoroughly.
Proof Download Times
The speed of your proof download is dependent on file size, Internet connection speed and the volume of Internet traffic.
Approximate file transfer upload times (under optimal conditions)
| | | | | |
| --- | --- | --- | --- | --- |
| File Size | 3 Mbps DSL | 7 Mbps DSL | 30 Mbps Cable | 60 Mbps Cable |
| 10 Mb File | 6 Minutes | 3 Minutes | 36 Seconds | 24 Seconds |
| 25 Mb File | 14 Minutes | 7 Minutes | 1.25 Minutes | 45 Seconds |
| 50 Mb File | 28 Minutes | 14 Minutes | 2.5 Minutes | 1.5 Minutes |
| 100 Mb File | 56 Minutes | 28 Minutes | 5 Minutes | 3 Minutes |
Changing Order Attributes
It's easy to make changes to your order attributes—quantity, paper type, ink, coating and folding.
Click on the "Change Your Order" link, found in either the upper left or right corner of your screen. You can also go directly to the Change Order Request page. Enter your 9-digit order number in the left-hand column.

2. You are now presented with an interactive version of the product ordering page.
You're in control of your order! Dependent on product type and where your order is in the production process, you may:
– Increase or decrease quantity
– Upgrade or downgrade paper stock
– Change your full-color or black-only ink coverages
– Add or take away coating options
– Add or take away folding options
Your original choices for order attributes are marked with a red asterisk.
The InstaPrice® calculator will display the adjusted order total for any changes selected.
3. If you have made changes, be sure to click the

button. You then have the option to view, print or email an updated receipt.
4. Click on "Modify Production Speed and Shipping Options"
link (circled in green) to:
Speed up or slow down your production speed
Speed up or slow down your shipping speed
Change shipping addresses
Add additional shipments
Create a Mailing for all or part of your quantity