Like any industry, the printing sector has an environmental impact on the world. Simply put, by providing products and services, we consume resources and energy. With sustainability becoming an increasingly important goal in the face of resource depletion and climate change, key players in the printing industry, including us at Printing for Less, must look at the big picture. Taking a step back in order to reduce ecological footprints today will only benefit printing businesses and the world at large in the future.
The State of the Printing Industry
First, it's important to understand how the printing industry actually impacts the environment. It comes down to three main factors: materials, energy, and waste.
Printing Materials
When it comes to materials, the printing industry has something of a leg up in pursuing a more sustainable future because it relies heavily on a renewable and recyclable resource: paper. Paper products have a recyclability rate of nearly 65%. For comparison, less than 10% of plastics are recycled.
But that doesn't mean we can't aim to improve our practices. Other materials involved in the printing process such as inks, toners, and coatings, as well as packaging materials, all influence the industry's environmental impact. Adopting sustainable materials across the printing workflow will put us on the right track.
Energy Consumption in Printing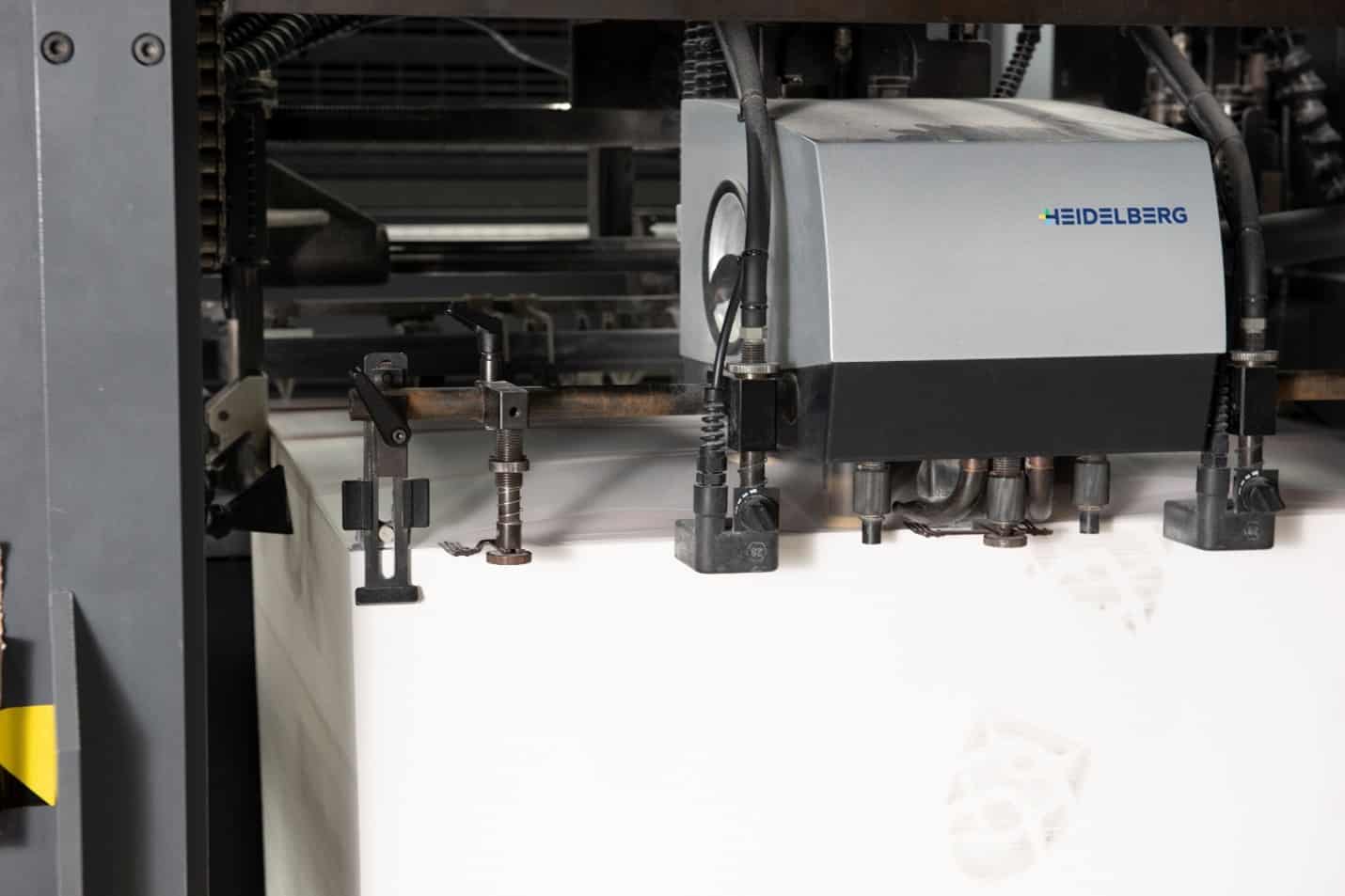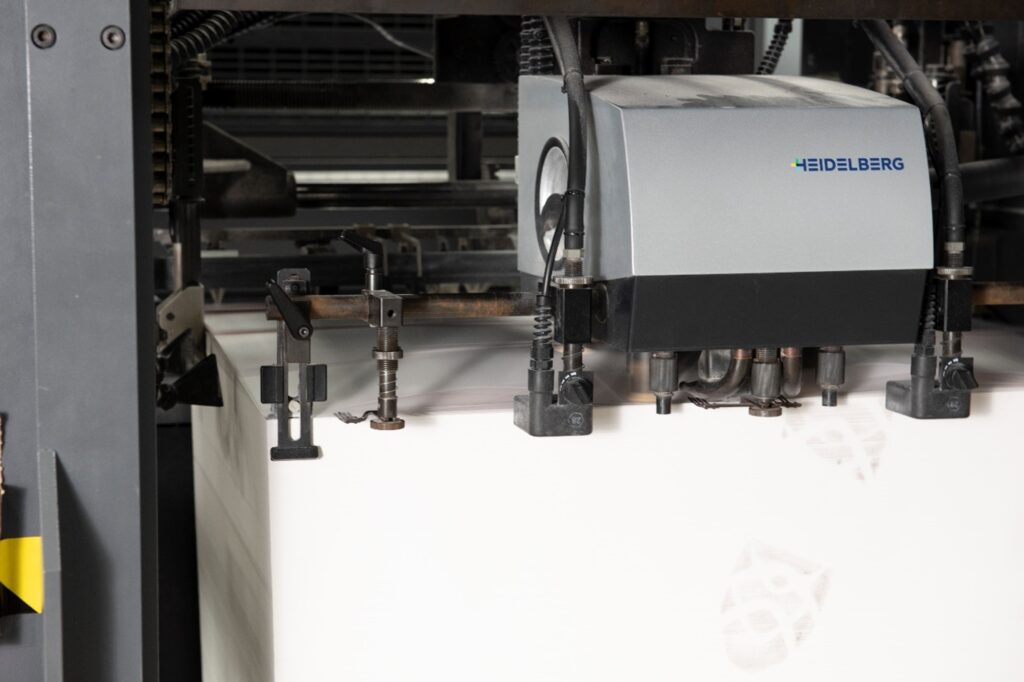 Energy consumption is a multifaceted topic when it comes to sustainability in printing. The printing industry consumes energy resources to power its facilities and printing processes as well as to transport products to customers. By switching to renewable energy sources, integrating smart and more efficient workflows, and establishing more localized supply chains, energy consumption can not only transition away from non-renewable fossil fuels, but it can also be reduced for a smaller carbon footprint.
Printing Waste
Waste is a significant contributor to the printing industry's environmental impact. Finding ways to better manage waste is therefore an important part of sustainability missions. There are many ways waste management can be addressed, from transitioning to fully recyclable materials to proper printer hardware disposal.
Ultimately, the goal is to establish circular economies for printing materials and equipment so less waste ends up in landfills. Another key goal for the printing industry in reducing waste is installing robust, automated design and production workflows. A reliable process leads to fewer production errors, better print results, and less waste.
How Printing for Less Addresses Our Footprint
At Printing for Less, we are addressing the ways we impact the environment on all fronts. Not only do we diligently recycle all of our paper scraps and packaging cardboard, but we also recycle other products and materials, such as aluminum printing plates and wooden pallets used in transportation.
Moreover, we are always striving to achieve greater energy efficiency in our operations. For example, we use clean, renewable energy generated by wind turbines to power our printing facilities. This energy is provided by our local utility provider, Park Electric Cooperative, with whom we work closely to reduce reliance on fossil fuels.
In our day-to-day, we also follow a lean manufacturing ideology to optimize our efficiency and minimize waste. To do this, we strategically combine print jobs to both save on paper and make the most of a printer's energy use and output.
Another way we are improving our environmental impact on the planet is by partnering with eco-minded suppliers and vendors. All of our paper products are sourced from mills that have implemented sustainable processes and share our ecological values.
What We Want to Do Better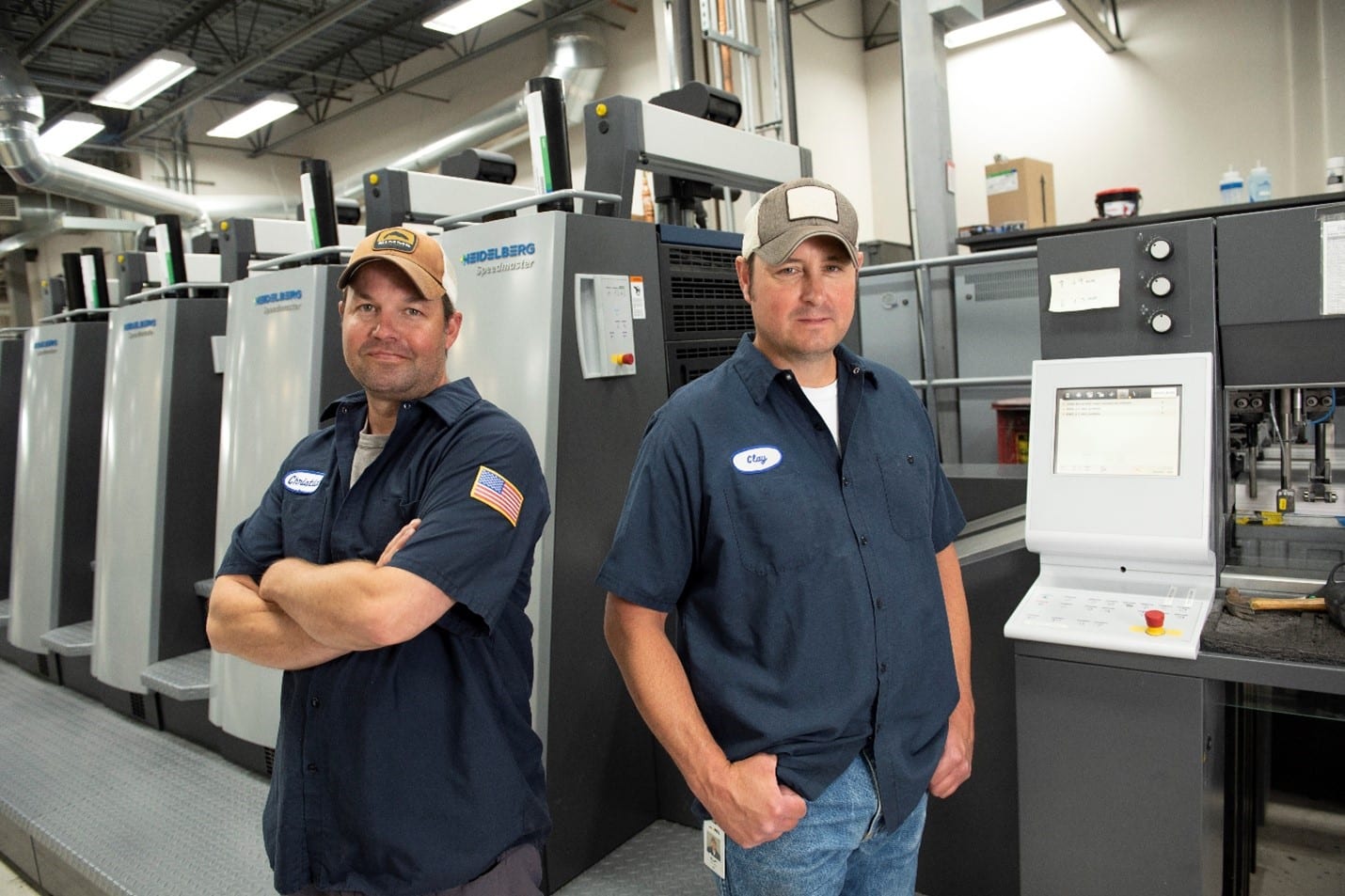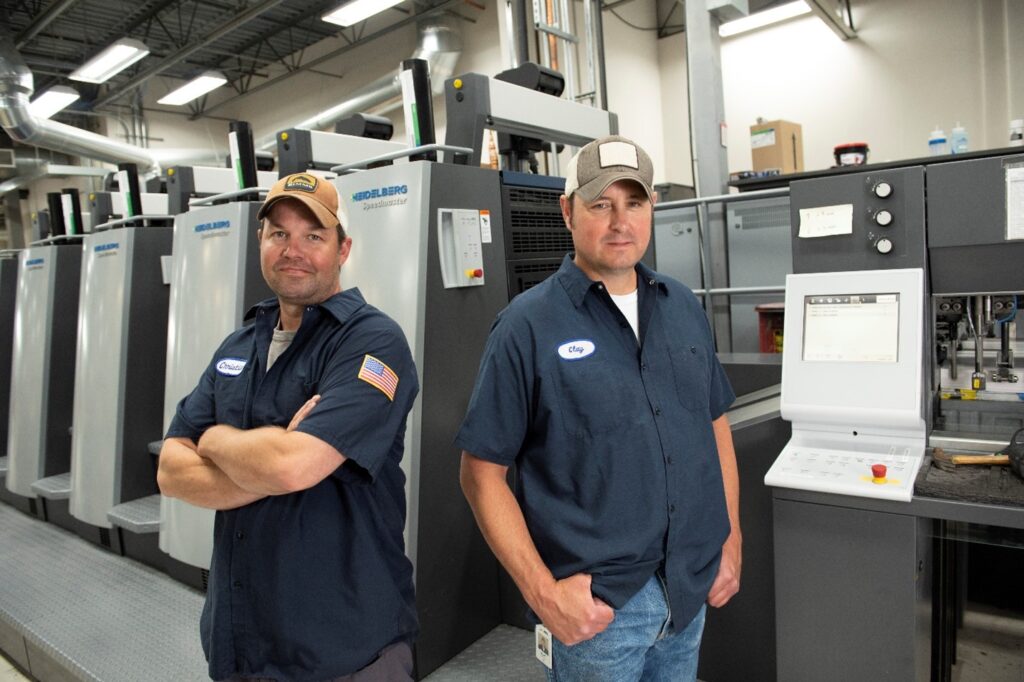 While we take great pride in our efforts to improve sustainability in printing, we also recognize there are areas where we can go further. Reducing our use of plastic materials is a goal we are currently working towards. "We would like to move away from plastics as much as possible and fully embrace the idea that everything we send out the door in print manufacturing is 100% recyclable," explains Beau Thomas, Director of Print Production at P.
At P, we are continually researching and testing the use of more eco-friendly printing materials such as chemicals and inks. In fact, we are seeing promising developments across the printing industry to develop and adopt sustainable inks made from natural ingredients, like soy and algae, to gradually decrease reliance on inks based on petroleum oil.
Transportation emissions are another issue we aim to tackle by working progressively with domestic suppliers. "The transport of paper goods from countries overseas uses a lot of fuel at a significant cost," Beau adds. "The pandemic and other global problems have strained this even more recently. We are working with our vendors to secure domestic products that perform well, save costs, and lower our use of resources."
Why Sustainability is So Important to Printing for Less
Achieving greater sustainability is an important goal at Printing for Less for the same reason it should be for every organization and individual on the planet: Earth is our home and we need to take care of it.
At Printing for Less, we are lucky to call Livingston, Montana our home and the majesty of Yellowstone National Park our neighbor. The mountains, rivers, and other amazing natural resources on our doorstep have instilled in us a deep appreciation and respect for the Earth, which inform our business practices and strategies.
It goes without saying that our continued existence as a company is directly tied to the continued health and prosperity of the environment. Brooke Seidel, Customer Advocate, sums it up: "We want to be in business for a long time and we cannot leave a large footprint on our environment. Being conscious of that will help us to be a great business in the long term." Respecting and nurturing the resources we depend on in our day-to-day is vital to our continued success and that of our clients.
A Sustainable Future for Printing
At Printing for Less, we are hoping to set an example and lead the printing industry towards a more sustainable future. Our eco-forward strategies—targeting materials, energy consumption, and waste management—show us and our industry that going green is not only a responsible choice but a business-savvy one as well.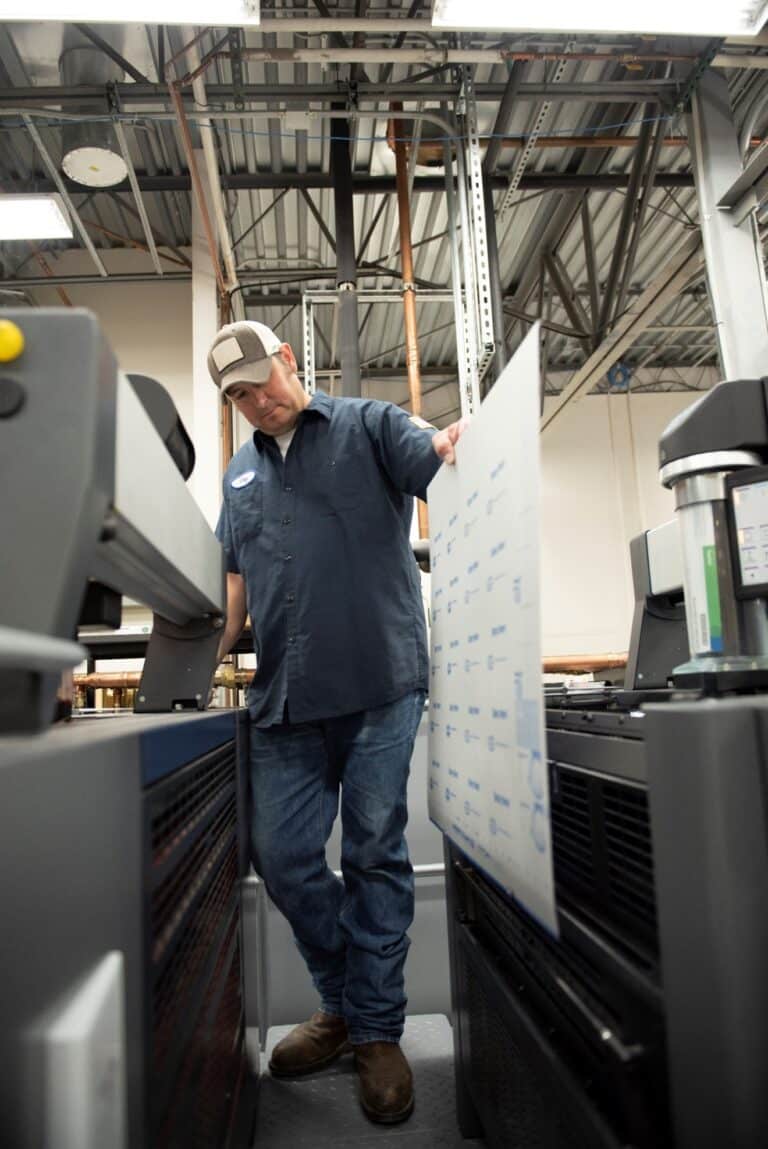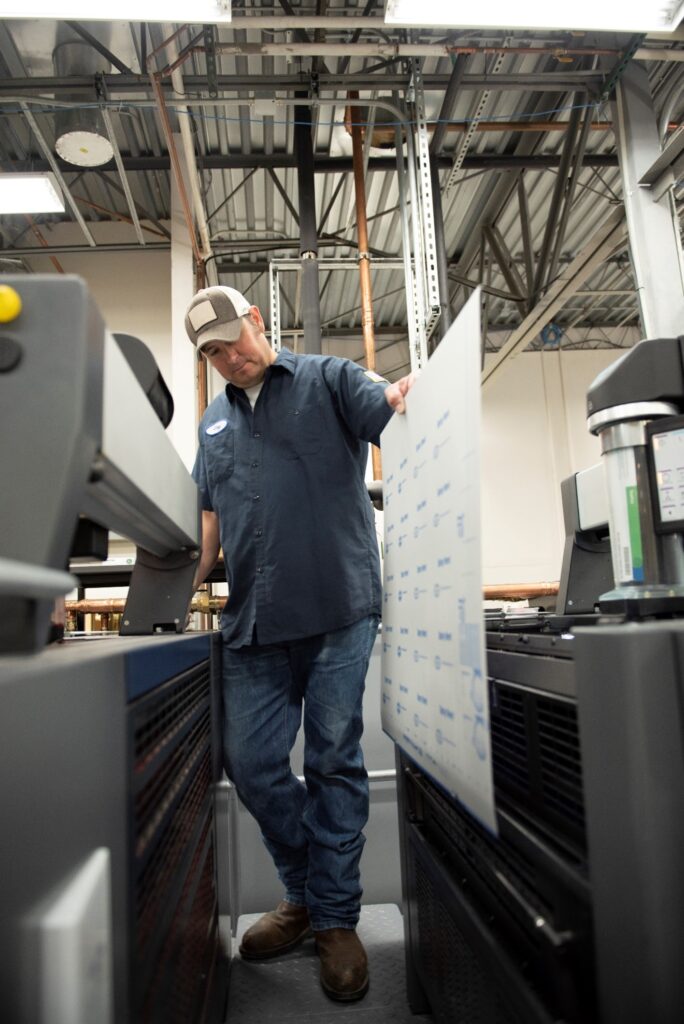 "The global community, not just the printing industry, has to be on board with environmental responsibility to make a paradigm shift," says P Beau Thomas. "We have to start somewhere, and if we can do it while being profitable, others will see that and follow suit."