Are you in a bind trying to decide how best to present multiple pages of information?
This is your guide to organizing your ideas in a presentable way; namely, through any one of the four main types of binding. These four categories range in cost-effectiveness and professionalism. Once you have a goal for your piece in the crosshairs, you will know where your piece falls on the grid.
Saddle stitching is the most cost-effective option when it comes to binding your piece. This is the type of binding that you often see in calendars and brochures: usually two or three staples along the spine, halfway through the sheets. The staples will show through on the opposite side, but for many pieces this does not pose an issue. Saddle stitching gives a casual feel while still presenting your information in a well-organized manner.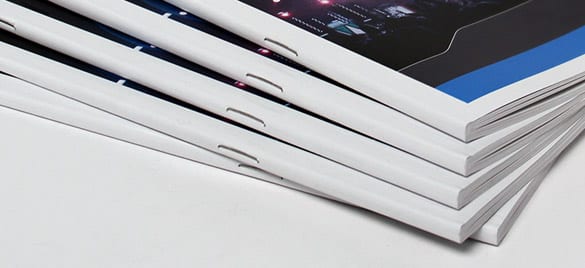 Square-back binding, shown above, is a cross between saddle stitching and perfect binding, which we will cover later. Square-back is similar to saddle stitching in the way it is produced, and only slightly more expensive: the pages are still stapled on a saddle, but then pressed until the piece resembles perfect binding, with the addition of a few staples showing along the outside of the spine. Square-back binding is slightly more professional than saddle stitching, but still maintains the value pricing. This type of binding works well for short children's books and short-run magazines.
Plastic coil and wire spiral binding are similar in price, but have varying appeals. Both are durable, and can open 360 degrees. On the aesthetic scale these types of binding lean more toward the side of the casual brochure or booklet for a meeting or conference. Using wire binding gives your piece a slightly more finished look than plastic. However, plastic coil can be purchased in a variety of colors to further compliment your brand consistency.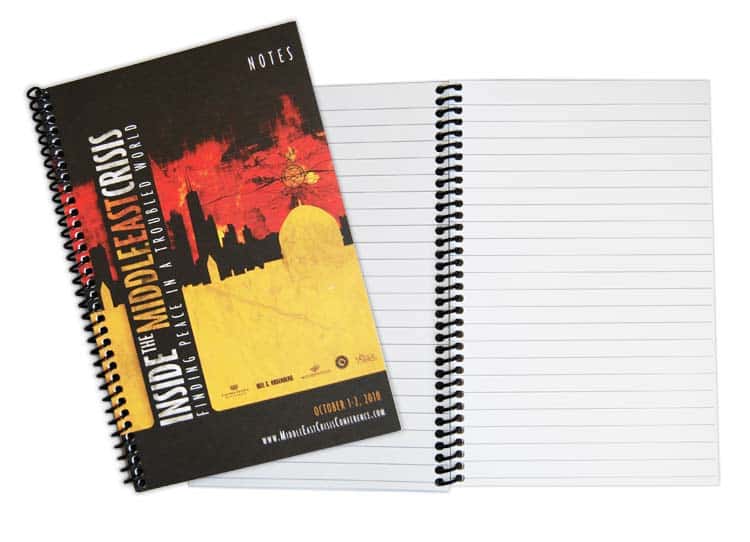 Perfect binding grants the best value, and is ideal for pieces with a larger page count. Although square-back binding might work for shorter volumes, perfect binding can be used for anything with 40 sheets or more, and provides the finest finished look for many pieces. Perfect binding uses a durable, strong adhesive inside the spine to hold your pages together, and is ideal for many larger magazines, books, manuals and catalogs.
When it comes to binding, price often dictates choice. Binding is an afterthought in most printed pieces, and its value is not considered at the forefront. You may have the perfect design for your pages, but binding is necessary to complete your multi-page project.
Keep an eye on the piece as a whole when first considering your target price during the design phase—don't get to the last phase and leave yourself in a bind about the bind. Hold it together with a choice that supports the quality and goal of the rest of the piece.
Need help with your print? Talk to a live print expert today: 800-930-7978.