Search for the 'Best way to hang posters' and Google will bring back an almost limitless supply of How To's. How to hang posters, how to put posters on walls, how to pick the best tape for posters, etc. But while it is handy to know the difference between 'double-sided' and 'magic' tape, or pick up yet another miraculous dorm-room use for toothpaste, you may not want to look as though you actually live in a dorm.
So, here are our recommendations on 'How To' elevate your look and showcase those posters in offices, living rooms, and, yes, even dormitories.
How To Pick Your Materials
Beyond your usual pencil and tape measure, there are a number of tools that you can use to efficiently and evenly hang your poster. And for some, you don't even need a hammer!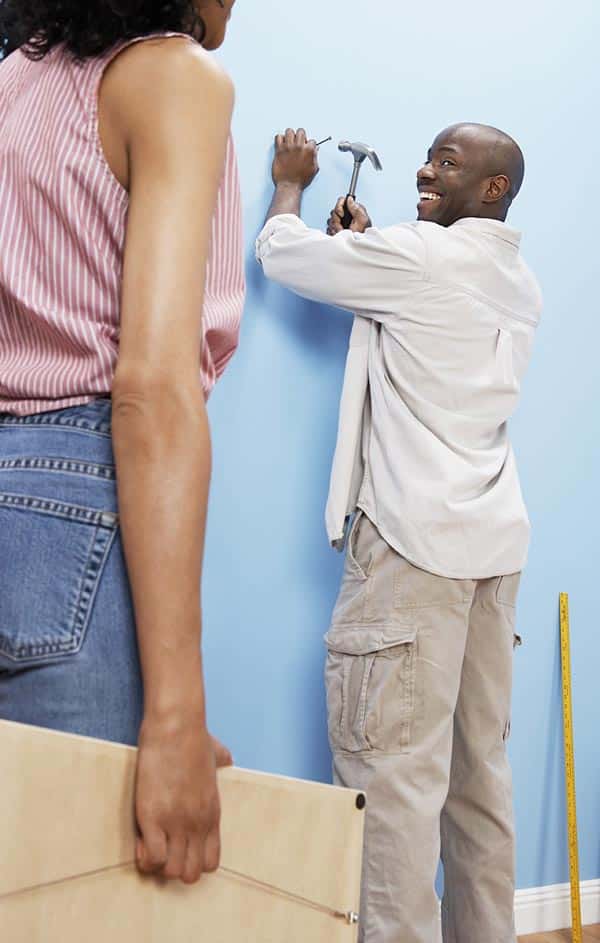 Depending on whether you want a more informal look or a classic presentation, you have plenty of options to choose from when hanging posters. Renting has become so common that there are tons of choices for hanging materials that don't require putting a hole in your wall.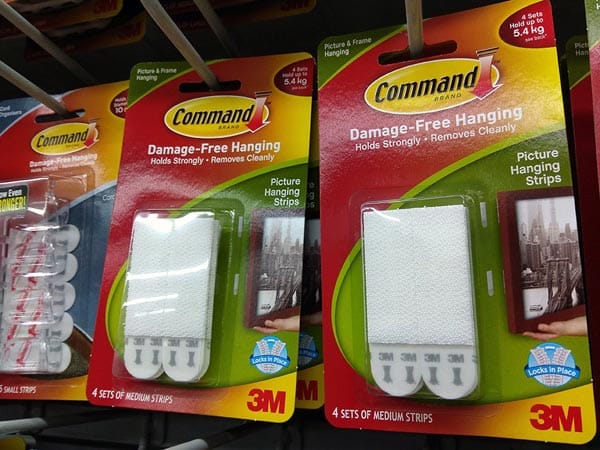 Sticky-backed Velcro® strips, hooks, and even plastic eye-holes are inexpensive and handy alternatives. Just keep those specified weight limits in mind.
Light-weight pieces, like an unadorned poster, can be mounted simply with decorative tacks, poster putty, or flat adhesives like double-sided tape. However, an adhesive that is attached directly to your poster can sometimes cause creasing or wrinkling. It also limits your ability to make adjustments without damaging your piece, and can potentially leave marks on your walls. You can read our suggestions below, but if you are stuck on double-sided tape, always test your adhesive in an inconspicuous area before you use it!
Middle-weight pieces, such as posters with a binder frame or other light frame, can usually be supported with a commercial hanging strip. These strips can be found at most stores and are available in a variety of sizes, styles, and weight-capacities. If you're unsure as to what type you need, choose a slightly higher capacity for extra stability.
Heavy-weight pieces, such as fully framed posters, may need to be supported with nails or screws.
To avoid unnecessary damage to your wall, be sure to place your nail or screw into a wall stud, or use a sheet rock anchor to provide necessary support.
Start With a Clean Canvas
Before hanging your poster, quickly inspect the wall for unsightly scuffs, dirt, or residues that can inhibit your adhesive materials. Painted or wall-papered surfaces are easily cleaned by gently wiping them down with a soft damp sponge.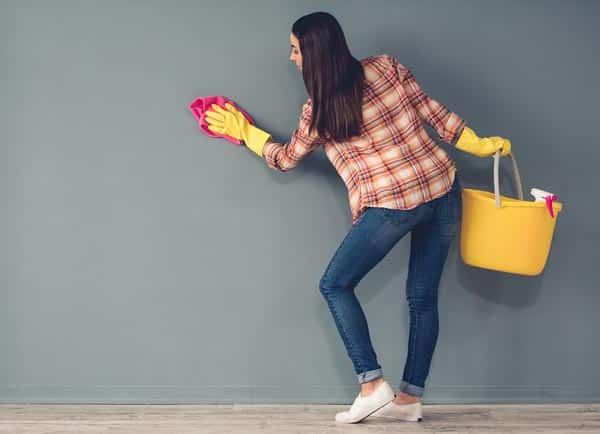 Most sticky residues (maybe left over from the last attempt at poster hanging?) may be removed with a little rubbing alcohol. This evaporates quickly and cleanly, but again always test it on a small, inconspicuous spot first. Ensuring that your wall is clean and 'poster-ready' will remove any distracting blemishes and make your job easier.
The (Other) Golden Rule
Choosing the right spot for your poster is more of a science than an art. To maximize the visual experience and the comfort of their audience, art galleries are often arranged with the centre of an individual piece at eye level.
For an average American this will be anywhere from 57-63 inches from the floor. This means that in order to put your poster at eye-level, you will have do a little math. But don't worry! It's easy.
First measure the length (including any frame) of your poster from top to bottom: that is your total length.
Then, divide your total length in half: that is your mid-point.
Pick a number from 57 to 63: that is your average height.
Subtract your mid-point from the average height that you chose. This new number will tell you where on the wall the bottom edge of your poster will be.
Finally, measure up from the floor and mark that point gently on the wall with your pencil. Do this two more times, on either side of your first mark.
When you are ready to hang your poster, line the bottom edge of it with those three marks. Erase any visible pencil marks and step back to admire your nice and even poster that is at the perfect height.
This technique will work for most individual posters. But don't limit yourself. A wide-open wall space can seem daunting, but this is your place to play.
Depending upon the size or shape of your posters, you can showcase a single piece or a group to change the feel of your space.
When grouping your pieces, place the largest posters first to avoid over crowding. Larger posters may be placed further apart than smaller ones, but a good rule of thumb is to not space them more than 6 inches apart.
Keep in mind any furniture that will be nearby and allow about 12 – 24 inches between your furniture and the posters.
How to Frame Your Posters
Love that vintage-inspired poster wall? Opt for double-sided tape and layer your posters to maximize the impact. This technique presents each unique aspect of your posters. You can even distress or tear posters to create peek-a-boo panels of eye-catching interest points. Keep it simple to avoid overwhelming your audience and losing the organic effect.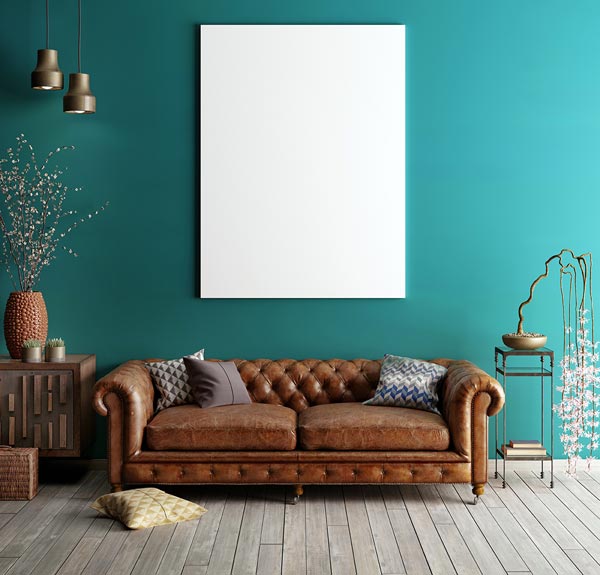 Sometimes the long, clean lines of a pristine poster just beg to be shown off. Avoid the 'dormitory' look with a smooth matte and a carefully arranged layout. The extra step of backing your pieces with poster board will make your posters more durable, less prone to curling, and make placement a breeze. To give your posters that extra POP!!, try utilizing an extra thick mounting adhesive to the wall. The floating effect of just a half-inch will have you walking on air.
Do you want a Pinterest worthy space but have just too many posters to choose from? Try mounting decorative bases or painted canvases to your walls and swap out your posters to fit your mood. Or hang your posters on gallery-style wires with clips or a magnetic two-piece binder. Makes it classy, but without the commitment.
Nothing elevates a poster like a well-chosen frame. Encase that ragged poster in a floating glass frame for an instant collector's piece. Display your black and whites in something vibrant for an instantly modern look, or your monochromes in something understated and allow them to shine. A frame immediately creates a sense of permanency and importance, converting even the most casual poster into something special.
From advert to political statement, the poster is being re-imagined. Give those posters gathering dust a second life with one of our tips and tricks and upgrade your look.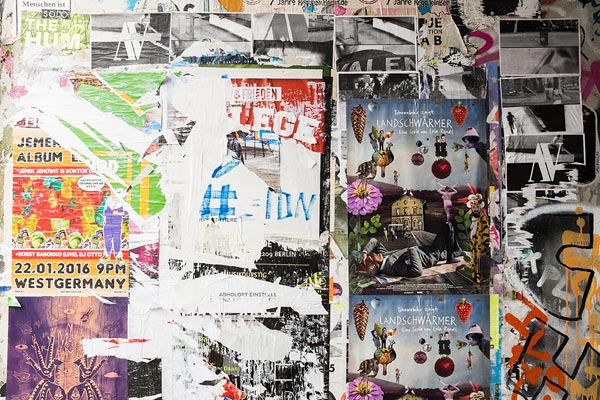 Need help with your poster printing? Talk to a live print expert today: 800-930-7978.